Slapper
スラッパー (

Surappā

?)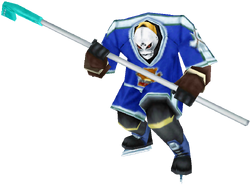 Statistics
Level
HP

0.7(Lv)² + 14(Lv) + 30

Level
HP

0.7(Lv)² + 14(Lv) + 30

1
44
19
548
STR

([5.2(Lv)] + [(Lv) / 5] - [(Lv)² / 260] + 30) / 4

MAG

([5(Lv)] + [(Lv) / 2] - [(Lv)² / 400] + 25) / 4

STR

([5.2(Lv)] + [(Lv) / 5] - [(Lv)² / 260] + 30) / 4

MAG

([5(Lv)] + [(Lv) / 2] - [(Lv)² / 400] + 25) / 4

8
7
32
32
VIT

((Lv) / 8) - (Lv) + (Lv) + 36

SPR

((Lv) / 32) - (Lv) + (Lv) + 40

VIT

((Lv) / 8) - (Lv) + (Lv) + 36

SPR

((Lv) / 32) - (Lv) + (Lv) + 40

36
40
38
40
SPD

((Lv) / 4) - [(Lv) / 20] + 20

EVA

((Lv) / 6) - [(Lv) / 18] + 20

SPD

((Lv) / 4) - [(Lv) / 20] + 20

EVA

((Lv) / 6) - [(Lv) / 18] + 20

20
20
24
22
EXP

10(Lv)² + 30

AP
EXP

10(Lv)² + 30

AP
40
3
220
3
Slapper
スラッパー (

Surappā

?)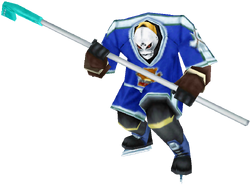 Statistics
Level
HP

0.7(Lv)² + 14(Lv) + 30

Level
HP

0.7(Lv)² + 14(Lv) + 30

20
590
29
1,024
STR

([5.2(Lv)] + [(Lv) / 5] - [(Lv)² / 260] + 30) / 4

MAG

([5(Lv)] + [(Lv) / 2] - [(Lv)² / 400] + 25) / 4

STR

([5.2(Lv)] + [(Lv) / 5] - [(Lv)² / 260] + 30) / 4

MAG

([5(Lv)] + [(Lv) / 2] - [(Lv)² / 400] + 25) / 4

34
33
45
45
VIT

((Lv) / 8) - (Lv) + (Lv) + 36

SPR

((Lv) / 32) - (Lv) + (Lv) + 40

VIT

((Lv) / 8) - (Lv) + (Lv) + 36

SPR

((Lv) / 32) - (Lv) + (Lv) + 40

38
40
39
40
SPD

((Lv) / 4) - [(Lv) / 20] + 20

EVA

((Lv) / 6) - [(Lv) / 18] + 20

SPD

((Lv) / 4) - [(Lv) / 20] + 20

EVA

((Lv) / 6) - [(Lv) / 18] + 20

24
22
26
23
EXP

10(Lv)² + 30

AP
EXP

10(Lv)² + 30

AP
230
3
320
3
Slapper
スラッパー (

Surappā

?)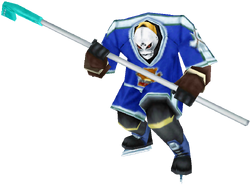 Statistics
Level
HP

0.7(Lv)² + 14(Lv) + 30

Level
HP

0.7(Lv)² + 14(Lv) + 30

30
1,080
100
8,430
STR

([5.2(Lv)] + [(Lv) / 5] - [(Lv)² / 260] + 30) / 4

MAG

([5(Lv)] + [(Lv) / 2] - [(Lv)² / 400] + 25) / 4

STR

([5.2(Lv)] + [(Lv) / 5] - [(Lv)² / 260] + 30) / 4

MAG

([5(Lv)] + [(Lv) / 2] - [(Lv)² / 400] + 25) / 4

47
47
133
137
VIT

((Lv) / 8) - (Lv) + (Lv) + 36

SPR

((Lv) / 32) - (Lv) + (Lv) + 40

VIT

((Lv) / 8) - (Lv) + (Lv) + 36

SPR

((Lv) / 32) - (Lv) + (Lv) + 40

39
40
48
43
SPD

((Lv) / 4) - [(Lv) / 20] + 20

EVA

((Lv) / 6) - [(Lv) / 18] + 20

SPD

((Lv) / 4) - [(Lv) / 20] + 20

EVA

((Lv) / 6) - [(Lv) / 18] + 20

26
24
40
31
EXP

10(Lv)² + 30

AP
EXP

10(Lv)² + 30

AP
330
3
1,030
3
| Lv | HP | STR | MAG | VIT | SPR | SPD | EVA | EXP |
| --- | --- | --- | --- | --- | --- | --- | --- | --- |
| 1 | 44 | 8 | 7 | 36 | 40 | 20 | 20 | 40 |
| 2 | 60 | 10 | 9 | 36 | 40 | 20 | 20 | 50 |
| 3 | 78 | 11 | 10 | 36 | 40 | 20 | 20 | 60 |
| 4 | 97 | 12 | 11 | 36 | 40 | 21 | 20 | 70 |
| 5 | 117 | 14 | 13 | 36 | 40 | 21 | 20 | 80 |
| 6 | 139 | 15 | 14 | 36 | 40 | 21 | 21 | 90 |
| 7 | 162 | 16 | 15 | 36 | 40 | 21 | 21 | 100 |
| 8 | 186 | 18 | 17 | 37 | 40 | 22 | 21 | 110 |
| 9 | 212 | 19 | 18 | 37 | 40 | 22 | 21 | 120 |
| 10 | 240 | 21 | 20 | 37 | 40 | 22 | 21 | 130 |
| Lv | HP | STR | MAG | VIT | SPR | SPD | EVA | EXP |
| --- | --- | --- | --- | --- | --- | --- | --- | --- |
| 11 | 268 | 22 | 21 | 37 | 40 | 22 | 21 | 140 |
| 12 | 298 | 23 | 22 | 37 | 40 | 23 | 22 | 150 |
| 13 | 330 | 24 | 24 | 37 | 40 | 23 | 22 | 160 |
| 14 | 363 | 26 | 25 | 37 | 40 | 23 | 22 | 170 |
| 15 | 397 | 27 | 26 | 37 | 40 | 23 | 22 | 180 |
| 16 | 433 | 29 | 28 | 38 | 40 | 24 | 22 | 190 |
| 17 | 470 | 30 | 29 | 38 | 40 | 24 | 22 | 200 |
| 18 | 508 | 31 | 31 | 38 | 40 | 24 | 22 | 210 |
| 19 | 548 | 32 | 32 | 38 | 40 | 24 | 22 | 220 |
| 20 | 590 | 34 | 33 | 38 | 40 | 24 | 22 | 230 |
| Lv | HP | STR | MAG | VIT | SPR | SPD | EVA | EXP |
| --- | --- | --- | --- | --- | --- | --- | --- | --- |
| 21 | 632 | 35 | 34 | 38 | 40 | 24 | 22 | 240 |
| 22 | 676 | 36 | 36 | 38 | 40 | 24 | 22 | 250 |
| 23 | 722 | 37 | 37 | 38 | 40 | 24 | 22 | 260 |
| 24 | 769 | 39 | 39 | 39 | 40 | 25 | 23 | 270 |
| 25 | 817 | 40 | 40 | 39 | 40 | 25 | 23 | 280 |
| 26 | 867 | 42 | 41 | 39 | 40 | 25 | 23 | 290 |
| 27 | 918 | 43 | 43 | 39 | 40 | 25 | 23 | 300 |
| 28 | 970 | 44 | 44 | 39 | 40 | 26 | 23 | 310 |
| 29 | 1024 | 45 | 45 | 39 | 40 | 26 | 23 | 320 |
| 30 | 1080 | 47 | 47 | 39 | 40 | 26 | 24 | 330 |
| Lv | HP | STR | MAG | VIT | SPR | SPD | EVA | EXP |
| --- | --- | --- | --- | --- | --- | --- | --- | --- |
| 31 | 1136 | 48 | 48 | 39 | 40 | 26 | 24 | 340 |
| 32 | 1194 | 49 | 49 | 40 | 41 | 27 | 24 | 350 |
| 33 | 1254 | 50 | 51 | 40 | 41 | 27 | 24 | 360 |
| 34 | 1315 | 52 | 52 | 40 | 41 | 27 | 24 | 370 |
| 35 | 1377 | 53 | 53 | 40 | 41 | 27 | 24 | 380 |
| 36 | 1441 | 55 | 55 | 40 | 41 | 28 | 24 | 390 |
| 37 | 1506 | 56 | 56 | 40 | 41 | 28 | 24 | 400 |
| 38 | 1572 | 57 | 57 | 40 | 41 | 28 | 24 | 410 |
| 39 | 1640 | 58 | 59 | 40 | 41 | 28 | 24 | 420 |
| 40 | 1710 | 60 | 60 | 41 | 41 | 28 | 24 | 430 |
| Lv | HP | STR | MAG | VIT | SPR | SPD | EVA | EXP |
| --- | --- | --- | --- | --- | --- | --- | --- | --- |
| 41 | 1780 | 61 | 61 | 41 | 41 | 28 | 24 | 440 |
| 42 | 1852 | 62 | 63 | 41 | 41 | 28 | 25 | 450 |
| 43 | 1926 | 63 | 64 | 41 | 41 | 28 | 25 | 460 |
| 44 | 2001 | 64 | 65 | 41 | 41 | 29 | 25 | 470 |
| 45 | 2077 | 66 | 66 | 41 | 41 | 29 | 25 | 480 |
| 46 | 2155 | 67 | 68 | 41 | 41 | 29 | 25 | 490 |
| 47 | 2234 | 68 | 69 | 41 | 41 | 29 | 25 | 500 |
| 48 | 2314 | 70 | 71 | 42 | 41 | 30 | 26 | 510 |
| 49 | 2396 | 71 | 72 | 42 | 41 | 30 | 26 | 520 |
| 50 | 2480 | 72 | 73 | 42 | 41 | 30 | 26 | 530 |
| Lv | HP | STR | MAG | VIT | SPR | SPD | EVA | EXP |
| --- | --- | --- | --- | --- | --- | --- | --- | --- |
| 51 | 2564 | 73 | 74 | 42 | 41 | 30 | 26 | 540 |
| 52 | 2650 | 75 | 76 | 42 | 41 | 31 | 26 | 550 |
| 53 | 2738 | 76 | 77 | 42 | 41 | 31 | 26 | 560 |
| 54 | 2827 | 77 | 78 | 42 | 41 | 31 | 26 | 570 |
| 55 | 2917 | 79 | 80 | 42 | 41 | 31 | 26 | 580 |
| 56 | 3009 | 80 | 81 | 43 | 41 | 32 | 26 | 590 |
| 57 | 3102 | 81 | 82 | 43 | 41 | 32 | 26 | 600 |
| 58 | 3196 | 82 | 84 | 43 | 41 | 32 | 26 | 610 |
| 59 | 3292 | 83 | 85 | 43 | 41 | 32 | 26 | 620 |
| 60 | 3390 | 85 | 86 | 43 | 41 | 32 | 27 | 630 |
| Lv | HP | STR | MAG | VIT | SPR | SPD | EVA | EXP |
| --- | --- | --- | --- | --- | --- | --- | --- | --- |
| 61 | 3488 | 86 | 87 | 43 | 41 | 32 | 27 | 640 |
| 62 | 3588 | 87 | 89 | 43 | 41 | 32 | 27 | 650 |
| 63 | 3690 | 88 | 90 | 43 | 41 | 32 | 27 | 660 |
| 64 | 3793 | 89 | 91 | 44 | 42 | 33 | 27 | 670 |
| 65 | 3897 | 91 | 93 | 44 | 42 | 33 | 27 | 680 |
| 66 | 4003 | 92 | 94 | 44 | 42 | 33 | 28 | 690 |
| 67 | 4110 | 93 | 95 | 44 | 42 | 33 | 28 | 700 |
| 68 | 4218 | 94 | 97 | 44 | 42 | 34 | 28 | 710 |
| 69 | 4328 | 95 | 98 | 44 | 42 | 34 | 28 | 720 |
| 70 | 4440 | 97 | 99 | 44 | 42 | 34 | 28 | 730 |
| Lv | HP | STR | MAG | VIT | SPR | SPD | EVA | EXP |
| --- | --- | --- | --- | --- | --- | --- | --- | --- |
| 71 | 4552 | 98 | 100 | 44 | 42 | 34 | 28 | 740 |
| 72 | 4666 | 99 | 102 | 45 | 42 | 35 | 28 | 750 |
| 73 | 4782 | 100 | 103 | 45 | 42 | 35 | 28 | 760 |
| 74 | 4899 | 101 | 104 | 45 | 42 | 35 | 28 | 770 |
| 75 | 5017 | 103 | 105 | 45 | 42 | 35 | 28 | 780 |
| 76 | 5137 | 104 | 107 | 45 | 42 | 36 | 28 | 790 |
| 77 | 5258 | 105 | 108 | 45 | 42 | 36 | 28 | 800 |
| 78 | 5380 | 106 | 109 | 45 | 42 | 36 | 29 | 810 |
| 79 | 5504 | 107 | 111 | 45 | 42 | 36 | 29 | 820 |
| 80 | 5630 | 109 | 112 | 46 | 42 | 36 | 29 | 830 |
| Lv | HP | STR | MAG | VIT | SPR | SPD | EVA | EXP |
| --- | --- | --- | --- | --- | --- | --- | --- | --- |
| 81 | 5756 | 110 | 113 | 46 | 42 | 36 | 29 | 840 |
| 82 | 5884 | 111 | 115 | 46 | 42 | 36 | 29 | 850 |
| 83 | 6014 | 112 | 116 | 46 | 42 | 36 | 29 | 860 |
| 84 | 6145 | 113 | 117 | 46 | 42 | 37 | 30 | 870 |
| 85 | 6277 | 115 | 118 | 46 | 42 | 37 | 30 | 880 |
| 86 | 6411 | 116 | 120 | 46 | 42 | 37 | 30 | 890 |
| 87 | 6546 | 117 | 121 | 46 | 42 | 37 | 30 | 900 |
| 88 | 6682 | 118 | 122 | 47 | 42 | 38 | 30 | 910 |
| 89 | 6820 | 119 | 123 | 47 | 42 | 38 | 30 | 920 |
| 90 | 6960 | 121 | 125 | 47 | 42 | 38 | 30 | 930 |
| Lv | HP | STR | MAG | VIT | SPR | SPD | EVA | EXP |
| --- | --- | --- | --- | --- | --- | --- | --- | --- |
| 91 | 7100 | 122 | 126 | 47 | 42 | 38 | 30 | 940 |
| 92 | 7242 | 123 | 127 | 47 | 42 | 39 | 30 | 950 |
| 93 | 7386 | 124 | 128 | 47 | 42 | 39 | 30 | 960 |
| 94 | 7531 | 125 | 130 | 47 | 42 | 39 | 30 | 970 |
| 95 | 7677 | 127 | 131 | 47 | 42 | 39 | 30 | 980 |
| 96 | 7825 | 128 | 132 | 48 | 43 | 40 | 31 | 990 |
| 97 | 7974 | 129 | 133 | 48 | 43 | 40 | 31 | 1000 |
| 98 | 8124 | 130 | 135 | 48 | 43 | 40 | 31 | 1010 |
| 99 | 8276 | 131 | 136 | 48 | 43 | 40 | 31 | 1020 |
| 100 | 8430 | 133 | 137 | 48 | 43 | 40 | 31 | 1030 |
For the enemy ability in Final Fantasy V, see: List of Final Fantasy V enemy abilities#Slap.
Slapper is an enemy in Final Fantasy VIII found in Galbadia Garden's ice rink. If Squall and the party speak to a Galbadian student in the ice rink locker room during their first visit to Galbadia Garden, the student will make mention of this demi-human team.
Slappers use Formation M! Go!!!, which is Blizzara cast according to the number of present Slappers. Formation G! Go!!! is a physical attack called Stick dealt to the party according to the number of present Slappers times a number between 1 to 4. We have heart! Go Galbadia! is a critical attack that causes a party member's Vitality to drop to zero.
Ad blocker interference detected!
Wikia is a free-to-use site that makes money from advertising. We have a modified experience for viewers using ad blockers

Wikia is not accessible if you've made further modifications. Remove the custom ad blocker rule(s) and the page will load as expected.