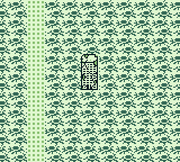 Skyscraper (地下鉄新宿駅, Chikatetsu Shinjuku Eki?, lit. Subway Shinjuku Station) is a location in The Final Fantasy Legend, there's some Damage floors in the form of spikes found within.
After Su-Zaku's attack on Southwest Town and the kidnapping of Sayaka, the party arrives at the Skyscraper. They descend down to the building's subway station and confront Su-Zaku on top of a subway car, defeating the last fiend. Afterwards, at So-Cho's grave site, Sayaka gives the party the red sphere.
Etymology
Edit
The Japanese name of this location is Shinjuku Station, a subway station located in Shinjuku, Tokyo, Japan.
Ad blocker interference detected!
Wikia is a free-to-use site that makes money from advertising. We have a modified experience for viewers using ad blockers

Wikia is not accessible if you've made further modifications. Remove the custom ad blocker rule(s) and the page will load as expected.