Ad blocker interference detected!
Wikia is a free-to-use site that makes money from advertising. We have a modified experience for viewers using ad blockers

Wikia is not accessible if you've made further modifications. Remove the custom ad blocker rule(s) and the page will load as expected.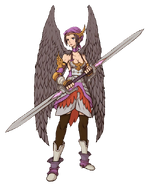 These aegyl soldiers wear the enemy down with attacks from the air.
—Description
The Sky Soldier is an aegyl job class from Final Fantasy XII: Revenant Wings. A female class, the Sky Soldier is a Flying unit with multiple "Rend" abilities that decrease her enemies' statistics for the duration of the battle.
| Skill | Effect |
| --- | --- |
| Attack | Basic - Deal melee damage to one foe. |
| Rend Power | Lower one foe's Strength. |
| Rend Magick | Lower one foe's Magick. |
| Rend Speed | Lower one foe's Speed. |
| Rend Armor | Lower one foe's Stamina. |
| Rend Mind | Lower one foe's Mind. |
| Head Strike | Deal ranged damage to one foe. |
| Clairvoyance | Passive - Increases group's Mind. |
Missions
Edit
Final Fantasy XII: Revenant Wings Enemy
Ansei
({{{japan}}},

{{{romaji}}}

?)
Level
HP
40
690
Str
Mag
Stm
Mnd
271
189
271
207
Atk
MAtk
Def
MDef
137
82
119
103
Speed
AtkSpd
MvSpd
Sight
241
45
0.834
3.5
| | |
| --- | --- |
| Location | {{{Location}}} |
| Type | Flying |
| Nature | None |
| Weak Against | None |
| Resistant to | None |
| Immune to | None |
Final Fantasy XII: Revenant Wings Enemy
Time's Swordmaiden
({{{japan}}},

{{{romaji}}}

?)
Level
HP
43, 46
714, 738
Str
Mag
Stm
Mnd
289, 307
201, 213
289, 307
221, 234
Atk
MAtk
Def
MDef
162, 166
95, 98
139, 143
122, 125
Speed
AtkSpd
MvSpd
Sight
261, 276
69
0.834
3.5
| | |
| --- | --- |
| Location | {{{Location}}} |
| Type | Flying |
| Nature | Fire |
| Weak Against | None |
| Resistant to | None |
| Immune to | None |
Final Fantasy XII: Revenant Wings Enemy
Phea, Maelstrom's Eye
({{{japan}}},

{{{romaji}}}

?)
Level
HP
59
1,342
Str
Mag
Stm
Mnd
395
265
395
291
Atk
MAtk
Def
MDef
188
111
173
147
Speed
AtkSpd
MvSpd
Sight
336
72
0.834
3.5
| | |
| --- | --- |
| Location | {{{Location}}} |
| Type | Flying |
| Nature | Earth |
| Weak Against | Fire |
| Resistant to | Water |
| Immune to | None |
Final Fantasy XII: Revenant Wings Enemy
Euma, Light Unbidden
({{{japan}}},

{{{romaji}}}

?)
Level
HP
58
1,334
Str
Mag
Stm
Mnd
389
261
389
287
Atk
MAtk
Def
MDef
187
110
172
146
Speed
AtkSpd
MvSpd
Sight
331
72
0.834
3.5
| | |
| --- | --- |
| Location | {{{Location}}} |
| Type | Flying |
| Nature | Earth |
| Weak Against | Fire |
| Resistant to | Water |
| Immune to | None |
Final Fantasy XII: Revenant Wings Enemy
Aegyl Questrist, Aegyl Watch
({{{japan}}},

{{{romaji}}}

?)
Level
HP
10
450
Str
Mag
Stm
Mnd
91
69
91
75
Atk
MAtk
Def
MDef
52
32
44
40
Speed
AtkSpd
MvSpd
Sight
86
62
0.834
3.5
| | |
| --- | --- |
| Location | {{{Location}}} |
| Type | Flying |
| Nature | Thunder |
| Weak Against | None |
| Resistant to | None |
| Immune to | None |
Final Fantasy XII: Revenant Wings Enemy
Quint
({{{japan}}},

{{{romaji}}}

?)
Level
HP
48
754
Str
Mag
Stm
Mnd
319
221
319
243
Atk
MAtk
Def
MDef
169
100
146
127
Speed
AtkSpd
MvSpd
Sight
286
69
0.834
3.5
| | |
| --- | --- |
| Location | {{{Location}}} |
| Type | Flying |
| Nature | Earth |
| Weak Against | None |
| Resistant to | None |
| Immune to | None |
Final Fantasy XII: Revenant Wings Enemy
Aegyl Vanguard
({{{japan}}},

{{{romaji}}}

?)
Level
HP
49
762
Str
Mag
Stm
Mnd
325
225
325
247
Atk
MAtk
Def
MDef
171
101
148
128
Speed
AtkSpd
MvSpd
Sight
291
69
0.834
3.5
| | |
| --- | --- |
| Location | {{{Location}}} |
| Type | Flying |
| Nature | Thunder |
| Weak Against | None |
| Resistant to | None |
| Immune to | None |
Final Fantasy XII: Revenant Wings Enemy
Sky Soldier
({{{japan}}},

{{{romaji}}}

?)
Level
HP
Party's Average Level
370 - 1,162
Str
Mag
Stm
Mnd
41 - 635
29 - 425
41 - 635
27 - 423
Atk
MAtk
Def
MDef
100 - 248
52 - 151
85 - 233
82 - 181
Speed
AtkSpd
MvSpd
Sight
41 - 536
62
0.834
3.5
| | |
| --- | --- |
| Location | {{{Location}}} |
| Type | Flying |
| Nature | Fire |
| Weak Against | Fire |
| Resistant to | Water |
| Immune to | None |
Related enemies
Edit