Silence (Ability)
Talk

0
13,960 pages on
this wiki
Relm

: I couldn't miss the chance to practice my drawing!
This article is in need of a few pictures. Perhaps you can help by

uploading

and adding a picture or two.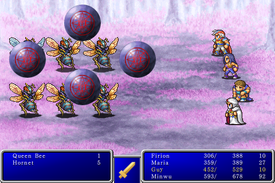 "Rob targets of speech, rendering them unable to cast magicks."
—Description, Final Fantasy Tactics.
Silence (サイレ(ン)ス, Saire(n)su?), also known as Mute, is a recurring spell in the Final Fantasy series. It is often a White Magic spell that inflicts the status of the same name, and is often usable early in the game.
In Final Fantasy VI, Final Fantasy VII, and Final Fantasy IX, the animation of the spell has the Kanji character "黙" branded on the target, which means silence. In some games, it has an upgraded version called Silencega.
See also: Fog (Ability) and Silencega.
Appearances
Edit

Silence, also known as MUTE in the NES release, is a level 2 White Magic spell which inflicts the Mute status on all enemies. It has a low success rate. Silence can be cast by Beholder, Death Eye, Vampire Lord, and Spirit Naga.
The spell can be bought at Pravoka and can be learned by the White Mage, White Wizard, Red Mage, Red Wizard, and Knight job classes. In the Dawn of Souls and 20th Anniversary Edition releases it costs 5 MP to cast.
The spell Silence is a White Magic spell which inflicts Mute to one or all enemies. The success rate increases with the spell's level. Any character can learn Silence by having them use the Silence Tome (called the Silence Scroll in the Origins release).
Silence Tome
Effect
Allows the target to learn Silence when used outside of battle. Casts Silence VIII on all enemies when used in battle.
Buy In
Bafsk, Mysidia
Find In
N/A
Won From
N/A
Cost
800 gil (Origins)
600 gil (Dawn of Souls, 20th Anniversary Edition)
In addition to Silence, there is also a stronger version called Fog.
Silence is a level 4 White Magic spell that can be bought in Northeast Saronia, Doga's Village, and Gysahl for 3,000 gil. It has a 60% chance of inflicting the Silence status to one or all enemies, and can be cast by the Petit Mage enemy.
Silence is a White Magic ability, learned by Rosa and Porom. It costs 6 MP to cast (8 in the DS version), and has a 60% accuracy (90% in the non-DS versions). Silence can be cast by Scarmiglione and Sorceress.
Silence returns as a White Magic spell in the sequel of Final Fantasy IV. Rosa and Porom already known the spell. It inflicts Silence to a single or multiple target at the cost of 6 MP.
Silence can be used by the White Mage initially, while Leonora learns it at level 19 and Porom learns it at level 15. It costs 6 MP to cast.
There are two versions of Silence: The White Magic version silences an enemy and costs 2 MP. The Time Magic version casts Silence on every target and costs 3 MP. In the GBA version, the Time Magic version is called "Mute", and is glitched making it useless. Silence can be cast by Fury, Omniscient, and Siren, while Mute can be cast by Neo Shinryu.
The player may utilize Mute by catching and releasing a Drippy.
Silence is a Gray Magic spell, only taught by the esper Siren. It costs 8 MP to cast with a Hit Rate of 100, and is vulnerable to Runic. It can be cast by Curlax, Level 40 Magic, Magic, Magic Master, Wizard, Abaddon, and Misty.
There is also an enemy spell called Silence which has the same graphical effect as the gray spell the party can use. It has an Hit Rate of 90, and it cost 20 MP for the enemy to use. This version of Silence is not reflectable and not Runicable. It can be cast by Naude.
The Silence spell's graphic that appears in the North American version of the Super Nintendo is smaller and oval compare to the Japanese version, and it read "Mute". However, the Game Boy Advance port uses the Japanese version's graphic for the English version.
Silence is the second-level spell available from the Seal Materia that is first available in Junon for 3,000 gil. Silence costs 24 MP to cast and has 60% success rate. The item Mute Mask also casts Silence on all enemies, for no MP.
The enemies Eligor, Bahba Velamyu, SOLDIER:2nd, and SOLDIER:1st, as well as the bosses Helletic Hojo, Lifeform-Hojo N, and Jenova∙DEATH all use the spell against the party except for SOLDIER:2nd who has it but will never use the spell.
Silence inflicts the Silence status on a single enemy and does no damage. It costs 2 MP to cast. It can be bought from Sector 5 Materia Shop for 1,000 gil.
Silence can be drawn and junctioned to stats. It prevents the use of magic and GF commands. Casting Silence in battle increases compatibility with Siren by 1.6, and with Doomtrain by 1, but lowers compatibility with Cerberus by 0.4 and with Carbuncle by 0.2.
Silence
Draw from
Level 1-100: Grat, Guard, Imp, Ochu
Level 1-30: Tri-Face
Draw Points
Dollet town square, Centra Excavation Site, Lunatic Pandora*
Refine
ST Mag-RF: 1 Echo Screen refines into 2 Silences; 1 Silence Powder refines into 20 Silences
HP-J
Str-J
Vit-J
Mag-J
Spr-J
Spd-J
Eva-J
Hit-J
Luk-J
+1
+0.06
+0.05
+0.12
+0.1
+0.04
+0.02
+0.03
+0.02
Elem-Atk-J
Elem-Def-J
ST-Atk-J
ST-Def-J
no effect
no effect
Silence +1.0%
Silence +1.0%
Silence is a White Magic spell usable by both Dagger and Eiko. It costs 8 MP to cast and 30 AP to master, and can be learned through various equipment. The spell has a 50% accuracy. It can be reflected and works with Return Magic. Silence can be cast by Grimlock, Quale, Ring Leader, and Stroper.
Silence is an enemy exclusive ability in this game, being cast by Coeurl, Guado Guardian during the Wendigo fight, Master Coeurl, Ultima Weapon, Varuna, and Yunalesca in her first form. Most enemies will use the spell as a counter to a magic attack. There are, however, abilities the player may use in order to inflict Silence on enemies, such as Silence Attack.
Silence is part of the Dark Knight's Arcana skillset, however, it is not learned via the dressphere but available when equipping the Garment Grid Still of Night or the accessory Mute Shock. It costs 8 MP to cast.
Silence can also be used through Yuna's Festival-Goer ability Ultima Geta. Silence can be cast by Aka Manah, Baralai (Pyrefly Form), Blue Elemental, Daeva, Duo, and King Takouba (Oversoul).
Silence is a spell available to both White and Red Mages. It is White Magic and first available at level 18.
"The character's voice is lost, preventing the casting of magicks. Remove with Echo Herbs."
Silence can be used only after attaining the Green Magick 3 license. It can be bought in Rabanastre and Bhujerba for 400 gil.
In the International Zodiac Job System version, Silence is a Black Magick 3 License. Costs 25 LP and consumes 8 MP, it cannot be bought and can be obtained from a chest at the Dalmasca Estersand's Yardang Labyrinth and Lhusu Mines' Shaft Entry. Only the job class Black Mage can learn it.
Fog, closely related to Silence, is a spell that can be learned by Saboteurs. Fog does minor magic damage and hinders the enemy's ability to cast spells. It is learned by Sazh in Stage 9, Snow in Stage 7, Vanille in Stage 8, and Fang in Stage 8. It takes one ATB segment to cast. It has an upgrade, Fogga, which is an area of effect skill, also learned by Saboteurs.
"Conjurors, seek truth in silence... Silence Song!"
—Upon casting in PlayStation version.
Silence can be inflicted using the Templar's Spellblade ability Silence, the summon Sylph, and the Mystic's Quiescence, translated as Silence Song in the PlayStation version. Quiescence costs 16 MP to cast and 170 JP to learn, and has a range of 4. Silence has a range of 4, costs 16 MP to cast, and takes 90 JP to learn, and unlike Quiescence, will automatically be used instead of having a charge time. Sylph costs 400 JP to learn and 26 MP cast, and has a speed of 20.
Ultima's Arch Seraph form can use the ability Mute, or known as Disempower in the PSP remake, to deplete all MP of enemies within effect area of 3-grid radius.
Silence is a spell learned by Templars and Time Mages. It costs 8 MP to cast, is stealable through the ability Steal: Ability, and is also susceptible to Return Magic.

Silence (サイレントスペル, Sairento Superu?) is one of Sorcery Spells Ashley Riot learns from the Grimoire Muet, found inside a treasure chest in Town Center South's The House Khazabas. The spell costs 7 MP and induces the status Silence.
Mute is learned through a magic book, and costs 1 MP to cast.
Called Mute in the game, this Black Magic spell can inflict Mute on one enemy. It cost 20 MP to use, and it can be bought for 3400 GP in Elan (Future) and New Dharm (Future).
There is also an enemy attack that also goes by the name of Mute, this ability doesn't cost any MP to use and also inflict Mute on one enemy. DualMask, EvilMask, Tempest, Succubus, and Sphinx can use this ability. Another similar ability called Silence does the same as Mute. Wheel, FireFan, FireFan, Familiar, Fiend, Osiris, Loki, Set, and Daimyo an use this ability.
Silence appears as a Dark Magic spell and costs 2 AP to cast. Silence can be given to any character by having a Silence Tome in the character's inventory. The spell can only be purchased in Guera and Urbeth for 500 gil.
Silence appears as an ability that can be chosen in the Onion Knight's Sage EX Burst, although it does nothing when selected.