Please expand this article into a full one. The following tasks need to be completed:This request can be discussed on the associated discussion page. Remove this notice upon completion.
Sidequests are optional, mostly non-storyline objectives the player can undertake. They have been predominant throughout the series. Sidequests can range from something as small as an errand or finding an item, to something as big as traveling the world for various objectives or fighting superbosses. Several sidequests involve getting powerful magic, summons, or equipment.
Sidequests
Edit
The sidequests were mostly about increasing party members' capabilities.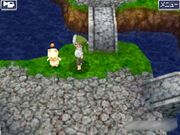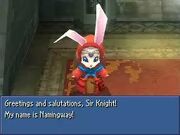 The only major sidequest is collecting G Reports to unlock the secret ending. There are the Extra Missions, which can be accessed from the main menu and are completely optional.
This article or section is a stub about a quest in Before Crisis -Final Fantasy VII-. You can help the Final Fantasy Wiki by expanding it.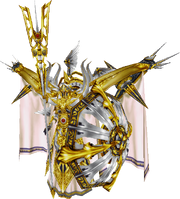 Missions - There are 300 missions the player can participate in and takes the majority of the gameplay should the player participate in them all. These are mostly in and under Midgar.
Building a flower cart for Aerith.
This article or section is a stub about a quest in Crisis Core -Final Fantasy VII-. You can help the Final Fantasy Wiki by expanding it.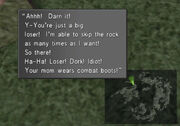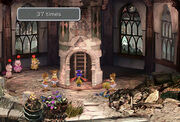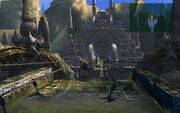 There are many sidequests, some specific to jobs (e.g. Artifact Quests) with others providing a certain spell or other reward. Unlike missions, most quests are standalone and only some form a series.
Quests are divided into nine categories:
San d'Oria - quests in the Kingdom of San d'Oria.
Bastok - quests in the Republic of Bastok.
Windurst - quests in the Federation of Windurst.
Jeuno - quests in the Grand Duchy of Jeuno.
Other - quests in remote areas such as Mhaura, Selbina, and most Chains of Promathia areas.
Outland - quests in the Outlands areas (Rise of the Zilart).
Aht Urhgan - quests in the Empire of Aht Urhgan and elsewhere in the Near East (Treasures of Aht Urhgan).
Crystal War - quests during the Shadowreign era (Wings of the Goddess).
Abyssea - quests in the new Abyssea add-on packs.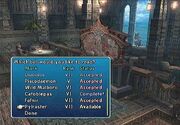 There are several missions that are not required to complete the game. Most of them are to collect extra summon Espers such as Bahamut.
Missions - When the player reaches Gran Pulse in Chapter 11, Missions are available that operate much like Hunts in Final Fantasy XII. Certain points are spread out on the field used to accept Missions, and how well the player does in them is denoted by a rank.
Achievements/Trophies - The player can opt to get all of the achievements (Xbox 360) or trophies (PlayStation 3). While offering no in-game rewards, these will give the player more gamerscore and new gamer pictures.
Sidequest is an in-game term used to refer to all quests not related to the main scenario, guild tasks, class / job quests or companies quests, etc. Most of these quests are standalone and only some form a series. All sidequests require a minimum level, and some also require specific classes (or just particular type of Discipline).
When all requirements to 'unlock' a sidequest are met, a small "!" appears above the issuing NPC's head and on the map when the player is close enough.
Sidequests and regular quests give a certain amount of Experience Points upon completion, as well as other rewards such as gil or items. Some quests, like Beast Tribes, are repeatable; these are marked by a circular icon instead of an "!" mark.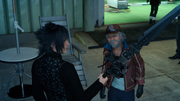 The game features various optional content. The player can start hunts in restaurants and run various errands to various quest-givers:
Discovering Oric's Culinary Chronicles lets the player read the story of Oric Gambell and learn new recipes for Ignis. Scraps of Mystery sends the player on a treasure hunt across Lucis, with 14 scraps of a map to discover. Orienteering Checkpoint is a similar quest, every every checkpoint gives a clue to the next one.
The Caricaturist will draw a portrait of the party when approached, and the player can find other portraits she has made around Lucis. There is no particular reward for doing this, however, apart from photos of the drawings.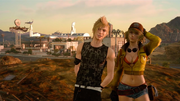 Tours are quests that activate when camping at the correct haven with the full party. The player can find drivers whose cars have broken down and help them, and help out injured hunters who call for help in various rural spots. The player can find map pieces in Leide that point to the location of the next treasure. Prompto Argentum takes photos and when something catches his eye his request becomes a quest. Some of the imperial bases are also optional, the last one being unlocked in Chapter 15.
Fishing is a minigame the player can play in various fishing spots. The player can race chocobos at the track near Wiz Chocobo Post.
There are optional dungeons scattered across Lucis, many of them containing royal arms.
There are also superbosses the party can slay: Adamantoise, Ayakashi, Bilröst, Naglfar and MA-X Angelus-0.
Shara - The player must complete "A Maiden's Cry", a dispatch mission. After the mission is completed, the player must head to the Pub to talk with Shara, the maiden that was screaming. It was shown that Shara, who has a fear of bugs, cried because of an antlion larvae.
Moogle Bride - It involves Montblanc receiving a love letter from Mogumi, a townsgirl. This "Mogumi" asked Montblanc to come to Materiwood. But after the clan arrives at Materiwood, it was actually a trick set up by Reaker, the leader of Clan Rose.
Montblanc - The player must recruit him by completing mission "Wanted: Friends, Kupo!". This mission is unlocked after the player obtains the Scion Gigas Pendant, Earrings of the Dead, and Pin of Order items.
A Bride for Montblanc is the sidequest of "Wanted: Friends, Kupo!". It is similar to "Moogle Bride" from Tactics Advance, but with a different petitioner named "Cois".
This article or section is a stub about a quest in Final Fantasy Type-0. You can help the Final Fantasy Wiki by expanding it.
A number of smaller "worlds" are available branching off of the Tower. Many of these worlds and areas are occupied by former adventurers and pilgrims that believe they have found Paradise, the game's central objective. Searching them can give the player a small number of items, up to an including a N.Bomb and Xclbr.
The only sidequest is Nasty Dungeon, this challenging dungeon contains valuable and powerful treasures that is well worth the player's effort to try and get them.
Sidequests are mostly about finding stronger and non-buyable weapons, armor, or accessories, and as well as optional key items.
This article or section is a stub about a quest in Final Fantasy Crystal Chronicles. You can help the Final Fantasy Wiki by expanding it.
Sub-scenarios are indicated by blue markers on the world map, and allow the player to seek out members of the Eternian Forces and challenge them to battle. Upon defeating them in battle for the first time, the player will be rewarded with new asterisks.
Barter Sub-Scenario System, a revamped version of sidequests from the first game. It focuses on Edea solving disputes between asterisk holders, which rewards asterisks as well as further that character's quest chain and side of the story. One job can be chosen at a time while the other can be obtained after going back in time in Chapter 5.
Fort-Lune Reconstruction sidequest a similar sidequest to the Norende Reconstruction sidequest from Bravely Default, where the player must rebuild Magnolia's home on the Moon.
The player can acquire tails from various enemies and exchange them with a gnome in the Moogle Cave to acquire powerful weapons.
The Memorist job can be powered up by collecting 46 memories throughout the world and customizing the class's stats with them.
Earth Eater, Elder Dragon, Talos - The player can acquire three unique items (Moogle Charm, Reflect Bangle, Regen Bangle respectively) by fighting bosses hidden in shrines throughout the world.
Coliseum - After obtaining the airship, the coliseum northwest of Gardenia can be accessed. Fighting there can net the player with gil and rare equipment.
Casino - An area in Gardenia where games can be played in order to acquire coins. Coins can be traded to acquire useful equipment and decorative items.
Gladiator's Hall - A postgame area that features battles with three superbosses: Adamantoise, Gigantuar, and the Ω Weapon.