Shock
Talk

0
13,961 pages on
this wiki
Relm

: I couldn't miss the chance to practice my drawing!
This article is in need of a few pictures. Perhaps you can help by

uploading

and adding a picture or two.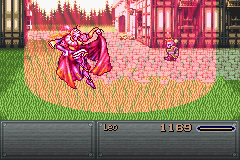 "Inflict damage commensurate with the damage received."
—Description, Final Fantasy Tactics.
Shock (ショック, Shokku, or ショック!, Shokku!?), also known as Vengeance, is a recurring ability or spell from the series. When used as an ability, it is associated with the Warrior class, but as a spell is generally a high-ranking Black Magic spell.
Appearances
Edit
Shock is the special command ability of General Leo and Gau as a chance of using this ability from Yojimbo Rage. It deals large amounts of non-elemental magic damage to all enemies, and it also removes the Invisible status if the monster(s) has this status applied to them. Its Spell Power is 128, and it cannot be dodged. Within the game's data, Yojimbo's Shock ability is called Megahit (Super Nintendo) and Megashock (Gameboy Advance). Unlike many of the other battle commands, Shock isn't disabled if Leo has been transformed into an Imp.
Shock first appears as one of General Beatrix's abilities. Later in the game, Adelbert Steiner can learn it as a Sword Art from the Ragnarok. It deals large amounts of physical damage, roughly three times the damage Steiner's normal attack does, usually amounting to 9,999 damage. It costs 46 MP to use, and can be learned for 60 AP. Shock takes on the elemental properties of the weapon when used.
The damage formula for Shock is as follows:
Final Fantasy XI Spell
Shock
MP:
25
Effect:
Deals lightning damage that lowers an enemy's mind and gradually reduces its HP.
Duration:
Varies
Casting Time:
2.5 seconds
Recast Time:
10 seconds
Magic Type:
Elemental Magic
Element:
Lightning
Jobs:
BLM 16
Shock is a Lightning-elemental Black Magic spell that deals lightning damage over time that lowers an enemy's mind.
Shock is a Black Magick spell which inflicts heavy non-elemental damage on a single target. It is available on Black Magick license 6 costing 50 LP. The spell can be purchased at Port at Balfonheim after the events at Pharos at Ridorana for 9,400 gil and initially uses 34 MP to cast.
The International Zodiac Job System listed Shock as a Black Magick 11 License. It is bought in Balfonheim for 7,800 gil and consumes 34 MP. Only the Black Mage Job class can use Shock.
Shock is also used as an enemy ability by Fafnir, Shadowseer, and Shemhazai.
Much like in Final Fantasy XI, Shock is a Lightning-elemental spell that deals damage over time. Available to Conjurers (Rank 12).
Vengeance, originally known as Shock! in the PlayStation version, is used by Beowulf and acts just like the Lifebreak ability, dealing damage equal to the difference in Beowulf's Max HP and current HP. Beowulf learns his at the cost of 600 JP, having a range of 8 and costs 20 MP to use.
One of General Leo's cards, depicting his Amano artwork, can use Shock. For a payment of 4 Light CP and the discard of another General Leo card, Shock deals 5,000 damage to all the opponent's Forwards.
Etymology
Edit
Shock refers to a dangerous condition that disrupts the blood flow of the body.
References
Edit