Ship Graveyard
Talk

2
13,959 pages on
this wiki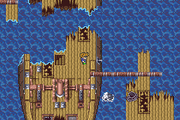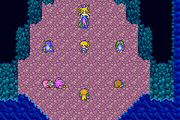 The Ship Graveyard (船の墓場, Fune no Hakaba?) is a location in Final Fantasy V. It is located northwest of Carwen, and is only accessible on the first world. A nest of undead creatures preside here, turned undead by Siren, who seeks the souls of wayward sailors.
Many ships have met a grisly fate on the seas and wound up in the reefs near Carwen. Bartz and his friends arrive here after Syldra, Faris's pet and the one thing controlling the ship, is sucked into a maelstrom. They make their way through the many undead enemies, only to meet Siren when they reach land. She nearly succeeds in stealing their souls by mimicking their loved ones, but Galuf, who has amnesia, does not recognize Krile, and thwarts Siren's ploy.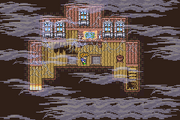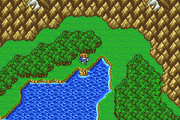 | Name | Location |
| --- | --- |
| Flail | Across turtle shells south of the starting point. |
| Tent | Innards of first wrecked ship. |
| 990 gil | Chest with skull symbol. |
| Phoenix Down | Room north of chest with skull symbol. |
| Potion | Hidden in a room in murky waters before the rest area. |
| World Map | Inside ship with Antidotes, ship before Siren. |
| Antidote | Ship with World Map. |
| Antidote | Ship with World Map. |
| Phoenix Down | Ship with World Map |
"Cursed Lands" (呪いの地, Noroi no Chi?), also known as "Cursed Earth", is the background music of the Ship Graveyard.