VII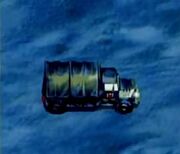 The Shinra Military Troop Transport is a vehicle used by the Shinra Electric Power Company military to transport troops and materials across moderate distances in the Compilation of Final Fantasy VII. It resembles the real-life military M939 5-ton truck.
Low in defensive armament, the vehicle is used primarily to transport units to and from low conflict areas or areas away from heavy fighting.

Ad blocker interference detected!
Wikia is a free-to-use site that makes money from advertising. We have a modified experience for viewers using ad blockers

Wikia is not accessible if you've made further modifications. Remove the custom ad blocker rule(s) and the page will load as expected.