Ad blocker interference detected!
Wikia is a free-to-use site that makes money from advertising. We have a modified experience for viewers using ad blockers

Wikia is not accessible if you've made further modifications. Remove the custom ad blocker rule(s) and the page will load as expected.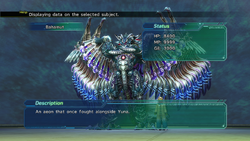 The game's bestiary can be accessed by talking to Shinra onboard the Celsius. There are 131 monsters in total in the bestiary, though there are much more in-game. The bestiary is extended to 255 in the Final Fantasy X-2 Ultimania Omega. A chapter entitled 魔物事典 (Mamono Jiten?, lit. Fiend Encyclopedia) is the third chapter of the book.[1] Enemies from 256 to 306 are listed in the Final Fantasy X-2 International + Last Mission Ultimania.
Completing the bestiary in the Final Fantasy X-2 HD Remaster version earns the trophy Monster Master.
The following sections list the entries numerically as they are in the game's official Bestiary. Bosses are marked with a ☆.
Fiend Encyclopedia
Edit
Ormi
Ormi
Ormi
Ormi
Ormi
Ormi
Logos
Logos
Logos
Logos
Logos
Leblanc
Leblanc
Elma
Baralai
Vegnagun
Vegnagun
Vegnagun
International / HD RemasterEdit
Iron Giant (Fiend Arena)
White Fang (Fiend Arena)
Zalamander (Fiend Arena)
Stalwart (Fiend Arena)
Shell Shocker (Fiend Arena)
Guardian Beast (Fiend Arena)
Haizhe (Fiend Arena)
Deep Haizhe (Fiend Arena)
Hrimthurs (Fiend Arena)
Protochimera (Fiend Arena)
Chocobo Eater (Fiend Arena)
YSLS-99 (Fiend Arena)
Battlesnake (Fiend Arena)
Barbuta (Fiend Arena)
Vertigo (Fiend Arena)
Adamantoise (Fiend Arena)
Aquila (Fiend Arena)
Barong (Fiend Arena)
Tentacles (Fiend Arena)
Balivarha (Fiend Arena)
Spine Drake (Fiend Arena)
Chocobo (Fiend Arena A)
Chocobo (Fiend Arena B)
Cactuar (Fiend Arena)
Garik Ronso (Fiend Arena)
Elma (Fiend Arena)
Yaibal (Fiend Arena)
Lucil (Fiend Arena)
Baralai (Fiend Arena)
Nooj (Fiend Arena)
Gippal (Fiend Arena)
???? (Tidus)
Major Numerus - Unum
Major Numerus - Duo
Major Numerus - Tria
Major Numerus - Quartum
Valefor (Fiend Arena)
Ifrit (Fiend Arena)
Ixion (Fiend Arena)
Bahamut (Fiend Arena)
Trema (Fiend Arena)
References
Edit
↑ Final Fantasy X-2 Ultimania Omega p.249 - 436