Shell Shocker
ロックマイマイ (

Rokku Mai Mai

?)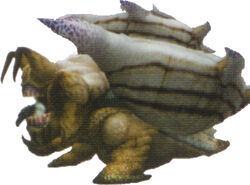 Hermit
Statistics
Level
HP
MP
24
4,700
82
Strength
Magic
Defense
71
72
68
M. Defense
Agility
Accuracy
46
72
3
Evasion
Luck
0
0
EXP
AP
Gil
860
1
780
Shell Shocker
ロックマイマイ (

Rokku Mai Mai

?)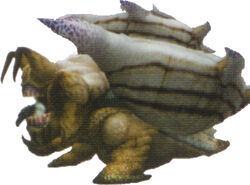 Hermit
Statistics
Level
HP
MP
31
4,935
82
Strength
Magic
Defense
78
72
68
M. Defense
Agility
Accuracy
46
94
4
Evasion
Luck
0
0
EXP
AP
Gil
1,380
2
1,500
Shell Shocker
ロックマイマイ (

Rokku Mai Mai

?)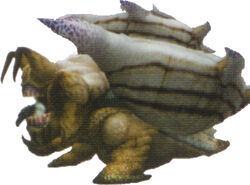 Hermit
Statistics
Level
HP
MP
36
18,500
193
Strength
Magic
Defense
95
111
78
M. Defense
Agility
Accuracy
86
98
5
Evasion
Luck
1
77
EXP
AP
Gil
Shell Shocker
ロックマイマイ (

Rokku Mai Mai

?)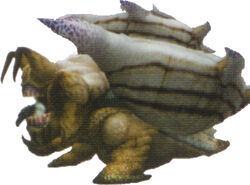 Hermit
Statistics
Level
HP
MP
44
27,750
289
Strength
Magic
Defense
113
144
101
M. Defense
Agility
Accuracy
111
104
6
Evasion
Luck
1
84
EXP
AP
Gil
3,000
2
2,560
Normal: "A fiend with a shell said to consist of the hardest material in Spira. This fiend is only half-grown, but it's impossible to defeat in a fair fight."
Oversoul: "Quick to Slurp its attackers and force a change of dresspheres. Then it strikes while they toddle around in gooey despair. This one's a real slimeball."
— Scan
The Shell Shocker is an enemy from Final Fantasy X-2. Despite its comparatively large HP and Defense, it is a very easy enemy to defeat. Its sole physical attack deals fractional damage equal to 31.25% of the character's current HP, meaning it cannot kill that character. It becomes more dangerous when Oversouled however, as it gains the ability to use Demi and Slurp. Demi cannot kill characters, but Slurp can.
Fiend Arena
Edit
This article or section is a stub about an enemy in Final Fantasy X-2. You can help the Final Fantasy Wiki by expanding it.
Related enemies
Edit
Ad blocker interference detected!
Wikia is a free-to-use site that makes money from advertising. We have a modified experience for viewers using ad blockers

Wikia is not accessible if you've made further modifications. Remove the custom ad blocker rule(s) and the page will load as expected.