Relm:

I couldn't miss the chance to practice my drawing!

This article is in need of a few pictures. Perhaps you can help by uploading a picture.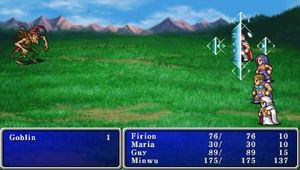 Shell (シェル, Sheru?) is a recurring spell generally classified as White Magic. It appears in various games in the Final Fantasy series and bestows the status effect of the same name, which halves all magic damage dealt to the target, often including both offensive and curative spells. Some games include the more effective Shellga spell.
Appearances
Edit
Shell is a White Magic spell which increases the Magic Evade of one or all allies, which reduces the success rate of spells and enemy attacks. As the spell's level grows, the spell's effectiveness and success rate increases. The effect can stack, but repeated use on the same unit(s) increases the chance the spell will miss. Any character can learn Shell by having them use the Shell Tome (called the Shell Scroll in the Origins release).
Shell is a White Magic spell. It has a casting time of 0, costs 10 MP with a 66% Accuracy. Shell is learned by Rosa at level 20 and Porom at level 29. Tellah learns it after completing Mount Ordeals; Fusoya joins the party with it. Cecil learns it as a Paladin at level 33 in the 3D version. Shell can be cast on either a single target or an entire party; this has no impact on its effectiveness. This spell can fail frequently when cast by a character with a low Spirit stat.
The spell is not learnable on on the SNES North American and Easy Type version. This spell is still used by Zemus's Malice, but the white magic icon has been removed from its name.
The spell functions differently in the 3D releases. In the 2D releases, Shell boosts its target's Magic Defense stat by 3 points, to a maximum of 255, for the duration of the battle. The spell will automatically fail if its target's Magic Defense is at 255, and during the final battle with Zeromus it is programmed not to work at all. In the DS release, Shell bestows the status of the same name as in most other games, halving Magic Damage that the party receives, and works properly in the final battle. It can also only be cast once. Its MP cost has been boosted to 15.
FFIV-I- Shell returns as a White Magic spell. Rosa and Porom already known the spell. It increase the Magic Defense of all targets at the cost of 10 MP.
FFIVTAY Shell appears as a spell that all the White Magic casters can use, it is also an enemy ability used by Boss Gobby, Lord Dragon, and Ultima Weapon. It can be used to target all allies at once.
V Shell is a spell that can be used only by the White Mage job. It is a White Magic Level 4 spell and it can be bought for 3,000 gil at Regole, Castle of Bal, Quelb, and Castle Surgate. It costs 5 MP to cast. It is one of the spells that can be cast from the Wonder Wand for free.
Shell can be cast by Calofisteri, Carbuncle, Gilgamesh at the Big Bridge, Halicarnassus, Harvester, Hades, Necromancer, Zephyrus, and Tiny Mage.
Shell is an Effect spell the espers Alexander, Zona Seeker, Carbuncle, and Unicorn can teach to characters. It costs 15 MP to cast and is vulnerable to Runic. Shell can be cast by Level 70 Magic, Cherry, Moebius, Gilgamesh, and Kaiser Dragon.
Shell is a Support Magic spell that can be refined from items using GF Diablos's Support Magic Refinement ability, as well as drawn from enemies. Casting Shell in battle increases compatibility with Carbuncle by 1, and with Cerberus by 0.2, but lowers compatibility with Diablos and Eden by 0.2 as well.
Shell
Draw from
Level 1-100: BGH251F2, Blobra, Gesper, Granaldo, Hexadragon, Iron Giant, Minotaur, NORG, Raijin, Righty, Sacred, SAM08G, Wedge*

Second encounter


Level 20-100: Adamantoise, Armadodo
Draw points
Galbadia Garden, Fishermans Horizon, Ultimecia Castle - Art Gallery
Refine
Supt Mag-RF: Shell Stone x1 = Shell x1; Barrier x1 = Shell x40; Rune Armlet x1 = Shell x40; Moon Curtain x1 = Shell x100
HP-J
Str-J
Vit-J
Mag-J
Spr-J
Spd-J
Eva-J
Hit-J
Luk-J
+4
+0.06
+0.18
+0.10
+0.40
+0.03
+0.02
+0.03
+0.14
Elem-Atk-J
Elem-Def-J
ST-Atk-J
ST-Def-J
No effect
All elements: +0.20%
No effect
No effect
Dagger and Eiko can use the White Magic spell Shell for 6 MP. It can be reflected and works with Return Magic. It is learned for 35 AP from Multina Racket, Mythril Racket, Mythril Rod, Wizard Rod, Cotton Robe, Gold Choker, and Moonstone. Shell can be cast by Serpion and Necron.
X Shell is a White Magic spell located on Yuna's section of the Sphere Grid although all characters can learn this spell. This spell halves magical damage, and costs 10 MP to cast. Shell can be cast by Cindy, Guado Guardian (B), Seymour, and Th'uban.
X-2 Shell is a White Magic spell learned by the White Mage dressphere for 30 AP that costs 10 MP to cast. It can be used without the White Mage dressphere when equipped with Selene Guard Garment Grid. Shell can be cast by Garik Ronso, Node A, Node B, Node C, Right Bulwark, Seymour (Fiend Arena), and Unum.
XI Shell is a spell that can be learned by Red Mages, White Mages, Scholars, and Paladins, though because it is such a low-level spell it can be used by many characters with any of these jobs as a Support Job. It is the earliest in a line of spells that go up to Shell V. Shell applies approximately 10% reduction of magical damage.
In the original version Shell is a Green Magick spell. It can be used when its license, Green Magick 2, is learned for 30 LP, and can be bought in Rabanastre, and Bhujerba for 300 gil. Shellga can also be learned, which casts Shells effect on the nearby party members as well. It requires the license Green Magic 7 for 105 LP; it can be bought at Balfonheim for 9,900 gil.
In the Zodiac versions, Shell is listed as White Magick 3 License, along with Protect. It can be bought from Bhujerba onwards, and can be used by the job classes White Mage and Red Battlemage. It is also found in a Diamond Armlet treasure in Trial Mode Stage 27.
Shellga is White Magick 12 License, and can only be obtained from a chest in the Great Crystal.
Shell is a Synergist ability that increases the magic resistance of any ally by 33%. It is learned by four characters by advancing in the Synergist role in the Crystarium system at varying levels: Hope (Lv2), Snow (Lv7), Lightning (Lv8), and Sazh (Lv9).
LR Though Lightning cannot use Shell as a spell, it can be used by Angel of Valhalla after he's at bond level 2. It can also be used by some enemies.
XIV This spell was featured as a conjurer ability but after the 1.31 patch it was removed as an ability along with many other spells. The Conjurer trait Proshell adds a resistance to magic effect to Protect, similar to Shell.
Shell can be used through the White Mage job it cost 70 JP to learn it. It costs 6 MP to use and has a speed of 25. It casts Shell in a standard cross-shaped area.
Shell can be used through the White Mage. It costs 100 AP to master it, 6 MP to cast, and has a range of 4 with a vertical reach of 2. It casts Shell in standard cross-shaped area. It can be stolen through the ability Steal: Ability.
TA2 Shell can be taught to a Green Mage by the War Hammer for 150 AP, and costs 8 MP to cast. Red Mages can also learn Shell through the Mage Masher. White Mages, however, cannot cast Shell as in the previous game.
FFCCMLaaK Shell is a level 10 Protection spell, exclusive to the White Mage class, and caps at level 100. It increases allies' Magic Defense, can be used once per battle, and up to three times a day.
FFL3 Despite being called Shell, the spell actually works like the Protect spell. The spell raises one character's Defense level by 10 during battle. It cost 8 MP to use, and it can be bought for 400 GP in Dharm (Present).
Shell is a White Magic spell and costs 2 AP to cast. When the spell is used it increases a characters magic defense by 50%. Shell can be given to any character by having a Shell Tome in the character's inventory. The spell can be purchased for 1,000 gil in Guera and Urbeth at night, and in Horne after the player defeats Satan.

BD Shell is a level 2 White Magic. It raise the magic defense of one target by 25% for five turns. The upper limit for M.Def is 150%. It costs 5 MP to use. It can be bought in Ancheim for 400 pg.
FFD Shell requires White Magic Level 5 and 10 MP to use. It can be bought for 6,000 gil in Magic Shops in Chapters 3-5, and it can be cast on either one or all party members.
FFRK Shell is a White Magic ability with a Rarity of ☆. It can be cast on one target, doubling Resistance, it can initially be used four times and it can be honed to Rank 5. It can be created by using Minor White Orb x3, Minor Earth Orb x3, Minor Holy Orb x3 and 1000 gil.
FablesC'sD MBarrier is a Lv. 4 spell that costs 3 SP to cast and protects Chocobo temporarily from magic damage.
TCG Ovelia's card can use M. Barrier. For the discard of another Ovelia card and Dulling Ovelia, M. Barrier grants the Haste and Brave effects to all the player's other Forwards, and allows them to attack an additional time that turn.