Shantotto
19,174 pages on
this wiki
Talk

64
Shantotto (シャントット, Shantotto?) is a non-playable character from Final Fantasy XI. She is a Tarutaru Black Mage from the Federation of Windurst and a hero of the Crystal War. She is famous for her iconic laugh and her habit of speaking in rhyme, although she does not speak in rhyme in the Japanese version. She is a central character in the expansion pack, Final Fantasy XI: A Shantotto Ascension - The Legend Torn, Her Empire Born.
In the original release, Shantotto was primarily a character involved in Black Mage related quests, and was not meant to have become such an iconic Windurstian character. Her few appearances proved memorable to fans on both sides of the Pacific and in response the developers expanded on her character in a number of expansion stories. Due to her general popularity with the player-base she has become one of the game's most iconic characters, and typically serves as its main representative in crossover products or events.
Appearance
Edit
Shantotto is a Tarutaru and as such is short in stature, about 2'0" in height. Much like the rest of her race her physical appearance stays the same regardless of aging; despite her youthful appearance she is quite old, even by Tarutaru standards. She has brown eyes and blonde hair, which she keeps held up in pig-tails with red and blue ribbons. In her official artwork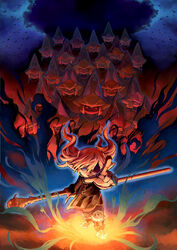 released for the Shantotto Ascension pack, the poster depicts her with blue eyes.
Her primary outfit is robe with dark deep green and grayish cream stripes, gold linings, and two gauntlets, known as the "Tactician Magician's Cloak Set" in Final Fantasy XI. She has almost the complete set, sans for the head gear that goes with it.
Personality
Edit
Shantotto views herself superior to all others and will not bow down to anyone. However, as shown in the Dissidia Final Fantasy series, when in the service of Cosmos, Shantotto showed respect to the heavenly deity during the time she served her. She lives by the motto "The Ends Justify The Means," meaning she will do whatever it takes to win even if an ally were to get hurt. Shantotto has a short fuse, easily losing her temper with anyone who would stand up to her or question her.
Due to her lineage as being from one of the most powerful Black Mage families in Vana'diel, she is on a never ending journey to further her knowledge of the magical arts, as well as other things, to preserve her family's status. Upon finding something strange or out of the ordinary, she desires to study and learn from it, if only on the basis of doing so before others. Her thirst for knowledge can bring out either the best or worst in her, depending on the situation.
Despite her shortcomings, Shantotto is loyal if she finds a cause she thinks is worth fighting for; if she finds it doesn't benefit her on a personal level, or if said cause could have a negative effect on the overall populace, she will leave without a moment's hesitation.
Shantotto was born to a family of distinguished Tarutaru black mages. Her early childhood was spent dreaming of "healing the world and spreading love" and as she got older her parents spent hours lecturing her on the dark arts. She practiced her black magic to utter perfection to ensure that her family line was preserved. When she was honored with the title of mage her life took a turn for the worse when her parents were divorced and her house was destroyed and her dog drank a shrinking potion.
In spite of these events, Shantotto kept true to her parents' words and persevered to become one of the top minds in the Federation. Prior to the Crystal War she was appointed minister of the Orastery, Windurst's Department of Magic. She was revered by many as Professor Shantotto.
Musical themes
Edit
"Feast of the Ladies" is a theme that serves as Shantotto's boss theme, first used in A Shantotto Ascension and reused in Final Fantasy XIV.

Other appearances
Edit
Revisiting her interdimensional travel spell, Shantotto comes across Eorzea and decides to conquer it to end the conflict with her golems testing the land. When the Adventurer interferes, Shantotto enlarges her Wind-Up Shantotto to fight in her stead. Once her minion is defeated, Shantotto appears before the Adventurer to explain her reasons and gives the Wind-Up Shantotto to the Adventurer and warns him to treat the doll right. From there, recognized to be beyond the Eorzeans' ability to deal with, Shantotto returns to her realm while promising to return to check on their progress.
Shantotto appears as a legendary (5-stars) card.
Shantotto Card

Card No.
78
Total

total stats of the card

29
Type
None
Description
Obtain
Win 30 Triple Triad tournament matches.
Shantotto represents Final Fantasy XI in Dissidia Final Fantasy, and plays as a special character, assumed to oppose Gabranth. She has little influence on the story, being an extra character as well as the only one appearing from Final Fantasy XI, appearing only once in the main storyline.
In her bonus storyline Shantotto is the guardian of a sanctum where other scholars and mages are allowed to study in peace. The area has recently been infested by manikins (by Shantotto herself in manikin-based experiments, which she divulges only in asides to herself), prompting Shantotto to task the player to destroy them. As a "reward," Shantotto gives the player a "private lesson" and battles them before going to duel Gabranth, though she can't recall his name.
Her alternate form has her wear the Black Mage artifact armor, and the black mage relic armor in EX Mode.
Shantotto returns in the prequel to Dissidia along with the other characters from the game, as a full-fledged warrior of Cosmos in flashbacks. She is the guardian of Cosmos's throne and protects her from Gabranth when the judge attacks the goddess. She is present when Prishe finds the Warrior of Light and helps her talk Cosmos into making him one of her warriors.
Shantotto is set to return in the arcade reboot of Dissidia. She is classed as a Shoot-type character.
Shantotto is a default playable character in Theatrhythm Final Fantasy.
She is a Spell oriented character. Her Limit, Ancient Magic, deals damage in proportion to her Magic and Level.
| Level | HP | CP | Strength | Magic | Agility | Luck |
| --- | --- | --- | --- | --- | --- | --- |
| 1 | 140 | 17 | 6 | 21 | 18 | 16 |
| 10 | 560 | 22 | 14 | 48 | 41 | 35 |
| 20 | 1,026 | 27 | 22 | 79 | 67 | 57 |
| 30 | 1,492 | 32 | 31 | 109 | 92 | 79 |
| 40 | 1,958 | 37 | 39 | 139 | 118 | 102 |
| 50 | 2,424 | 43 | 48 | 169 | 143 | 124 |
| 60 | 2,890 | 48 | 56 | 199 | 169 | 146 |
| 70 | 3,356 | 50 | 65 | 230 | 194 | 168 |
| 80 | 3,484 | 50 | 68 | 238 | 202 | 174 |
| 90 | 3,613 | 50 | 70 | 247 | 209 | 181 |
| 99 | 3,729 | 50 | 72 | 255 | 216 | 186 |
iOS stats
Edit
Shantotto returns as a default playable character. If the player did not select her among their party of four, she can later be unlocked by collecting Yellow Crystal Shards. She is the only returning character to undergo an aesthetic change, appearing noticeably smaller than all other characters.
She is a Spell oriented character. Her Limit, Ancient Magic, functions the same as before, dealing damage in proportion to her Magic and Level.
| Level | CP | HP | Strength | Magic | Agility | Luck | Stamina | Spirit |
| --- | --- | --- | --- | --- | --- | --- | --- | --- |
| 1 | 17 | 133 | 4 | 21 | 10 | 8 | 8 | 21 |
| 50 | 43 | 2345 | 29 | 172 | 81 | 64 | 64 | 168 |
| 99 | 50 | 3540 | 43 | 255 | 120 | 94 | 95 | 250 |
Abilities
Edit
Shantotto appears as an ally and a summonable Legend in Final Fantasy Airborne Brigade. She is depicted in her default Final Fantasy XI outfit, as well as an event-related Santa outfit. She was first introduced as an event ally in the event, Winter Holiday Campaign while wearing an exclusive Santa suit. Leveling her up in this event granted the player the Shantotto I summon stone, along with each level-up at a specified number granting players an additional summon stone.
She was also present as an ally during the coinciding events, Final Fantasy Special Event Parts 1 & 2 - Shattered World and Final Fantasy Special Event Parts 1 & 2 - Showdown, in which she was unlocked by clearing the Crystal World stage. Leveling her up to 99 in these events granted the player her individualized SSR weapon, Plaga Scythe.
Shantotto is only available from the Premium Character Shop as a random downloadable content. She uses the Tornado ability during battle.
Shantotto is a playable character who can be recruited as the First Time Reward for completing Waughroon Shrine on the Classic difficulty in FF XI track of the game's Core Dungeons.
Assessment
Shantotto is the Lady of Legend whose combat role is Offensive Magic.
An only child of sorts, Shantotto falls into the same predicament as the original Warrior of Light in that she doesn't have much leeway with respect to Synergy, so she will need to rely on her allies and her equipment for support. Nonetheless, she is a potent Black Mage with a lot of potential still to come.
Stats
Level
HP
Attack
Defense
Magic
Resistance
Mind
Accuracy
Evasion
Speed
1
164
8
6
13
11
6
20
20
92
10
638
20
13
40
27
15
20
20
96
20
1,165
34
22
65
46
26
20
21
101
30
1,692
49
31
87
65
37
21
21
106
Rank

Max: 5

2
2
1
5
4
1
3
3
3
Abilities
Shantotto can use Black Magic spells up to rarity rank 5, and Monk abilities up to rarity rank 4.
Her default Soul Break is Freeze, which for one Soul Gauge segment deals magic ice damage against all foes.
Equipment
Shantotto can equip the following weapon types: daggers, rods, and staves.
She can equip the following armor types: hats, robes, and bracers.
She can equip accessories.
Shantotto appears in Final Fantasy Trading Card Game. One card depicts her Final Fantasy XI appearance, one her Dissidia Final Fantasy artwork, one her manikin, Lady of Antiquity, and one in her alternate outfit for Dissidia. Her cards are earth-elemental.
Shantotto appears as an opponent and on Triple Triad cards in the version available via Final Fantasy Portal App. On Easy she uses rules Three Open and Plus. On Normal she uses Chaos. On Hard she uses Same, Plus and Chaos, and the rare five star cards of herself and other Final Fantasy XI characters can be won from her, among other cards. She uses the trading rule One.
Non-Final Fantasy guest appearancesEdit
In Dragon Quest X, players will be able to meet Shantotto who wound up in the Dragon Quest X world after one of her magical experiments in dimensional travel goes awry. Players can help Shantotto get items like Gysahl Greens for her chocobo.

Square Enix Legend WorldEdit
Shantotto makes an appearance as a card.
Puzzle & DragonsEdit
Shantotto will appear in Puzzle & Dragons in a Final Fantasy collaboration event starting on March 21, 2016.
Shantotto is one of four characters that may appear during the Heroine's Combat special event.
According to Shantotto's Character Biography in Dissidia Final Fantasy, her one and only regret in life is having neglected to marry.
In both the Heroine's Combat event, and in the Dissidia series, if Shantotto loses a battle she turns into a doll. Yet it is implied that if Shantotto beats the player in Heroine's Combat, and if she wins a match in the Dissidia series, she is real. Meaning that the real Shantotto is only capable of winning, and only weak copies are capable of losing.
Shantotto came in first place in a Final Fantasy XI NPC Popularity Contest held by Square Enix in June 2013. Current players of the game were given an opportunity to vote for their favorite NPC and share ideas for stories involving these characters.
In Final Fantasy XIV, a legendary thaumaturge named "Shatotto" is said to have been the creator of the Black Mage relic weapon, the Stardust Rod. The achievement granted for obtaining the Stardust Rod in Final Fantasy XIV is also called "Ohohohohoho!". Also noteworthy is during the Black Mage job questline, the soul stone is referred to as "The Gem of Shatotto."
External links
Edit
Shantotto