Shantak
シャンタク (

Shantaku

?)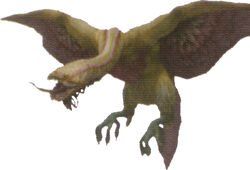 None
Statistics
Level
HP
MP
16
1,130
47
Strength
Magic
Defense
38
2
12
M. Defense
Agility
Accuracy
8
62
8
Evasion
Luck
9
0
EXP
AP
Gil
90
1
120
Shantak
シャンタク (

Shantaku

?)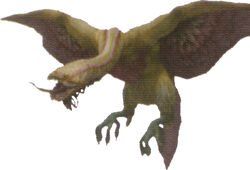 None
Statistics
Level
HP
MP
19
1,187
47
Strength
Magic
Defense
38
2
12
M. Defense
Agility
Accuracy
8
81
10
Evasion
Luck
11
0
EXP
AP
Gil
200
2
220
Normal: "An enormous bird found throughout Spira. It beats its giant wings to send shock waves crashing into enemies. It's said to be strong enough to carry a Behemoth off in its talons."
Oversoul: "Flaps its wings with greater force now that it's oversouled. So much force, in fact, that one flap will send your Potions flying!"
— Scan
The Shantak is an enemy from Final Fantasy X-2. It is a strong enemy at the start of the game but is relatively easy late in the game. It is much more difficult when in Oversoul due to the Chicken Wing attacks, but is still possible to defeat with ease. Use the strongest attacks the party has at the time to take it down.
Fiend Tale
Edit
In the Fiend Tale endings, a notable Shantak was created from the spirit of an Al Bhed who was among the pioneers in hovercraft development a century ago. Dying while piloting the prototype in the Calm Lands, his disappointment of not achieving flight resulted in his fiend. After gaining the hang of his ability to fly, Shantak returned to the Calm Lands and departed to the Farplane after flying across the area.
Etymology
Edit
[view · edit · purge]The Shantak is an immense bird-like monster found in some of H.P. Lovecraft's works, most notably The Dream-Quest of Unknown Kadath.
Related enemies
Edit