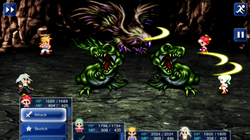 Shamshir (シャムシール, Shamushīru?), also known as Sham Seal and Shimsham, is a recurring enemy ability in the series.
Appearances
Edit
VI Shamshir is an enemy ability used by Vulture, Lenergia, Galypdes, and Rukh, which halves one target's HP if they are not immune to Death. It costs 20 MP and is vulnerable to Runic.
VII Sham Seal is an enemy ability used by Wind Wing, which inflicts non-elemental physical damage to one target.
Etymology
Edit
[view · edit · purge]A Shamshir is a type of sabre with a curve that is considered radical for a sword: 5 to 15 degrees from tip to tip.
The Shim Sham, Shim Sham Shimmy or just Sham originally is a particular tap dance routine and is regarded as tap dance's national anthem. For today's swing dancers, it is a line dance.
Ad blocker interference detected!
Wikia is a free-to-use site that makes money from advertising. We have a modified experience for viewers using ad blockers

Wikia is not accessible if you've made further modifications. Remove the custom ad blocker rule(s) and the page will load as expected.