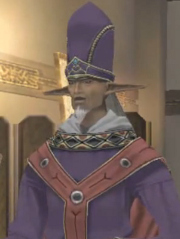 Shamonde is a non-playable Elvaan character in Final Fantasy XI. He is the spiritual leader of the Kingdom of San d'Oria. He has served King Destin R d'Oraguille as the cathedral's papsque since the passing of his predecessor, Muchavatte P Couchiret, in the wake of the Crystal War. Though considered to be the most pure man in all of San d'Oria, Shamonde is not without ambitions of his own.
This article or section is a stub about a character in Final Fantasy XI. You can help the Final Fantasy Wiki by expanding it.
Ad blocker interference detected!
Wikia is a free-to-use site that makes money from advertising. We have a modified experience for viewers using ad blockers

Wikia is not accessible if you've made further modifications. Remove the custom ad blocker rule(s) and the page will load as expected.