Shadowbind
Talk

0
13,959 pages on
this wiki
Relm

: I couldn't miss the chance to practice my drawing!
This article is in need of a few pictures. Perhaps you can help by

uploading

and adding a picture or two.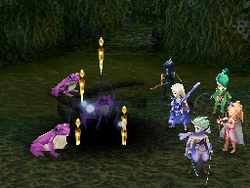 "Stops target's movement by anchoring its shadow to the ground."
—Description, Final Fantasy Tactics.
Shadowbind (かげしばり, Kageshibari?), also known as Pin or Needles, is a recurring ability in the Final Fantasy series.
Appearances
Edit
Originally known as Pin in official versions preceding the Nintendo DS, and Needles in the J2e translation, Shadowbind is a Ninjutsu spell usable by Edge that casts Paralyze on one target. It costs 5 MP in all versions but the Nintendo DS version, where it costs 15 MP instead.
Shadowbind returns as a Ninjutsu spell in the sequel of Final Fantasy IV and Edge already known the spell. It stops the enemy from attacking for a set amount of time at the cost of 5 MP.
Shadowbind returns as a Ninjutsu ability, used by Edge at level 25 and Zangetsu at level 20, and functions the same as in Final Fantasy IV. It costs 5 MP to cast.
Shadowbind is a job ability of Rangers that ability becomes available at level 40. It allows the Ranger to Bind an opponent, stopping him in place for a short period of time. With the exception of some Notorious monsters that are immune to Bind, this status cannot be resisted. This status cannot be removed with Erase.
The Hunter's Bracers increase the duration of the Bind effect.
Shadowbind is used by Archers; it inflicts Immobilize.
Shadowbind is an enemy ability usable by Metallicactuars. When used, the Metallicactuar will launch the victim into the air and freeze it there. There is no cure for Shadowbind.
"Delivers a ranged attack. Chance to inflict Bind."
—Description
Shadowbind is a Weapon Skill available to the Archer Discipline.

Shadowbind is an ability of the Assassin Job, exclusive to enemies, which inflicts Stop on a target up to 4 spaces away, and has a 100% hit rate.
Shadowbind is an ability that can be learned by Assassins. It is learned from the Fey Bow and requires 200 AP to master. It costs 12 MP to cast. It can only hit units on surrounding tiles and causes the stop effect.
There is also a Lunge Tech by the name of Shadowstick, which causes Slow. It is taught by the Silver Rapier and is mastered after 200 AP.
Shadowbind returns as an Assassin ability, and is learned from the Elfin Bow for 350 AP, and costs 12 MP to cast. It inflicts Stop in a similar manner to Final Fantasy Tactics Advance.