Seymour Guado
Talk

32
14,761 pages on
this wiki
"Well, if you're offering your lives, I will have to take them."
—Seymour Guado
Seymour Guado is the main antagonist of Final Fantasy X. He is also temporarily playable in one battle. As a maester in the church of Yevon, Seymour has considerable influence over Spira and is a skilled mage and summoner. Seymour uses his power to work towards a sinister end, halting the party at several points in the story.
Appearance and Personality
Edit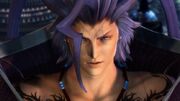 "A maester of Yevon and leader of the Guado. He seems disinclined to summon aeons, but his powers are great. He can draw upon magic of all four elements as well as upon healing spells. His Overdrive Requiem deals a devastating blow to all enemies."
—Scan information from Final Fantasy X
Seymour is a tall Guado-human hybrid who has blue eyes, light blue hair with two long locks similar in appearance to horns running down his back, and a large bang of hair falling over his face. His ornate robes are unlike any of the other Maesters of Yevon, and are predominantly dark blue with red trimmings and a green sash. The robe above Seymour's waist is open, exposing his chest, and his sleeves fall to partially cover his hands.
As he is part-Guado, Seymour's fingers are more pointed than a human's, but not as long as a Guado's fingers. His ears (which are visible during the wedding sequence) are rounded and human-like, unlike the elfish ears of the Guado. The veins on Seymour's face are pronounced, another trait passed from the Guado. Seymour wields a staff in battle, though he is more proficient with magic.
Due to his cruel and lonely upbringing, Seymour has nihilistic views on life. Due to Sin's seemingly endless rebirth, Seymour believes as many do that Sin will always exist and sees death as a release from the sorrow and pain of life. Though Seymour appears courteous and affable on the outside, this is merely a front to hide his sinister motives, and when called upon he drops the pretenses and reveals his true nature as an arrogant and cruel man. Seymour has no qualms with killing anyone who stands in the way of his objectives, rationalizing that by murdering them, he has saved them from the pain of life.
Despite his negative traits, he does have a few redeemable ones: According to the Final Fantasy X Ultimania Omega, Seymour genuinely cared for Yuna, and Final Fantasy X-2 shows how Seymour gave Baralai refuge without asking anything in return.
Early Life
Edit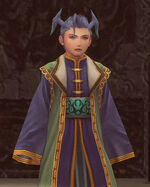 Seymour was born from the leader of the Guado and a human woman in an attempt to foster friendship between the Guado and human races. Perhaps interesting to note - his father, Jyscal Guado - was not leader of the Guado when Seymour was born. This suggests that Seymour was potentially an accident of love. Seymour was viewed as an abomination by the humans, and his father's decision to wed a human led to disunity in the Guado tribe. To avoid further strife, Jyscal Guado had his wife and son exiled to the island of Baaj.
Seymour's mother gave her life to become the fayth of the aeon Anima, believing the only way she and Seymour would be accepted by Spira was if Seymour used her as the Final Aeon to destroy Sin and bring the Calm. Seymour mourned the loss of his mother and did not care for acceptance if it meant losing her. Seymour returned to Baaj Temple where he would live alone for years, his isolated lifestyle giving birth to his views on life and death.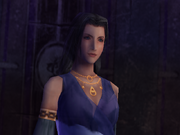 At eighteen years of age, during High Summoner Braska's Calm, Seymour's exile was revoked and he was summoned back to Guadosalam, the capital of the Guado nation, where he was ordained as a priest of Macalania Temple. Seven years later, he returned to Zanarkand to have Anima's fayth transported to Baaj Temple, which he revisited several times. Seymour developed a plan to put all he believed into practice - he would become Sin itself, and destroy Spira, "releasing" its inhabitants from the suffering of existence. Seymour made his first move in his plan only two weeks prior to Tidus's arrival in Spira - murdering his father to take his place as both leader of the Guado and as a Maester of Yevon.
Final Fantasy XEdit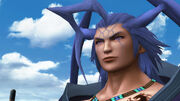 Seymour first appears to Yuna and her guardians in Luca, when Grand Maester Yo Mika arrives to announce Seymour's new position as a Maester. During the blitzball game, fiends invade the stadium and attack the people. This was deliberately set up by Seymour, who summons Anima and dispatches the fiends, saving the spectators, and awing them with his power, thus earning their trust.
Not long after the blitzball tournament concluded, Yuna and her companions continue on their pilgrimage and pass by Mushroom Rock, which is blocked off due to Operation Mi'ihen, a combined effort of the Crusaders and Al Bhed to battle Sin using machina. Though their use of machina goes against Yevon's teachings, Seymour is present with another Maester, Wen Kinoc, wishing the Crusaders and Al Bhed succeed in their efforts regardless of their sacrilege, both fully knowing how it would turn out. Operation Mi'ihen is a disaster – the Crusaders and Al Bhed are decimated, the Sinspawn gathered to lure Sin break loose, and Seymour has to intervene to assist Auron in protecting Yuna from Sinspawn Gui. In the aftermath, Seymour speaks at length with Yuna about the duties of a summoner, who bring hope to Spira and must be beacons of strength to the people.
When Yuna's party arrives in Guadosalam, they are summoned to Seymour's home. Seymour shows them a sphere depicting the ancient city of Zanarkand and Seymour tells Yuna that Yunalesca was the first summoner to defeat Sin, and did so with the assistance of her husband, Lord Zaon, due to the bond of love they shared. Seymour asks Yuna to marry him, if not for love, then to give the people of Spira reason to celebrate and be cheerful. Seymour gives her leave to think his offer over and continues on to Macalania Temple further down the road of the pilgrimage.
When the party visits the Farplane, the spirit of Jyscal follows them out of the entrance. Yuna sends him, and he drops a sphere which Yuna picks up. The group continues to Macalania's frozen lake, where Seymour's servant, Tromell, takes Yuna ahead to meet with Seymour at the temple. When the rest of the group arrives, Seymour and Yuna are already in the Cloister of Trials, and they wait for the two to return. The group finds the sphere left by Jyscal in Yuna's belongings, which showcases Jyscal knowing of his impending death at the hands of Seymour, and pleas whoever sees it to stop Seymour for Spira's sake.
Confronted by Yuna's guardians as they rush into the Cloister of Trials, Seymour confesses to killing Jyscal while deducing that Yuna already knew and agreed to the marriage to personally bring him to justice. After his bodyguards and Anima are defeated, Seymour is mortally wounded and dies soon after. Tromell and the Guado carry away Seymour's lifeless body, refusing to let Yuna perform the sending.
Due to his strong emotional ties to the world, and because Yuna was unable to perform a sending for him, Seymour's spirit becomes an unsent and re-manifests into his physical form. When Yuna is taken by the Al Bhed to their Home on Bikanel island, the Guado invade and kidnap her, and the Al Bhed's Home is destroyed. Yuna is taken to Bevelle to marry Seymour. Using the airship Fahrenheit commanded by the leader of the Al Bhed, Cid, the guardians attack Bevelle and locate Yuna. They are held at gunpoint and forced to watch as the ceremony is completed and Seymour kisses Yuna. Yuna summons Valefor and escapes, and the party reunites with her at Bevelle temple, where they are arrested by Yevon.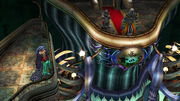 Yuna is placed on trial for treason, and tells the Maesters Seymour murdered Jyscal and is dead himself. Though Maester Kelk Ronso is disturbed by the news, Mika and Kinoc are not, and Mika reveals he is also an unsent and knows of Seymour's crimes. Yuna and her guardians are thrown into the Via Purifico, but Mika is doubtful they will perish, and Seymour volunteers to guard the exit and kill them himself should they emerge alive. Maester Kinoc, not trusting Seymour, accompanies him. The group reunites and escapes the dungeon, finding Seymour waiting for them at the exit.
Seymour shows the party he has killed Kinoc, and explains his views on life and death, telling Yuna he wishes to draw on her strength at Zanarkand to become the Final Aeon and become Sin so he may destroy Spira. Seymour absorbs Kinoc's pyreflies and becomes Seymour Natus. Kimahri initially faces him alone to help the rest of the party escape, but they return to help him and do battle with Seymour anyway. He is defeated, and the group escapes Bevelle.
Yuna and her group continues the pilgrimage across Mt. Gagazet, where the Ronso live. Kelk Ronso, having abandoned Yevon but believing in Yuna, allows her to pass and vows that the Ronso will block any pursuers. Seymour arrives and kills the Ronso when they attempt to bar his path, including Kelk himself. At the mountain's summit, Seymour overhears Tidus speaking about his father, Jecht, who is the current incarnation of Sin. Seymour offers Tidus Jecht's freedom when he becomes Sin in his place and informs Kimahri of the fate of his people before transforming into Seymour Flux. He is again defeated and vanishes.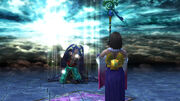 Sometime later, the party attacks Sin directly in a battle above the city of Bevelle and invades it with the airship. It turns out Seymour was on-board Sin and not too far deep within Sin's innards (most likely not long after the party defeated Yunalesca and left the Zanarkand Ruins), revealed to actually have been absorbed by the creature, all-the-while attempting to learn how to control Sin from the inside. Stating that Sin is unstoppable without Yunalesca, the means of bestowing the Final Aeon, gone, Seymour becomes Seymour Omnis and engages the party in a final battle. Once he is defeated, Yuna performs the sending for Seymour. In his final words, Seymour states his belief that Spira's sorrow would prevail even after he is gone, although he seems to accept that Yuna would be the one who would send him. After he has been sent, Tidus promises that Sin will be gone right after him.

Final Fantasy X-2Edit
In the next two years, due to their allegiance with Seymour, the Guado have been ostracized from most of Spira. Seymour makes a cameo appearance in a flashback when the player obtains Baralai's Sphere. The scene shows Baralai asking Seymour for protection from Bevelle shortly after the final mission of the Crimson Squad in the Den of Woe. This meeting occurs right before Yuna and her guardians arrive in Guadosalam to meet with Seymour in Final Fantasy X. Baralai speaks of Seymour and other maesters (Kinoc) 'vying for power' behind the scenes, to gain control of Yevon and its people.
Final Fantasy XEdit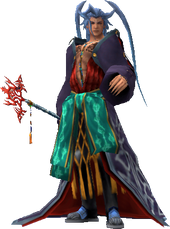 Seymour temporarily joins Yuna during the battle against Sinspawn Gui in Operation Mi'ihen. He has 1200 HP and 999 MP. If the player hacks Seymour into the party permanently, he doesn't have a Sphere Grid and the player can't equip him with anything new. He can still gain sphere levels like the other characters, but he doesn't show up in the menu screen so the player can't upgrade his stats or customize him.
The staff Seymour wields during battle has a unique model. The name of this staff, as well as any abilities it may have, are unknown, but if the player has Yuna's and Auron's weapons without abilities, it becomes evident Seymour's staff has at least the Sensor and Piercing abilities. If the player uses Scan on Seymour, they can find Seymour has a type of bracelet/equip around his ankle.
Abilities
Edit
Seymour is a proficient summoner, able to cast a variety of low level Black Magic (Fire, Fira, Thunder, Thundara, Water, Watera, Blizzard, and Blizzara) and White Magic (Cure, Cura, Scan, NulBlaze, NulShock, and NulTide).
Although Seymour has an aeon, Anima, that is among the most powerful aeons, it cannot be summoned during the time Seymour is playable. His Overdrive is called Requiem, and deals non-elemental damage to all enemies.
Requiem
See also: Seymour (Final Fantasy X Boss), Seymour Natus, Seymour Flux, and Seymour Omnis
Seymour is faced as a boss in Macalania, accompanied by two Guado Guardians. He summons Anima during the battle. Later in the game, Seymour can absorb pyreflies into his body to transform into more powerful forms: Seymour Natus, Seymour Flux, and Seymour Omnis. During these battles, Seymour is accompanied by the Mortibody, the Mortiorchis, and the Mortiphasms.
In all of his boss battles, Seymour relies on casting elemental magic on the player and using combo attacks with whichever form of the Mortibody he has with him. He will Banish any aeon summoned after one turn.

Seymour can be recruited as a party member Final Fantasy X-2: International + Last Mission through the Creature Capture system. To recruit Seymour, the player must defeat him in the Farplane Cup in the Coliseum and must win the cup after.
The abilities Seymour can naturally learn are Demi, Black Sky, and Meteor. Like all monster allies, Seymour can use any of the common dresspheres and he is controlled by the game's AI.
Main article: Seymour (Final Fantasy X-2 Boss)
Seymour Coin
Coin No.
56
Coin Value
9
Trait
Rare Item
Location
Win from the Marvelous Core Sphere player in the Luca Stadium.
Musical Themes
Edit
"Seymour's Theme" (シーモアのテーマ, Shīmoa no Tēma?) is a haunting piece with a slow tempo played with many different instruments, with string instruments playing the main melody for most of the piece. "Seymour's Ambition", a variant of "Seymour's Theme", plays during the first fight against him in Macalania and when he reveals how he will execute his ultimate goal at Mt. Gagazet.
"Patricide" plays when he reveals his plans to Yo Mika. His final character theme, "The Unsent Laugh", plays when the party confronts Seymour one last time inside Sin in the Garden of Pain. During the battle with Seymour Omnis, "Fight With Seymour" (シーモアバトル, Shīmoa Batoru?) plays.
Other Appearances
Edit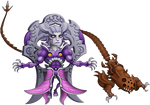 Seymour Natus appears as a boss, alongside Mortibody.

Seymour appears in the Final Fantasy Trading Card Game and is represented in two Thunder-elemental cards. He is depicted in his Final Fantasy X artwork and in his Theatrhythm Seymour Natus form.
Merchandise
Edit
Seymour has a Play Arts action figure. Seymour Natus appears as an action figure in the Final Fantasy X Monster Collection of figurines, although it is called "Seymour Evolution" on the box. This figurine has also been packaged together with a figure of Final Fantasy VII's Diamond Weapon for a Final Fantasy Creatures set. Four Coca-Cola bottle cap figurines for Seymour also exist; a chibi version and a figure with normal proportions, and colored and "red crystal" versions of both.
Etymology
Edit
The name "Seymour" is an English name derived from a location from Northern France (meaning Saint Maur). The Latin ancestor of the word is "Maur", meaning "Dark Skinned", and originated from the use as a title by Norman Noblemen who managed to conquer parts of Great Britain in 1066.[1]
His name in romaji is Shīmoa. As Shī can be translated to death, this is likely the reason Seymour's name was chosen. This is further reflected in the fact he is fought four times, with four - or Shī - being symbolic of death in Japan.
Seymour is one of the few Final Fantasy characters who are not fully human, along with Cecil Harvey, Golbez, Terra Branford, Aerith Gainsborough and Yuna.
Seymour shares his Japanese voice actor with Tseng from the Compilation of Final Fantasy VII, Jassu, Zanar, and the Hypello race from Final Fantasy X and Final Fantasy X-2, and Nimbus from Final Fantasy Type-0.
If one looks closely in the Guado Mansion's foyer, one can see portraits of a young Seymour, Jyscal, and two other Guado. The latter two are most likely Jyscal's father and paternal grandfather.
Seymour was considered to be in Dissidia Final Fantasy as the Chaos representative of Final Fantasy X, but was rejected in favor of Jecht. Various traits of his, however, were included with Emperor Mateus in Dissidia 012 Final Fantasy, and the rivalry between Yuna and the Emperor in that game is similar to her rivalry with Seymour Guado.
If the player obtains the aeon Anima and uses her against Seymour, he responds, "You would oppose me as well? So be it."
Through the use of a cheating device, Seymour can be playable in battle after or even before the battle with Sinspawn Gui. He will not, however, have a section on the Sphere Grid or be shown in the battle results.
It is unknown who voiced Seymour as a kid, as no voice actor is credited for the role.
References
Edit