Series appearances
Edit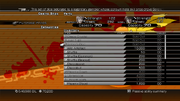 In the casino Serendipity the player can exchange their winnings for a fragment called "Setzer's Dice". Its description says Setzer's "consummate skill once drove Serendipity to the brink of ruin". His surname, "Gabbiani", is used in a Brain Blast! question at Academia 4XX AF, stating he had "won the most number of coins at the slot machines in a single day" in Serendipity.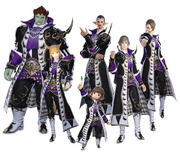 Setzer's costume is a reward at the Manderville Gold Saucer. It is available for both male and female characters, and in total, costs 200,000 MGP. A chocobo barding that mimics Setzer's long coat is also available for 40,000 MGP.
FFT The name Setzer crops out in the "Storm of 777" errand. The errand is as follows:
The Blackjack, the casino ship is at the port. The slot machine at the left end of the ship is said to be loose. You should try it out!
The outcome is as follows:
The Casino ship Blackjack is at the port Limberry castle. The slot machine on the left hand side gave us 777, the jackpot. Nothing happened so we asked Setzer about this. He said he deliberately lowered the pay-off rate. "Gambling's not fun unless there's some risk."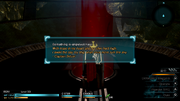 Setzer appears as an unseen character. There is an airship named after him, the Setzer. It is the only airship in the game that the player can manually control on the world map.
When Class Zero cadets activate the airship for the first time, a message from "Captain Setzer" appears on the airship control panel, read "With hope in my heart and my chin held high, I await the day my ship shall once more rule the sky. —Captain Setzer".

FFCCEoT A set of equipment called "Gambler's Gear" and "Gambler's Hat" can be bought in Town, and makes the character look like Setzer. It is equippable by all Tribes.
Dissidia Setzer makes a small appearance as one of the tutors of the in-game manuals.

Setzer appears as a playable character.

This article or section is a stub about a character in Dissidia Final Fantasy Opera Omnia. You can help the Final Fantasy Wiki by expanding it.
PFF Setzer appears as a playable character.
FFAB Setzer appears as an ally and a summonable Legend. He is depicted in his Final Fantasy VI outfit. His EX ability is Dive Bomb.
Ability Cards
Legend Cards

This gambling rogue soars the skies, facing danger to visit the tombs of friends.
—Description
Setzer is an exclusive character available from the Premium Character Shop as a random downloadable content. He uses the Dive Bomb ability during battle.

Proud owner of the airship Blackjack. After the death of his friend and long-time rival Darill he abandoned his dream of possessing the fastest airship in the world. Instead, he built a casino aboard the Blackjack, where he wiles away the hours gambling.
—Character Profile.
Setzer is a playable character who could be recruited during the Challenge Event Back to the Skies as the First Time Reward for completing the event's stage Blackjack - Pursuit in Part 1. He was also recruitable by way of the Bonus Quest, "Complete Opera House Elite (VI)", and has since appeared in Prima Donna.
Assessment
Setzer is a Gambler, whose combat role is Physical Support.
Setzer's stats are consistent with those of a typical Ranger or similar back-row unit. That is to say, his HP are lower compared with other attack units while still having decent Attack; and his Defense is average while most other scores remain low. Given this, his best use is against ranged targets while equipped with projectile weapons such as boomerangs and gambling pieces. As Irvine before him, Setzer is one of a very limited list of characters who can use rarer Support skills and thus is an invaluable asset despite his weaknesses.
Stats
Level
HP
Attack
Defense
Magic
Resistance
Mind
Accuracy
Evasion
Speed
1
184
10
7
8
8
9
20
20
88
10
716
25
17
20
20
22
20
20
94
20
1,307
42
29
35
35
37
21
21
101
30
1,899
59
41
49
49
52
21
21
107
40
2,490
76
53
64
64
67
22
22
112
50
3,082
93
65
78
78
83
22
22
117
60
3,673
109
76
92
92
98
23
23
122
65
3,969
118
82
100
100
105
23
23
125
70
4,264
126
88
107
107
113
23
23
127
Rank

Max: 5

3
3
1
2
2
2
3
3
3
Abilities
Setzer can use Combat abilities up to rarity rank 3, Support abilities up to rarity rank 5, and Celerity abilities up to rarity rank 3.
His default Soul Break is Dice which at the expense of one Soul Gauge segment deals one of six amounts of fixed damage to one target. The gambling gear Darts (VI) allows Setzer to use Dive Bomb which at the expense of one Soul Gauge segment deals four consecutive fire attacks to all enemies and sometimes Blind them.
Equipment
Setzer can equip the following weapon types: daggers, swords, thrown, and gambling gear. The gambling gear Darts (VI) allows Setzer to use Dive Bomb.
He can equip the following armor types: shields, hats, helms, light armor, robes, and bracers.
He can equip accessories.

This article or section is a stub about a character in Final Fantasy Record Keeper. You can help the Final Fantasy Wiki by expanding it.
TCG Setzer appears with wind-elemental cards.

This article or section is a stub about a character in Final Fantasy Brave Exvius. You can help the Final Fantasy Wiki by expanding it.
Setzer appears on Triple Triad cards in the version available via Final Fantasy Portal App.
Guest appearances
Edit
My life is a chip in your pile. Time to ante up.
—Setzer in Kingdom Hearts II, slightly misquoted from his original appearance.
Setzer appears in Kingdom Hearts II, and is the only pre-Final Fantasy VII character to appear in the Kingdom Hearts series, meaning he is also the first to get a modernized three-dimensional redesigning. He is the champion of the Struggle competition in Roxas's Simulated Twilight Town. He asks Roxas to throw the match for him, leading to two different outcomes: if Roxas wins, Setzer surrenders his title as Struggle champion; if Roxas loses, Setzer gives him a medal as "thanks". Setzer can later be fought in another, optional Struggle match. Setzer's personality is exaggerated depicting him as a flashy and arrogant ladies' man who often taunts the player.

Ad blocker interference detected!
Wikia is a free-to-use site that makes money from advertising. We have a modified experience for viewers using ad blockers

Wikia is not accessible if you've made further modifications. Remove the custom ad blocker rule(s) and the page will load as expected.