Setzer Gabbiani
Talk

11
17,228 pages on
this wiki
Setzer Gabbiani
Sprites

---

---

Japanese name
Setzer Gabbiani
Kana

セッツァー・ギャッビアーニ

?
Rōmaji
Settsā Gyabbiāni
Job
Gambler
Skill
Slot/Gil Toss
Desperation Attack
Red Card
Age
27[1]
Birthday
February 8[1]
Height
175 cm[1] (5' 8")
Weight
62 kg[1] (136 lbs)
Blood Type
AB[1]
Birthplace
Unknown
Treasure
Blackjack
Loves
Gambling
Ultimate Weapon
Final Trump
Final Fantasy VI Character
A blackjack-playing, world-traveling, casino-dwelling free spirit...
—SNES description
A gambling vagabond who finds freedom from society's narrow views of morality aboard his airship, the Blackjack...
—GBA version description
Setzer Gabbiani is a playable character in Final Fantasy VI. He is a Gambler who lives on the wild side and owns the world's only airship: the Blackjack. In the SNES version he is neutral at the beginning of the war, reluctant to openly oppose the Gestahlian Empire after having made profits from their work. In the GBA translation, which is more faithful to the original, he says the Empire has been bad for his business.
Appearance
Edit
Setzer is a man in his late twenties. He has long silver hair, and wears several layers of clothing under a black trench coat with a gold lining, though the in-game sprite shows the lining as brown. He is roughly average height, and thin. Setzer's face is scarred, though this is not visible in his game sprites until the smartphone version. Setzer is the first character of the series to bear visible physical disfigurements, having scars on his face. The extent of his scars vary: in Amano artwork and an FMV in Final Fantasy Anthology where his skin is shown to be very pale, they are white and noticeable. In chibi artwork and Kingdom Hearts II where his skin is similar to his in-game color, they are light and blend in with his skin.
Personality
Edit
Setzer cannot resist a gamble; he thrives on risks—such as his planned abduction of Maria—and never passes up an opportunity to prove his skill. Most of his scars come from gambling sessions gone wrong, although some also come from airship accidents.[2]
There are aspects of Setzer's character that fit the "ladies' man" archetype, such as his willingness to gamble his airship for Celes Chere's hand in marriage, which were exaggerated in his Kingdom Hearts appearance. Setzer acts like a happy and likeable person up front, but is still hurt by a great loss and distracts himself with gambling.
As a Gambler, Setzer has average Strength, Stamina, Magic Defense and Speed, but low Magic Power and high Defense. His wields cards, darts, and dice, and he can use several daggers. He can equip most heavy armor, helmets and shields.
Setzer's special ability is Slot, which opens up a window with three spinning slot wheels. The player stops the wheels one by one, and depending on the result, Setzer uses a special attack. If Setzer equips the Heiji's Jitte Relic, Slots becomes Gil Toss, which allows Setzer to damage all enemies at the cost of gil. Setzer's Desperation Attack is Red Card that deals magical damage to one enemy.
There is a glitch in Final Fantasy VI in which when Setzer uses the Fixed Dice and Master's Scroll, his damage won't be halved, and thus can do up to four hits of 9,999 damage. This glitch is not in the PS remake, but is in the original version, the GBA remake and the mobile remakes.
Equipment Lists
Edit
See also: List of Final Fantasy VI Weapons
See also: List of Final Fantasy VI Armor
| Shields | Helmets | Body Armor |
| --- | --- | --- |
| | | |
Creation and Development
Edit
After it was decided Final Fantasy VI would feature an ensemble cast with no clear main protagonist, everyone in the development team was encouraged to provide ideas for characters and their episodes. Setzer's character and story were colored by influence from Tetsuya Nomura.[3]
According to the "Chocobo's FF Laboratory" feature published in V Jump in 1993, the character of Faris Scherwiz from Final Fantasy V was originally a female gambler named Eva Scherwil. The developers encountered difficulties in making her fit in the game's world and atmosphere, and changed her into a pirate. In a later issue of V Jump, the developers noted Setzer evolved from this early Eva concept.
A rarely-noticed fact about Setzer is that in the Japanese version he joins the party with a Bandana equipped although he cannot equip them (if removed he cannot reequip it). This is not a bug, but was meant to be an inside joke showing Setzer's vanity does not allow him to wear the same things as Locke. In the GBA version Setzer does not come with a Bandana, as the porting team possibly thought it was a glitch.[2]
Setzer is likely based on the concept of bakuto, itinerant gamblers in Japan from the 18th century to the mid-20th century who were one of the forerunners of the modern Japanese crime gangs known as yakuza. Bakuto plied their trade in feudal Japan, playing traditional games such as hanafuda and dice and were mostly social outcasts who lived outside the laws and norms of society.

Musical Themes
Edit
Setzer's theme is built off C major, a grand fanfare that plays as the background music for the cabins underneath both airships. His leitmotif is reprised in A major in "Epitaph", which plays during his reminiscence of Darill, and in C major again in the ending theme, "Balance is Restored". In addition to his character reprisal in the "Ending Theme", Setzer's theme is reprised during the first half of the ending credits.

Other Appearances
Edit
In the casino Serendipity the player can exchange their winnings for a fragment called "Setzer's Dice". Its description says Setzer's "consummate skill once drove Serendipity to the brink of ruin". His surname, "Gabbiani", is used in a Brain Blast! question at Academia 4XX AF, stating he had "won the most number of coins at the slot machines in a single day" in Serendipity.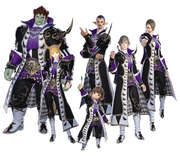 Setzer's costume is planned to be a reward in Manderville Gold Saucer. The costume is available for both male and female characters.
The name Setzer crops out in the "Storm of 777" errand. The errand is as follows:
The Blackjack, the casino ship is at the port. The slot machine at the left end of the ship is said to be loose. You should try it out!
The outcome is as follows:
The Casino ship Blackjack is at the port Limberry castle. The slot machine on the left hand side gave us 777, the jackpot. Nothing happened so we asked Setzer about this. He said he deliberately lowered the pay-off rate. "Gambling's not fun unless there's some risk."
The game has an airship named the Setzer the player can control.
A set of equipment called "Gambler's Gear" and "Gambler's Hat" can be bought in Town, and makes the character look like Setzer. It is equippable by all Tribes.
Setzer makes a small appearance as one of the tutors of the in-game manuals.

Setzer appears in Pictlogica Final Fantasy as a playable character.
Setzer appears as an ally and a summonable Legend in Final Fantasy Airborne Brigade. He is depicted in his Final Fantasy VI outfit. His EX ability is Dive Bomb.
This gambling rogue soars the skies, facing danger to visit the tombs of friends.
—Description
Setzer is an exclusive character available from the Premium Character Shop as a random downloadable content. He uses the Dive Bomb ability during battle.
Setzer appears in Final Fantasy Record Keeper.
Setzer appears in the Final Fantasy Trading Card Game with wind-elemental cards.
Non-Final Fantasy AppearancesEdit
For more information, see Kingdom Hearts Wiki: Setzer
My life is a chip in your pile. Time to ante up.
—Setzer in Kingdom Hearts II, slightly misquoted from his original appearance.
Setzer appears in Kingdom Hearts II, and is the only pre-Final Fantasy VII character to appear in the entire Kingdom Hearts series, meaning he is also the first to get a modernized three-dimensional redesigning. He is the champion of the Struggle competition in Roxas's Simulated Twilight Town. He asks Roxas to throw the match for him, leading to two different outcomes: if Roxas wins, Setzer surrenders his title as Struggle champion; if Roxas loses, Setzer gives him a medal as "thanks". Later in the game, Setzer can be fought in another, optional Struggle match. Setzer's personality is exaggerated depicting him as a flashy and arrogant ladies' man who often taunts the player.

Merchandise
Edit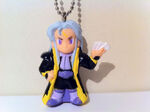 Square released pencil toppers and key chains in 1994 with the cast of Final Fantasy VI. Among them was merchandise featuring Setzer. These products were available in vending machines. Setzer's key chain features his in-game sprite design.

Etymology
Edit
[view  · edit  · purge]Setzer may allude to the German word setzen, meaning "to bet on something". Alternately, it may be a corruption of "César", a name whose variants are found throughout certain European countries, including Spain, Italy, and Portugal.
[view  · edit  · purge]Gabbiani is the Italian word for "seagulls", but also is similar to the Italian verb gabbare, meaning "to trick, to cheat".
The discrepancy between his original personality and his portrayal in the Kingdom Hearts series is alluded to in Dissidia Final Fantasy. In Shadow and Setzer's conversation in the Duel Colosseum, Shadow says, "Don't even think of bribing your opponents to lose." Setzer indignantly replies, "What's that about? I would never stoop to that!" although Setzer may be saying this sarcastically.
It is possible to tackle Kefka's Tower before retrieving all the characters in the World of Ruin, but Setzer is one of three playable characters who are always available before it becomes accessible; the other two are Edgar and Celes. It is possible to complete Kefka's Tower and finish the game with only these three characters, but since the game forces a split into three separate parties for the three paths, each of the three must finish one of the paths by themselves.
According to Yasuhisa Izumisawa, Lightning's masculine garb from Lightning Returns: Final Fantasy XIII are based on Setzer.[4]
References
Edit
External links
Edit