Series appearances
Edit
TS Serah appeared as a recruitable character. She is of the Visitor race and has Time traveler as her main job. Her attack is Faerie's Bow and her ability is Ultima Arrow.

Serah is a playable character.

Cloud:

I couldn't finish 'em. Looks like this's gonna get complicated.

The following tables are incomplete and require the Stats and Abilities entries to be filled. If you wish, please examine the table and add anything missing. Remove this notice upon completion.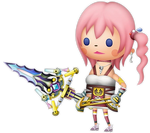 She is three years younger than Lightning and is Snow's fiancée. Quite opposite to her elder sister, Serah exudes an air that makes others want to protect her—but her heart is as firm and true as Lightning's is. Still, her curiosity leads her to disaster as she is first branded as a Pulse l'Cie and then imprisoned by the fal'Cie.
—Online description
Serah appears in the iOS version as a purchasable character. She is the sole character representing Final Fantasy XIII-2, and appears in her attire from the game.
Stats
Proactive Abilities
Ability
Level
Weapon Break (Lv2)
Initial
Lance (Lv2)
Level 20
Mana's Paean (Lv2)
Level 35
Boost (Lv3)
Level 40
Weapon Break (Lv3)
Level 45
Lance (Lv3)
Level 70
Mana's Paean (Lv3)
Level 75
Though everyone else believes Lightning to be dead, Serah alone remembers the smile her sister gave her that day three years ago when Cocoon was saved. So she sets off across time and space with Noel to find her sister.
—CollectaCard
Serah returns as a playable character, and is the main representative of Final Fantasy XIII-2. She is available from the start by transferring save data from the second demo. If the player did not select her among their party of four, or download the demo, she can later be unlocked by collecting Indigo Crystal Shards.
She is a Spell and Treasure oriented character. Her Limit, Ultima Arrow, deals damage in proportion to her Magic and Luck.
Stats
| Level | CP | HP | Strength | Magic | Agility | Luck | Stamina | Spirit |
| --- | --- | --- | --- | --- | --- | --- | --- | --- |
| 1 | 9 | 189 | 11 | 17 | 11 | 15 | 10 | 15 |
| 50 | 36 | 3197 | 89 | 136 | 89 | 118 | 79 | 115 |
| 99 | 50 | 5015 | 136 | 209 | 137 | 181 | 121 | 176 |
Abilities
Proactive Abilities
Ability
CP
Level Learned
Luck Up (Lv1)
5
Initial
Shell (Lv1)
8
Level 5
Mana's Paean (Lv1)
7
Level 10
Sight (Lv1)
16
Level 25
Luck Up (Lv2)
10
Level 30
Shell (Lv2)
13
Level 45
Mana's Paean (Lv2)
10
Level 50
Sight (Lv2)
24
Level 65
Luck Up (Lv3)
15
Level 70
Shell (Lv3)
23
Level 80
Mana's Paean (Lv3)
15
Level 85
Sight (Lv3)
34
Level 95

This article or section is a stub about a character in Theatrhythm Final Fantasy All-Star Carnival. You can help the Final Fantasy Wiki by expanding it.
PFF Serah appears as a playable character. Her initial weapon is the Starseeker.
Serah was 18 in FFXIII, and 21 in FFXIII-2, kupo.
—Mog
Serah appears as a summonable Legend depicted in her default Final Fantasy XIII-2 outfit. Her abilities are Thundaga, Wound, Woundga, and Ultima Arrow. She is first introduced in the event, "Final Fantasy XIII-2 Incursion from Valhalla", in which her abilities and weapons are made usable to successfully combat Atlas and Chaos Bahamut.
Portraits
Ability Cards
Legend Cards

This article or section is a stub in Final Fantasy Artniks. You can help the Final Fantasy Wiki by expanding it.

Unlike Lightning, her older sister, something about Serah invites the protection of others, though she is perfectly capable of standing up for herself. Her curiosity proves to be her undoing, leading her to be branded a Pulse l'Cie.
—Character profile.
Serah is a playable character who could be initially recruited the Challenge Event Dangerous Beauty as the First Time Reward for completing the event's Mah'habara stage in Part 1.
Assessment
Serah is a Time Traveler, whose combat role is Offensive Magic.
If Serah rings familiar, it is because her growth chart mirrors that of fellow blaster Edea from Final Fantasy VIII, or Krile from Final Fantasy V. She shows slightly better Speed than does Edea, yet despite a better weapon draw, she lacks Defense and Resistance. In spite of her faults, Serah is as good or better an archer-mage than Maria as well. As many battles in the Lightning Saga emphasize ranged attacks and magic, the player may want to consider pairing Serah and Hope to help bring down foes that otherwise stump melee attackers.
Stats
Level
HP
Attack
Defense
Magic
Resistance
Mind
Accuracy
Evasion
Speed
1
170
7
6
12
9
9
20
20
92
10
661
17
13
38
23
23
20
20
96
20
1,208
29
22
62
39
39
20
21
101
30
1,754
41
32
85
54
54
21
21
106
40
2,301
53
42
106
70
70
21
22
112
50
2,847
65
53
126
86
86
22
22
118
60
3,393
77
63
146
102
102
23
23
124
65
3,667
83
69
156
110
110
23
23
127
70
3,940
89
75
166
118
118
23
23
130
80
Rank

Max: 5

2
1
1
5
3
3
3
3
3
Abilities
Serah can use Black Magic abilities up to rarity rank 5, White Magic abilities up to rarity rank 3, Sharpshooter abilities up to rarity rank 5, and Witch abilities up to rarity rank 4.
Her default Soul Break is Wound, which at the expense of one Soul Break gauge deals two magic non-elemental attacks to one target, with a small chance to Sap it. The bow Starseeker (XIII) grants Serah her Super Soul Break, Ultima Arrow, which for one soul gauge segment deals five non-elemental magic attacks to all foes with a high chance of inflicting Slow. Upon its mastery, Serah's Magic is augmented by 10 points.
Equipment
Serah can equip the following weapon types: daggers, swords, rods, staves, and bows.
She can equip the following armor types: hats, robes, and bracers.
She can equip accessories.
Serah appears as life-element ability cards.

This article or section is a stub in Mobius Final Fantasy. You can help the Final Fantasy Wiki by expanding it.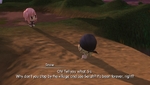 Serah is mentioned as living in the same village as Snow following his brief exchange with Lightning.

TCG Serah appears depicted in her Final Fantasy XIII official render. She also appears in her Final Fantasy XIII-2 attire, her DLC White Mage and Summoner outfits and her Theatrhythm Final Fantasy artwork. Her cards are ice-elemental, possibly alluding to the color of her crystal tear in Final Fantasy XIII.
Serah appears on Triple Triad cards in the version available via Final Fantasy Portal App.
Non-Final Fantasy guest appearancesEdit
Serah does not make an actual appearance in the Kingdom Hearts series, but she is available for the Avatars in Kingdom Hearts Re:coded.
Serah is also a collectible Kingdom Hearts mascot cellphone strap appearing alongside the other characters of Final Fantasy XIII.