Serah Farron [sɛrə] is a supporting character in Final Fantasy XIII, the protagonist of Final Fantasy XIII-2, who also appears in Lightning Returns: Final Fantasy XIII. She is Lightning's younger sister by three years, and Snow Villiers's fiancée. Lightning accuses Snow of failing to protect Serah and does not initially approve of their relationship.
In Final Fantasy XIII, Serah is the first Pulse l'Cie in Cocoon, and her destiny is one of the game's central plot points.
In Final Fantasy XIII-2, Serah sets off on a journey through time with Noel Kreiss to find Lightning when all others believe her to be dead, a journey that also becomes a quest to save the future.
In Lightning Returns: Final Fantasy XIII, saving Serah's soul is Lightning's main motivation when she becomes the savior.
Appearance
Edit
Serah is an 18-year-old girl with the same pink tint of hair Lightning has. She ties her hair into a ponytail on the left side of her head, much like how Lightning's hair is draped over her left shoulder. Serah has blue eyes like her sister, although Serah's are a darker shade.
She wears cat-shaped earrings representing NORA, a rebel group her fiancé belongs to. She wears a black armband on her right bicep like Lightning, red plaid-pleated skirt lined with black lace, a white sleeveless dress shirt, a semi-transparent pink sweeper, an extra matching hair tie on her left wrist, black thigh-high stockings with a white diamond shape attached to the top of her left stocking, ivory ankle boots, and a bandage on her left bicep to cover her l'Cie brand. She wears an engagement pendant in the shape of Cocoon after receiving it from Snow. Producer Yoshinori Kitase describes Serah as "the cutest girl" in the game.
In Final Fantasy XIII-2, now 21 years old, Serah wears a revealing form-fitting dress of white, reddish-pink, and gold consisting of a white top, pink sections on the front and back connecting the top to the skirt over black shorts, cut-out sides at the waist, crisscrossing pink straps on the sides of her torso, and two straps that go over her shoulders into a cross-back shape. She wears a storage pack on her right hip that hangs from her waist, pink and black thigh-high leggings, and purple ankle boots. The outfit mysteriously appears on her while she sleeps just before the first paradox manifests.
Serah retains her earrings and engagement necklace, and wears a pink choker, short pink sleeves under gray gloves that have gold ornaments, and gold armbands one in the shape of a bird that rests on her left bicep where her l'Cie brand used to be. Similar to Lightning's use of a gunblade that can switch between gun and sword, Serah wields a bowsword, though its true form is that of her new moogle companion, Mog. The symbol on the front of Serah's dress is also on Lightning's shield. Etro script is written on both symbols, the blades of Serah's weapon, the back of her dress and her storage pack. The script on Serah's outfit translates to: Witness to Times Forgotten — Restorer of Lines Disjointed. In her CG render for Final Fantasy XIII-2, Serah's ponytail is held by a pink band matching her outfit, but in-game, she retains the black band she wore in Final Fantasy XIII.
Alternate outfits
Edit
Serah has several alternate outfits released as part of downloadable content. "Summoner's Garb" was released on January 10th, 2012 in Japan and came as pre-order content in some countries and on March 16th, 2012 appeared as fully downloadable content; "Beachwear" was released on February 21st, 2012, in Asia and on February 28th, 2012, it was available worldwide; "N7 Armor", costume based on Mass Effect 3's N7 armor appeared on the net on March 27th, 2012, in Asia and the U.S., and the next worldwide; "Style and Steel", designed by Yuko Oshima, was downloadable from April 10th, 2012. "Style and Steel" is the only free DLC for Final Fantasy XIII-2. A "White Mage" costume was released on May 15th, 2012.
Personality
Edit
According to Final Fantasy XIII Episode Zero -Promise-, Serah is a straight-A student and one of her favorite subjects is history. Serah is mature and wise, and cares deeply for those around her. Despite the grave circumstances, she stays positive and believes in a better future as long as she has her friends by her side.
In the three years that have passed in Final Fantasy XIII-2, Serah retains her strong and caring personality. Serah is a strict grade school teacher with a short temper and can be scary when angered, which earned her the nickname "Meanie Miss Farron". Serah can hold her own in battle despite not having much prior experience in combat. She is determined to save the future despite learning of the peril it could put her in.
Serah starts with the Commando, Ravager, and Sentinel roles and majors in Ravager and Saboteur, but is also a good Medic. Serah is not as proficient Synergist as Noel, and she learns only a few spells for that role.
While her stats can be customized in the Crystarium, Serah's natural stat growth emphasizes Magic. She wields a bow that can transform into a sword, and her full ATB skill is Ultima Arrow, a Ravager skill that quickly fills the target's chain gauge with a barrage of attacks.
Creation and development
Edit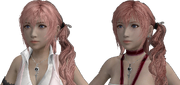 According to the Final Fantasy XIII Ultimania Omega, Serah was originally planned as a playable character in Final Fantasy XIII, but issues during development led to turning her into a non-playable character. Character designer Tetsuya Nomura made Serah's hair wavy for her to have a similar silhouette to Lightning.[2]
In Final Fantasy XIII-2, Serah's facial structure underwent changes: her hair was made a darker shade of pink and her nose was made smaller. In an interview in Famitsu, it was revealed Serah's clothing from Final Fantasy XIII-2 was designed by Yusuke Naora, based on plugsuits from Neon Genesis Evangelion, as requested by director Motomu Toriyama.[3] Isamu Kamikokuryo, the art director of Final Fantasy XIII-2, has said the character designs are built from the scenario and setting and the new designs for Lightning and Serah are reflected within the environments they begin their journey. For Serah, he said she was cute and girly in Final Fantasy XIII, but that she is a little tougher and battle-ready in Final Fantasy XIII-2.[4]
Kamikokuryo has also said the balance between making a female character appealing for both genders of gamers was a challenge. The designers did not necessarily strive for a look that would appeal to both male and female gamers, but more of what design would end up the most memorable in players' eyes and mindset. With Serah being more active in Final Fantasy XIII-2, the designers wanted to maintain her feminine qualities, while still making sure she looks ready for a battle.[4] According to issue 219 of Game Informer, Serah was given a bow able to transform into a sword to "preserve her femininity". When designing Serah's and Noel's weapons for Final Fantasy XIII-2, the developers wanted weapons that could be used for both close and long-range combat. That's why Serah has a weapon that can switch between bow and sword forms, and Noel has twin blades that can combine into a javelin.[5]
Yuko Oshima, member of AKB48 and leader of the JUDGE 13 test players, was asked to design two alternate costumes for Serah, one of which would become an official DLC by votes from fans in a contest starting on November 15th, 2011. The first DLC costume, called "Exposure and Defense", was designed when the AKB48 idol was wondering whether it is possible for Final Fantasy girls to fight with so much showing. Oshima thought that by adding pointed shoes and a shield, Serah would be more ready to fight.
The second, unnamed option, was based on a concept of "Little Red Riding Hood". Oshima thought the idea of mixing red and white defines a character transitioning into an adult, as Serah seems to do in Final Fantasy XIII-2.[6] On December 3, 2011 the voting closed with "Exposure and Defense" winning by a large margin. Oshima wore the costume at the Final Fantasy XIII-2 launch event.
Serah is voiced in the Japanese versions by Minako Kotobuki.
She is voiced by Laura Bailey in English, who previously voiced the Cloud of Darkness in the Dissidia Final Fantasy series and Belle in Final Fantasy Crystal Chronicles: The Crystal Bearers.
Musical themes
Edit
Serah is the first non-playable, and then playable character to have a vocalized leitmotif. Main characters' themes from previous games generally draw their leitmotif's melody from the respective games' main themes, but "Serah's Theme" doesn't alter the melody of the main theme at all.
Final Fantasy XIIIEdit
"Serah's Theme" is a vocal version of the game's main theme, "The Promise", composed by Masashi Hamauzu with lyrics performed by Frances Maya. It often plays when Serah is featured or mentioned in the story, mainly during cutscenes that show flashbacks of her life before the Purge. "Serah's Theme" plays during the fireworks festival in English-translated versions, in place of "Eternal Love", which plays in the Japanese versions.

Final Fantasy XIII-2Edit
"Serah's Theme - Memories -" is a vocal piece played to the melody of "The Future", a variant of the game's main theme, "Wishes". The lyrics tell of how Noel's arrival and his strength give Serah hope towards the chance of reuniting with Lightning, and alludes to what happens to her at the end of the game. A non-lyrical orchestral version of her theme is heard during the "Closing Credits".

Merchandise
Edit
Action figures of Serah have been released as part of the Play Arts KAI series and the Final Fantasy XIII Trading Arts Vol 1. Serah's pendant has been sold as official merchandise in Square Enix's online shop, although it differs from the pendant seen in the games, as it has a larger blue crystal in the middle.
Other appearances
Edit
Serah appeared as a recruitable character. She is of the Visitor race and has Time traveler as her main job. Her attack is Faerie's Bow and her ability is Ultima Arrow.
Cloud:

I couldn't finish 'em. Looks like this's gonna get complicated.

The following tables are incomplete and require the Stats and Abilities areas to be filled. If you wish, please examine the table and add anything missing. Remove this notice upon completion.
Serah appears in the iOS version as a purchasable character. She is the sole character representing Final Fantasy XIII-2, and appears in her attire from the game.
Stats
Serah returns as a playable character, and is the main representative of Final Fantasy XIII-2. She is available from the start by transferring save data from the second demo. If the player did not select her among their party of four, or download the demo, she can later be unlocked by collecting Indigo Crystal Shards.
She is a Spell and Treasure oriented character. Her Limit, Ultima Arrow, deals damage in proportion to her Magic and Luck.
Stats
| Level | CP | HP | Strength | Magic | Agility | Luck | Stamina | Spirit |
| --- | --- | --- | --- | --- | --- | --- | --- | --- |
| 1 | 9 | 189 | 11 | 17 | 11 | 15 | 10 | 15 |
| 50 | 36 | 3197 | 89 | 136 | 89 | 118 | 79 | 115 |
| 99 | 50 | 5015 | 136 | 209 | 137 | 181 | 121 | 176 |
Abilities
Serah appears as a playable character. Her initial weapon is the Starseeker.
Serah appears as a summonable Legend depicted in her default Final Fantasy XIII-2 outfit. Her abilities are Thundaga, Wound, Woundga, and Ultima Arrow. She is first introduced in the event, "Final Fantasy XIII-2 Incursion from Valhalla", in which her abilities and weapons are made usable to successfully combat Atlas and Chaos Bahamut.
Portraits
Ability Cards
Legend Cards
Serah is a playable character who could be initially recruited the Challenge Event Dangerous Beauty as the First Time Reward for completing the event's Mah'habara stage in Part 1.
Assessment
Serah is a Time Traveler whose combat role is Offensive Magic.
If Serah rings familiar, it is because her growth chart mirrors that of fellow blaster Edea from Final Fantasy VIII, or Krile from Final Fantasy V. She shows slightly better Speed than does Edea, yet despite a better weapon draw, she lacks Defense and Resistance. In spite of her faults, Serah is as good or better an archer-mage than Maria as well. As many battles in the Lightning Saga emphasize ranged attacks and magic, the player may want to consider pairing Serah and Hope to help bring down foes that otherwise stump melee attackers.
Stats
Level
HP
Attack
Defense
Magic
Resistance
Mind
Accuracy
Evasion
Speed
1
170
7
6
12
9
9
20
20
92
10
661
17
13
38
23
23
20
20
96
20
1,208
29
22
62
39
39
20
21
101
30
1,754
41
32
85
54
54
21
21
106
40
2,301
53
42
106
70
70
21
22
112
50
2,847
65
53
126
86
86
22
22
118
60
3,393
77
63
146
102
102
23
23
124
65
70
80
Rank

Max: 5

2
1
1
5
3
3
3
3
3
Abilities
Serah can use Black Magic abilities up to rarity rank 5 and White Magic abilities up to rarity rank 3.
Her default Soul Break is Wound, which at the expense of one Soul Break gauge deals two magic non-elemental attacks to one target, with a small chance to Sap it. The bow Starseeker (XIII) grants Serah her Super Soul Break, Ultima Arrow, which for one soul gauge segment deals five non-elemental magic attacks to all foes with a high chance of inflicting Slow. Upon its mastery, Serah's Magic is augmented by 10 points
Equipment
Serah can equip the following weapon types: daggers, swords, rods, staves, and bows.
She can equip the following armor types: hats, robes, and bracers.
She can equip accessories.
Serah appears as life-element ability cards.
Serah appears depicted in her Final Fantasy XIII official render. She also appears in her Final Fantasy XIII-2 attire, her DLC White Mage and Summoner outfits and her Theatrhythm Final Fantasy artwork. Her cards are ice-elemental, possibly alluding to the color of her crystal tear in Final Fantasy XIII.
Serah appears on Triple Triad cards in the version available via Final Fantasy Portal App.
Non-Final Fantasy guest appearancesEdit
Serah does not make an actual appearance in the Kingdom Hearts series, but she is available for the Avatars in Kingdom Hearts Re:coded.
Serah is also a collectible Kingdom Hearts mascot cellphone strap appearing alongside the other characters of Final Fantasy XIII.
Final Fantasy XIII
Final Fantasy XIII-2
Lightning Returns: Final Fantasy XIII
Etymology
Edit
Serah is a variation of "Sarah". [view · edit · purge]Sera is Latin for "heavenly" or "winged angel", and also a variant of the name Sarah, (שָׂרָה in Hebrew) the Hebrew name for "princess", or a woman of high rank.
[view · edit · purge]Farron comes from the Gaelic language, meaning "thunder".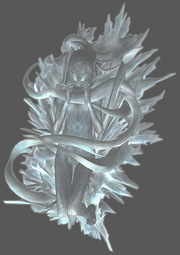 Serah's engagement pendant resembles Final Fantasy XIII's logo. A matching pendant is worn by Snow Villiers.
Her crystal is in the shape of a teardrop that Snow holds onto for most of the story in Final Fantasy XIII.

Serah's crystal tear is used as the icon for the Ultimate Hero Trophy in Final Fantasy XIII and the Master of Time Achievement/Trophy in Final Fantasy XIII-2—the final Achievement/Trophy which, in the PlayStation 3 release, makes the game Platinum and awards the player with a Lightning theme.

Serah, Dajh, and Cid Raines are the only l'Cie that do not show their summons, and it is unknown if they have any. In the case of Serah and Dajh, this could be because they complete their respective Foci in such a short period of time, giving them little opportunity to reach the state of despair that calls forth the intervention of an Eidolon.
Serah is a better cook than Lightning, who in turn is better at home-improvement work, as mentioned in Final Fantasy XIII Episode Zero -Promise- and in Lightning Returns: Final Fantasy XIII.
In Final Fantasy XIII Episode Zero -Promise-, it is revealed Serah bought Snow's NORA pendant.
Art director Isamu Kamikokuryo consistently draws Serah and Lightning with blonde hair in concept art, despite their more "official" appearance. Additionally, Kamikokuryo's Serah concept art for Final Fantasy XIII-2 looks older and less skinny than her in-game appearance, and a few details on her outfit are different (such as a different choker).
Serah appears on the 500th cover of Dengeki PlayStation magazine with Lightning, Noel, Noctis, Machina, and Rem.
A model for Serah in crystal stasis exists as dummied content in Final Fantasy XIII-2. It is unknown why this model exists.
Serah's first bowsword model, the Starseeker, is the name of a recurring Keyblade in the Kingdom Hearts series.
Serah's initial paradigm roles in Final Fantasy XIII-2 are the same as Snow's initial roles in Final Fantasy XIII: Commando, Ravager, and Sentinel. Arcus Chronica, one of her ultimate weapons, also emits white feathers upon hitting enemies like Snow's Save the Queen did in Final Fantasy XIII.
Unlike Noel, Serah's official render isn't used in the menu screen in Final Fantasy XIII-2, and instead an alternate render—seen in her official artwork with Lightning—is used.
During one scene in Valhalla's shadow, Serah and Caius are seen back to back, similar to a moment with him and Lightning in Valhalla.
A mask of Serah can be obtained as an adornment in Final Fantasy XIII-2.
Serah's Starseeker is one of the special weapons reward in the Final Fantasy XIV event Lightning Strikes.
In Final Fantasy Record Keeper, if the player brings Lightning to the battle against fal'Cie Anima in the event Lightning Strikes, she will incorrectly refer to Serah as "Sarah".
References
Edit