Sephiroth (Final Fantasy VII)
Talk

254
16,128 pages on
this wiki
Sephiroth
Portrait
Also known as
The Man in the Black Cape, One-Winged Angel
Japanese name
セフィロス
Romaji
Sefirosu
Weapon
Longswords (Masamune)
Ultimate Weapon
{{{Ultimaweapon}}}
Occupation
SOLDIER 1st Class
Birthplace
Nibelheim[1]
Date of Birth
Unknown
Age
Approximately 20 years old at the start of Crisis Core[2]
Approximately 27 years old in Final Fantasy VII
Height
6' 1" [3] (185 cm)[4]
Blood type
Unknown
Japanese voice actor
Shinichirō Miki (Ehrgeiz: God Bless the Ring)
Toshiyuki Morikawa (Crisis Core, Advent Children, Last Order, Dissidia, 012, Kingdom Hearts II)
English voice actor
Lance Bass (Kingdom Hearts)
George Newbern (Crisis Core, Advent Children, Dissidia, 012, Kingdom Hearts II)
Final Fantasy VII Character
"There was one Soldier named Sephiroth, who was better than the rest, but when he found out about the terrible experiments that made him, he began to hate Shinra. And then, over time, he began to hate everything."
—Marlene Wallace, Final Fantasy VII: Advent Children
Sephiroth is the main antagonist of Final Fantasy VII, and one of the major villains in its extended universe.
Before his fall from grace, Sephiroth was one of the most lauded success stories of the Shinra Electric Power Company's SOLDIER program. A great warrior idolized by the public and infantrymen alike for his strength and discipline in combat, Sephiroth's many successes in the field of battle during the conflicts surrounding the Shinra Electric Power Company's bid for global domination led to his status as a celebrity war hero and the poster boy for both the Shinra Military and the company's SOLDIER program.
After learning the truth behind his origins, and coming to believe he is the only remaining survivor of the Ancients, Sephiroth rebels against the Shinra Electric Power Company and enacts a world-wide vendetta against the "corruption" of humankind. His ultimate goal in the world of Final Fantasy VII is to take control of the Lifestream, and with its power and knowledge become a god-like being. In spin-off appearances, Sephiroth is depicted as Cloud Strife's archenemy, and is seen as a symbol of Cloud's troubled past that haunts his life.
Appearance and Personality
Edit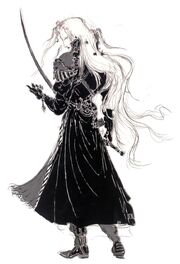 Sephiroth is a tall man with a muscular build. He wears a long black coat with silver pauldrons, black boots and black trousers. The top of his coat is open to reveal his chest, with his leather SOLDIER suspenders crossed over it. Sephiroth's silver hair is long with his bangs parted to either side of his face. In Crisis Core -Final Fantasy VII-, Sephiroth's bangs are shorter than in his earlier appearances. Sephiroth has green cat-like eyes and wields Masamune, a seven-foot long katana he is rarely seen without. His battle stance with the sword is to hold it over his left shoulder with the blade curving downward. Sephiroth usually wields the Masamune two-handed. In later appearances a single black wing emerges from his right shoulder.
In the Compilation of Final Fantasy VII, Sephiroth's uniform remains the same as in Final Fantasy VII, but his coat has several buckles instead of just one, and the original SOLDIER logo in his belt is replaced with the redesigned version of the logo for the Compilation.
In the Kingdom Hearts series, Sephiroth retains his core design of silver hair and a black coat, but his clothing is given red linings and is a different shape. His sleeves have small red wings, and he bears a dark blue and black wing over his right shoulder. He bears two additional wings underneath his coat in Kingdom Hearts II, acting as a subtle reference to his Safer∙Sephiroth form. Unlike his other appearances, he has blue eyes, and it is commented by other characters Sephiroth looks like Cloud, as the Kingdom Hearts incarnation of Sephiroth is implied to be an embodiment of Cloud's inner darkness.
In Dissidia Final Fantasy, Sephiroth's design in his base outfit is similar to his Final Fantasy VII design, but his pauldrons are changed to resemble Yoshitaka Amano's artwork of him, and his coat is closed by a belt as in Tetsuya Nomura's design. Beneath his coat are two white sashes with lavender on the edges, a reference to both Amano's artwork of Sephiroth and his wings as Safer∙Sephiroth.
Sephiroth is cold and ruthless. Prior to his madness, he was not anti-social, as he has friends in Crisis Core -Final Fantasy VII- and willingly tells Zack and Tifa about Mako and Materia on Mt. Nibel, but his cold exterior and professional attitude turned people away. Sephiroth is intelligent and respectful to those he deems worthy — he considers Professor Gast Faremis a great scientist, but looks down on Professor Hojo.
In Crisis Core -Final Fantasy VII-, Sephiroth maintains an outwardly professional demeanor, but is loyal and friendly to a select few, and has a dry sense of humor. He is confident to the point of arrogance, but as the strongest SOLDIER alive, it could be argued he has the right to be. Well-spoken and graceful, Sephiroth is calm, collected, and in control. He can be frustrated and caught off guard, but this rarely happens.
Following his fall into insanity, Sephiroth retains most of the above personality traits, but becomes murderous and vengeful. He develops a messiah complex, proclaiming he is "the chosen one" destined to lead the Planet and become a god. He has become cruel and enjoys mentally torturing Cloud.
Sephiroth is devoted to Jenova and its cause, even though its body serves as little more than his avatar. It is also stated he himself is an agent towards Jenova's will.[5]
Dissidia Final Fantasy hints Sephiroth may have some sadness as Cecil Harvey tells Sephiroth "there is sorrow in [Sephiroth's] wintery eyes". In both Dissidia games, when he is defeated, Sephiroth calmly remarks, "I fall into the shadows", implying he either accepts defeat, or does not care. When he is defeated by the Warrior of Light, he asks if the Warrior of Light fights in the war because he enjoys battle, implying Sephiroth himself enjoys battle. This is further reinforced in Dissidia 012 Final Fantasy, when Kefka mentions that "[Sephiroth] was made for combat".
In the Japanese releases, Sephiroth uses the pronoun ore prior to his insanity, a common masculine pronoun used by confident males. Following his "death" at Nibelheim he begins to use watashi instead, a more formal pronoun with no attached gender. This post-madness mannerism is used in his spin-off appearances, such as Dissidia Final Fantasy.
As a Party Member
Edit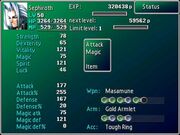 Sephiroth is a temporary party member in Cloud's flashback in Final Fantasy VII. He cannot take damage, acts of his own accord in battle, and his equipment cannot be removed. He has no Limit Break and his Limit meter will not charge since he cannot take damage—if hacks are used to increase the meter, he does not have a Limit command. His Materia are mastered; Revive, Restore, Earth paired with All, Fire, Ice paired with All, Lightning paired with All. His weapon has perfect accuracy and his attacks always critical. His equipment and Materia are as follows:
Sephiroth doesn't use the Restore and Fire spells in battle and if there is at least one Sonic Speed ​​in the enemy team, he will not use Quake3. Twin Brain's Stare Down always misses against him.
As a Boss
Edit
Sephiroth is fought three times in Final Fantasy VII, all as parts of the final battle. He is first encountered in a "pupa" form as Bizarro∙Sephiroth. He is then fought in his "god" form as Safer∙Sephiroth. A final cinematic confrontation is fought against Sephiroth in the Lifestream. He fights a one-on-one duel with Cloud, but it is impossible to lose the battle.
Sephiroth is fought as a boss in Crisis Core -Final Fantasy VII- twice in the Nibelheim Reactor, and can be challenged again in missions. Experiment No. 124 is a facsimile of Sephiroth that serves as the final opponent in the "Hojo's Laboratory" series of missions.
Creation and Development
Edit
Sephiroth was designed by Tetsuya Nomura. It was Tetsuya Nomura's idea to have a story in Final Fantasy VII where the player would chase Sephiroth. Following a moving enemy had not been done before in the Final Fantasy series, and Nomura thought that chasing something would help pull the story along.[6]
According to the Final Fantasy VII Ultimania Omega, Sephiroth's relationship with Aerith was changed numerous times during production. At some phases they were to be lovers, in others siblings before their relationship was finalized. As a sign of their implied connection, Nomura gave the two similar hairstyles.[7] Sephiroth's long hair was tricky to make with polygons at the time, and Nomura wanted to show a contrast between Cloud and Sephiroth in their designs. The image of Cloud and Sephiroth was based on Miyamoto Musashi and Sasaki Kojirō[8], famous Japanese warriors whose duel became legendary and the swordsmen have appeared in many forms in pop culture in Japan.
In a deleted plot point, Sephiroth was to have created the "Cloud" the player controls during the game out of his emotions and will when he was defeated during the Nibelheim Incident. The being was but a phantom of the real Cloud, and Sephiroth would be able to take complete control over it and talk through its mouth. Sephiroth's will was to be used to create an army of monsters that would be born out of crystallized Mako. In another deleted point, when Sephiroth's true body is first seen in the Northern Cave, it would have the contours of a female.
According to Final Fantasy VII Ultimania Omega[9], in the early story drafts Sephiroth was planned as a man whose "Jenova" element was artificially awoken using the power of Mako energy. His base personality was to be brutal and cruel, with a strong interest in destruction and slaughter. He was to possess a powerful will and ego, calm judgment, and a sharp mind. In the original story drafts Sephiroth would succumb to Mako addiction and suffer withdrawal symptoms and while a normal person would have been crippled, Sephiroth was an exception: only his madness would be amplified while he would retain his composure.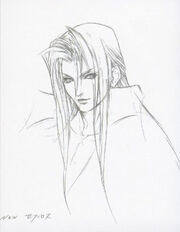 In The Reunion Files for Final Fantasy VII: Advent Children, Nojima has stated that Sephiroth's only true goal in the film is take revenge on Cloud. His revival had been decided to occur early on in the project, but not the exact reasons or means of how he would be revived, and these details were decided at later dates. Among several other ideas discussed, one was that Sephiroth would return, but only Cloud would be able to see him.
Sephiroth's dialogue was made to sound profound, as "he thinks on a level higher than humans", and his hair and eyes were difficult to animate. His hair was animated by hand to make sure it looked as real as possible, and his eyes were almond shaped and slanted upwards, designed to strike a balance between realistic and otherworldly. Various other minor details were made to emphasize Sephiroth's character as a sort of ascended being - he was never made to blink, almost never grunted or breathed, and even in the heat of battle kept his voice calm and controlled. Co-director Takeshi Nozue stated the developers wanted Sephiroth to have a sense of allure and charm, and gave him "an attractive nose and thin lips. It's a face you'd never see in real life".

"His voice evokes fear even when speaking normally, and although he's not deliberately trying to be overbearing, he has this tremendous strength."
—Tetsuya Nomura, The Reunion Files
In Ehrgeiz: God Bless the Ring, Sephiroth is voiced by Shinichirō Miki. In all subsequent voiced appearances, he has been voiced by Toshiyuki Morikawa. On directing Advent Children, Tetsuya Nomura said that when creating Sephiroth, his appearance was set, but he had trouble deciding what kind of voice he should have - once Morikawa auditioned, Nomura knew he was exactly what he wanted. Morikawa noted that, with Sephiroth's on-screen presence, he knew his final lines had to be done properly, and with input from the director, gave Sephiroth's iconic final words a sense that "he's not done yet".
In the original Kingdom Hearts, Sephiroth is voiced by Lance Bass, a former member of the 1990s boy band 'N Sync. As he was not added until the Western release, he has no Japanese voice actor for the first game: the Final Mix release of the game uses the English voices, and so Lance Bass's voice is used. In Kingdom Hearts II, Sephiroth's Japanese voice is provided by Toshiyuki Morikawa, while George Newbern voices him in the English release after fans criticized Bass's performance. Newbern has voiced Sephiroth in all subsequent appearances.
Musical Themes
Edit
Sephiroth is the focus of three pieces of theme music written by the series composer Nobuo Uematsu. His official theme in Final Fantasy VII is "Those Chosen by the Planet", a piece utilizing chimes, low drums, and a deep chorus, which accompanies Sephiroth's appearances throughout the game. "Birth of a God" accompanies the battle against Bizarro∙Sephiroth, the first of Sephiroth's final two forms.
"One-Winged Angel"
Edit
Main article: One-Winged Angel (Theme)
The most noteworthy piece (and a lingering fan favorite) is the one that plays during the confrontation with Safer∙Sephiroth, "One-Winged Angel". In Crisis Core -Final Fantasy VII-, a slightly altered version called "The World's Enemy" is played, and another version called "Advent: One-Winged Angel" is played during the battle between Cloud and Sephiroth in Final Fantasy VII: Advent Children. "One-Winged Angel's" appearance in every game in which Sephiroth appears, has made it become more widely recognized as Sephiroth's theme, as opposed to "Those Chosen by the Planet".
Other appearances
Edit
A 2D sprite of Sephiroth, modeled after Final Fantasy V style sprites, occasionally appears in the loading section of the Final Fantasy Anthology port of Final Fantasy V.

Main article: Sephiroth (Final Fantasy VII)/Dissidia
Chaos has summoned a combined force of Final Fantasy's ultimate villains to gain control of a number of Crystals, resulting in total control of the Final Fantasy worlds. Sephiroth is one of these villains and stands as the villain representing Final Fantasy VII, opposing Cloud Strife.
Sephiroth stands apart from the other villains, acting to manipulate and trick Cloud on his own. Though the other villains do not understand why, Sephiroth had killed himself in a previous cycle of the war and as a result begins to remember things the others have forgotten, believing he has found the secret to ultimate power and knowledge beyond their scope. Alongside his manipulations of Cloud, Sephiroth aspires to attain this power for himself and survive the destruction of Cosmos and Chaos to become a god. He is ultimately defeated by Cloud, and fades away, although not before telling Cloud he will return as long as Cloud "remains the way he is".
His alternate form is his shirtless appearance which he is seen in throughout his real appearance in Final Fantasy VII.
Sephiroth reappears as a Warrior of Chaos in the prequel to Dissidia Final Fantasy alongside all the other characters from the original. He plays a minor role seeking to recover more memories of his home by fighting. When Kefka tells him memories return faster when one fights someone from the same world as them, Sephiroth challenges Tifa. Cloud intervenes on Tifa's behalf and defeats Sephiroth, causing him to retreat. In an unseen scene mentioned in his Museum profile, Sephiroth kills himself at the end of the twelfth cycle to see if he is truly "Sephiroth", or merely a manikin infused with the real Sephiroth's memories.
In his second alternate outfit, Sephiroth appears as he does in his original Tetsuya Nomura artwork with a simpler coat and different hairstyle. As a bonus fourth outfit available for download, Sephiroth wears his Kingdom Hearts coat and bears a differently designed wing.
"A legendary SOLDIER and war hero who learns that he was artificially created as an experiment of Shinra Inc. and turns on both the company and humanity. Defying even the strongest of Cloud's attacks and refusing to return to the Planet, he intends to let loose the ultimate destructive magic and have his vengeance on the world."
—Online description
Sephiroth appears in both his human and Safer∙Sephiroth forms. His human form is an unlockable character, unlocked by collecting Black Shards from Dark Notes only. His Safer∙Sephiroth form is an enemy.
He is an Offense and Spell oriented type character.
| Level | HP | CP | Strength | Magic | Agility | Luck |
| --- | --- | --- | --- | --- | --- | --- |
| 1 | 198 | 9 | 21 | 21 | 12 | 13 |
| 10 | 789 | 14 | 48 | 47 | 26 | 30 |
| 20 | 1,445 | 19 | 79 | 76 | 43 | 49 |
| 30 | 2,101 | 24 | 109 | 105 | 59 | 67 |
| 40 | 2,758 | 30 | 139 | 134 | 75 | 86 |
| 50 | 3,414 | 35 | 169 | 164 | 92 | 105 |
| 60 | 4,071 | 40 | 199 | 193 | 108 | 123 |
| 70 | 4,727 | 45 | 230 | 222 | 125 | 142 |
| 80 | 4,908 | 50 | 238 | 230 | 129 | 147 |
| 90 | 5,089 | 50 | 247 | 239 | 134 | 153 |
| 99 | 5,252 | 50 | 255 | 247 | 138 | 158 |
iOS Stats
Edit
Sephiroth returns as an unlockable character, and is unlocked by collecting Black Crystal Shards, one of three returning characters whose corresponding Shard remains the same. His manikin counterpart from Dissidia Final Fantasy appears as an enemy.
He is an Offense and Spell oriented type character.
| Level | CP | HP | Strength | Magic | Agility | Luck | Stamina | Spirit |
| --- | --- | --- | --- | --- | --- | --- | --- | --- |
| 1 | 15 | 289 | 21 | 20 | 11 | 8 | 20 | 15 |
| 50 | 42 | 4902 | 165 | 158 | 88 | 60 | 158 | 116 |
| 99 | 50 | 7688 | 253 | 243 | 135 | 92 | 242 | 178 |
Abilities
Edit
Sephiroth is an ally, a summonable Legend and a boss in Final Fantasy Airborne Brigade. He is depicted in his default Final Fantasy VII outfit. His abilities are Draw Slash, Octaslash, Oblivion, Scintilla and Hell's Gate. His EX ability is Sudden Cruelty.
Sephiroth will occasionally appear during the battles against Jenova-DEATH and Jenova-SYNTHESIS. When he appears, Sephiroth performs Oblivion and ejects a party member from the battle.
There are many trading cards depicting Sephiroth in the Final Fantasy Trading Card Game. One card displays the infamous scene of Sephiroth standing before the burning Nibelheim. Another shows his Dissidia Final Fantasy artwork. A third card uses Sephiroth's manikin in Dissidia Final Fantasy, the Imaginary Champion. His cards are either ice or dark-elemental.
Non-Final Fantasy AppearancesEdit
See also: Final Fantasy in Popular Culture
For more information, see Kingdom Hearts Wiki: Sephiroth
Sephiroth appears in the Kingdom Hearts series as an optional boss and Cloud's arch-rival. It is implied this incarnation of Sephiroth is the physical embodiment of Cloud's dark memories, and as such cannot be permanently killed, as he implies Cloud has beaten him at least once beforehand. Sephiroth attacks with sword combos, pillars of fire, meteors, and orbs of dark energy, and is commonly considered to be one of the hardest bosses in the series.
In the original Kingdom Hearts, Sephiroth, under the title "Platinum Match", challenges Sora in the Colosseum, and in Final Mix and 1.5 HD ReMix after their fight, Cloud appears and the two do battle. Sora will receive the One-Winged Angel Keyblade, modeled after Sephiroth's Masamune, after defeating him in Final Mix and the 1.5 HD ReMix.
In Kingdom Hearts II, Sephiroth appears during the siege on Hollow Bastion looking for Cloud and later saves him from a horde of Heartless. After slaying the MCP, he can be found in the Dark Depths. Sephiroth is intrigued by Sora's Keyblade, and challenges him to test its powers. Afterwards, Sephiroth shrugs off the defeat, and implies Cloud is the only one who stands a chance at defeating him. He orders Sora to tell Cloud where to find him, leading to a second confrontation between the two. Both of their battles end with the two vanishing in flashes of light to places unknown.
Sephiroth appears as a playable character in Itadaki Street Special along with Cloud, Aerith, and Tifa from Final Fantasy VII.

He also appears as a character in Itadaki Street Portable.
Sephiroth appears alongside some other Final Fantasy VII characters. Sephiroth is controllable both in his fully-dressed appearance and his shirtless appearance. He fights mostly with his fists, but can also do sword-draw attacks and various combos with the Masamune, as well as use a variation of Meteorain.
A Sephiroth costume was announced to be available as downloadable content for the character Sackboy in the PlayStation 3 game LittleBigPlanet, but was never released.
On July 4th, 2011, the Sephiroth costume, along with costumes of Cloud, Tifa, Aerith, and Vincent, was instead released on July 13th 2011 for the sequel, LittleBigPlanet 2.
Gunslinger Stratos 2Edit
Sephiroth's costume is to be released in November 2014.

Merchandise
Edit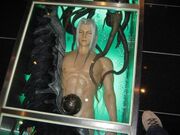 Many models and action figures of Sephiroth have been released. Play Arts has released figures of Sephiroth as he normally appears, as well as Safer∙Sephiroth and Sephiroth's appearance in Kingdom Hearts. Among these figures are Sephiroth himself, Sephiroth standing atop Meteor, and a figure featuring Sephiroth in the Shinra Building ruins based on his battle with Cloud in Final Fantasy VII: Advent Children — a partner figure to this one features Cloud in a similar environment.
Other Sephiroth-related items include pendants and rings with the theme of his single wing and/or the Black Materia, cold cast statues and even a fragrance. A life-sized statue of Sephiroth hibernating in the Northern Cave is housed in the floor of the Square Enix Character Goods Show Case in Tokyo, Japan.

Etymology and Symbolism
Edit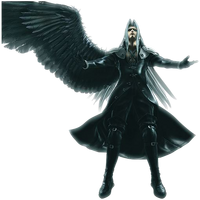 [view  · edit  · purge]Səphīrōth (סְפִירוֹת, medieval Hebrew form of Sephirot), is a plural noun in Hebrew; the singular is Sephirah (also spelled Sefira). The Sephiroth are described in the Kabbalah as the manifestations of God that allow Him to manifest in the physical and metaphysical universes. Sephiroth also means "counting" (of numbers).
These traits refer to Sephiroth's simultaneous existence in the Lifestream and the Planet, and his manifestations through Jenova. The counting aspects may allude to the Sephiroth Clones.
Sephiroth's penultimate form, Bizarro∙Sephiroth, is a mistranslation, and "Rebirth Sephiroth" would be more apt. [view  · edit  · purge]Bizarro means bizarre in Italian and Portuguese.
It is often believed the name Safer∙Sephiroth is a mistranslation, similar to how Helletic Hojo should have been translated as "Heretic Hojo." A common rumor is that "Safer" is a misspelling of "Seraph" (שרף) due to Safer∙Sephiroth's angelic appearance. A Seraph (plural "Seraphim", שְׂרָפִים) is described in the Hebrew Bible as being a humanoid angel with six wings.
Safer∙Sephiroth could easily be seen as a Seraph, with a seventh wing in place of his arm. However, the origin of the name Safer∙Sephiroth is Hebrew; the boss's name as written in Japanese is "セーファ・セフィロス," or Sēfa Sefirosu; "safer" can also be transliterated as "sefer", "sapher", and "sepher". [view  · edit  · purge]Sepher (סֶפֶר) is Hebrew for "book". Thus, Safer Sephiroth (Sefer Sfirot) translates to "Book of Numerations", possibly linked to the mathematical formulas that appear during his Supernova attack. However, it more likely refers to the Sefirot, the ten aspects of creation according to Jewish Mysticism.
Sephiroth's plan in Final Fantasy VII to ram a meteor into the Planet and use the overflow of Lifestream to become a god refers to a concept in Zohar regarding the Tree of Life, where it is said that if someone tries to fill all of humanity into a vessel, the vessel will break, alongside the universe, causing life to flow erratically yet in a familiar pattern.
Sephiroth considering Jenova to be his mother, yet also being implied to have become one with her, may allude to the Christian belief of Jesus Christ being the Son of God, yet also being one and the same with God the Father and God the Holy Spirit via the blessed trinity.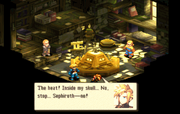 While Sephiroth himself does not appear in Final Fantasy Tactics, when Cloud is transported to Ivalice by a device called the Celestial Globe, the first thing he says is The heat! Inside my skull... No, stop... Sephiroth---no!. A black-caped swordsman is also mentioned in one of the game's Errands. One of the game's enemies, Marquis Messam Elmdore, bears a resemblance to Sephiroth and wields a Masamune in battle.
Sephiroth is left-handed, however, he has been depicted wielding his sword in his right hand in many pieces of art and merchandise.
Sephiroth's strongest weapon in Dissidia Final Fantasy is called One-Winged Angel, after his musical theme.
According to a Crisis Core -Final Fantasy VII- fan letter mailed to Zack, Sephiroth uses an entire bottle of both shampoo and conditioner to wash his hair. Both are provided by the Shinra Company and are scented with thirteen kinds of perfumes.
Seraphimon from Digimon has a DigiCode on his breechcloth which translated to Japanese reads (

全ては我と共に

,

Subete wa ware to tomoni

?, lit.

All shall be one with me

) a quote of Sephiroth's.
During the scene in which he kills Aeris, when Sephiroth is descending from the ceiling, his hands are bare. However, in the rest of the scene, he has gloves on.
Despite stating that Professor Hojo is a walking mass of complexes, he himself (at least after his downfall into insanity) fits that description. Sephiroth has a messiah complex, a god complex, and arguably has an Oedipus complex, as he detests his father Hojo, and, to some extent, worships his "mother" Jenova.
In Final Fantasy XIV one NPC may say the following to the player: Why, if it isn't Sephiroth! Or was it Sephiross? Setirophx? xXxSephirothxXx? referencing Sephiroth and common variations used to name characters on MMOs (and by proxy, Final Fantasy XIV itself).
His statement about not having a hometown when arriving at Nibelheim can be considered ironic, as Sephiroth was born in Nibelheim.
In Crisis Core -Final Fantasy VII-, a Sephiroth fangirl in Midgar mentions she would "love to see him stripped to the waist", a reference to how he appears during the final scripted battle in Final Fantasy VII.
The main antagonist of the 1.0 version of Final Fantasy XIV, Nael Van Darnus, references Sephiroth. In "United We Stand", after wounding the player, Nael takes his leave similarly to that of Sephiroth in the Nibelheim burning scene. Nael also seeks to destroy Eorzea and purify it by using forbidden magicks to summon the moon Dalamud, similar to how Sephiroth attempts to destroy Gaia via the Black Materia to summon Meteor.
References
Edit
External Link
Edit