Sentinel (Ability)
Talk

1
13,961 pages on
this wiki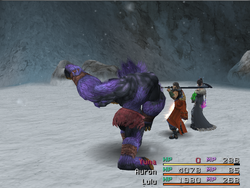 See also: Defend.
Sentinel (鉄壁, Teppeki?) is a defensive ability in the Final Fantasy series. While similar to Defend, it gains a unique property in Final Fantasy XI.
Appearances
Edit
Sentinel is found near the end of Auron's section of the Sphere Grid. It is an improved version of Guard, with the user taking a defensive stance, thus receiving less damage from the attack.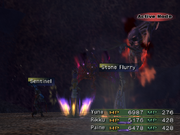 Sentinel is available on the Warrior dressphere, costing 20 AP. The user remains immobile until their ATB bar refills and all physical attacks cause only 1 HP damage, but full damage is still taken from magic.
Sentinel is available to Paladins. When this ability is activated the user receives a 90% damage reduction and enmity comparable to Provoke is generated. The damage reduction steadily decays to 40%, whereupon the effect wears off. Enmity for all actions appears to be doubled while Sentinel is in effect.
Reduces physical damage taken and increases enmity.
Obtained: Paladin Level 30
Recast Time: 5 minutes
Duration: 30 seconds
Usage of this ability will instantly produce an amount of enmity comparable to that of a Provoke.
While this ability is in effect, the amount of enmity generated by other abilities, such as spells or Shield Bash, is increased. Testing suggests that the total enmity increase while Sentinel is active is equivalent to +100%, the maximum amount of additional enmity possible.
The leg armor, Valor Leggings, when used in conjunction with Sentinel, give an extra 10% damage reduction, resulting in 100% damage reduction when the ability is used. This steadily decays to 50% damage reduction at the end of the duration.
When combined with equipment that reduces physical damage, the damage reduction from the equipment is applied separately (e.g., while Sentinel is active and the Paladin has an Earth Staff equipped, if he or she is hit by 1000 Needles, it will be reduced by 90% to 100 Damage, then the remaining damage would be reduced by an additional 20% bringing the total damage to 80).
Guardian is a job trait that can be purchased with Merit Points by level 75+ Paladins in Final Fantasy XI. This job trait is always active, and reduces enmity decay while Sentinel is active. An enemy's enmity towards a player naturally decays over time, when the enemy hits the player, and when the enemy hits the player; Guardian reduces that natural enmity decay for the 30 seconds that Sentinel is active.
It begins by helping the Paladin retain 19% more enmity during Sentinel, and each additional merit placed in Guardian will increase the effect by an additional 19%. Up to 5 merits can be placed in this ability for a total of 95% of enmity decay prevented during Sentinel. This trait is rarely merited because it only takes effect for 30 seconds at a time, and at most, once every 5 minutes.
The Sentinel role has three abilities which have better effects when used for a longer time in same chain.
These are:
Steelguard, which raises user's defense when user receives more damage. User glows with yellow aura when Steelguard is in use.
Entrench, which deals more damage as user longer guards.
Vendetta, which deals more damage when user receives more damage.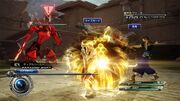 The Sentinel role still retains Steelguard, Entrench, and Vendetta, but a new ability, called Element Guard, appears in place of Bar— spells which were removed entirely from Synergists and reduce elemental damage that party receives.
"Temporarily reduces damage taken. Increases enmity generated by actions while effect is active."
—Description
After updates removed the Sentinel discipline, Sentinel is now a Gladiator ability that reduces damage taken and raises enmity. Once learned, this ability can be used by any discipline. However, the Enhanced Sentinel trait (increases damage reduction by 20%) is exclusive to Gladiators.