Selphie Tilmitt
18,984 pages on
this wiki
Talk

101
Selphie Tilmitt is a playable character in Final Fantasy VIII. She is an active, outspoken and energetic girl who participates in many extracurricular activities, such as planning the Garden Festival and running a school website. She is clumsy, but despite this wields an oversized nunchaku in battle and pilots the Ragnarok airship.
Appearance
Edit
Selphie most often wears a yellow mini-dress that is a miniskirt/overall hybrid with clasps over shoulders, clip at the front, a frontal zipper that travels the full length of the dress and two large back pockets. She wears a silver pendant, a blue strap on her left wrist and brown boots that reach mid-calf. As a cadet and later a SeeD, Selphie wears the standard Balamb Garden and SeeD uniforms. During the FMV in which Selphie falls down the rocks while greeting the party during the field exam she is wearing knee-high socks and regular shoes, but her overworld battle sprite wears knee-high boots instead.
In Kingdom Hearts, Selphie's appearance remains the same with her brown boots is replaced with sandals.
Personality
Edit
Selphie is childish, upbeat, and hyperactive, always looking to have fun. She is a fan of combining words to form new ones. Selphie uses the expression "Booyaka!", used by her on her website as a greeting. She wants to spread the lingo, but fails. In Japanese it is "Mamimumemo!"—which is the "M" row in the Japanese alphabet. Selphie is talented with computers and vehicles, and has many hobbies, ranging from running a website in the Garden intranet to heading the Garden Festival Committee to being obsessed with trains. Selphie has a dark sense of humor, sometimes displaying it in a way others are not comfortable with.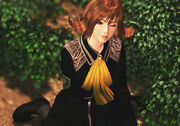 It may be that her cheerfulness is born of desperation, out of a fear of acknowledging unhappiness, a trait caused by being an orphan, as when the party visits Trabia Garden, she tries to be cheerful while talking to her friends' graves despite being emotionally shattered. Her comrades welcome Selphie's presence as she is a loyal friend and enjoyable company, so long as she is not trying to get them to join the Garden Festival Committee. Selphie tries to make it her mission to bring Squall out of his shell.
She carries out orders in her characteristically friendly manner and never backs down from a challenge, even if she does not always think it all the way through. Seemingly blissfully ignorant to the gravity of a situation, she often lifts her companions' spirits, distracting them from the seriousness of their problems.
Selphie utilizes oversized nunchaku in battle. Equipping more advanced models will increase Selphie's attack power and hit accuracy. Selphie's ultimate weapon, the Strange Vision, is the only weapon apart from the gunblade that has natural 255% accuracy.
Selphie's weapon is called "Nunchaku" in the NTSC versions of Final Fantasy VIII, but in the PAL versions they are known as "Shinobou" due to nunchaku's status as an illegal weapon at the time.
There are four nunchaku models available for Selphie: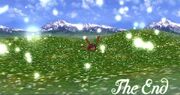 Selphie's Limit Break, Slots, allows her to cast spells from a random spell pool. Each spell can be cast up to three times in succession. The player can "Do over" the Slots indefinitely. In the game's PlayStation version it is possible to "cheat" while executing the Limit Break: before selecting a spell, one can open the disc cover and the enemy will not attack, thus one can "Do Over" until one encounters the desired spell.
Aside from the usual magic encountered throughout the game, Selphie has four spells solely available for her in Slots:
Full Cure - Restores all party members' HP and removes all status effects.
Rapture - Wings appear and carry enemies away. It does not work on enemies immune to eject.
The End - The party instantaneously wins the battle. Works against all enemies apart from undead creatures and the percentile range for this particular slot coming up is low.
In the Japanese version Selphie's spell Rapture is named Levitaga, i.e. a third level Float spell.
| LV | HP | Str | Vit | Mag | Spr | Spd | Luck |
| --- | --- | --- | --- | --- | --- | --- | --- |
| 1 | 211 | 1 | 1 | 5 | 2 | 15 | 18 |
| 10 | 559 | 7 | 6 | 11 | 9 | 17 | 19 |
| 20 | 937 | 14 | 10 | 17 | 13 | 20 | 20 |
| 30 | 1307 | 20 | 15 | 22 | 18 | 21 | 21 |
| 40 | 1670 | 25 | 18 | 27 | 23 | 24 | 21 |
| 50 | 2024 | 30 | 21 | 32 | 27 | 26 | 22 |
| 60 | 2371 | 34 | 24 | 36 | 30 | 28 | 23 |
| 70 | 2710 | 38 | 26 | 40 | 33 | 30 | 24 |
| 80 | 3042 | 41 | 27 | 43 | 35 | 33 | 25 |
| 90 | 3365 | 43 | 28 | 46 | 37 | 34 | 26 |
| 100 | 3680 | 45 | 28 | 49 | 38 | 37 | 26 |
Selphie Card

Element
None
Refine
1 refines into 3 Elem Guards
Drop
N/A
Card
N/A
Level 10 (Player Card)
Win
Selphie's friend in Trabia Garden.
The CC Group in the Ragnarok airship on disc 4.
After Balamb Garden becomes mobile, Selphie becomes available to challenge to a match of Triple Triad. When not in Squall's party she frequents the Balamb Garden second floor classroom (possibly updating her site) where she can be challenged, but she doesn't play any rare cards.
Creation and development
Edit
Selphie was the second character, after Squall, Tetsuya Nomura drew for Final Fantasy VIII. He intentionally gave her an impractical hairstyle. When he first designed Selphie, Nomura drew her in overalls, but realized none of the other girls would be wearing a skirt. He gave Selphie a mini-skirt/overall hybrid and let Quistis have a long skirt over pants.[3]
It is perhaps due to reasons of decency involving the skirt that, if one is to Scan Selphie, her avatar cannot be rotated to view from below despite all other scan avatars being able to.
Originally there were two other spells slated to be in Selphie's Limit Break, but they were never programmed in, although they can be accessed with a Gameshark. When used, the animation is of the Fire spell.
Percent - a gravity type spell that cuts all enemies by 15/16 (93.75%) of their current HP.
Catastrophe - the ultimate offensive spell, 2.25 more powerful than Ultima and 1.5 more powerful than Apocalypse.
Musical themes
Edit
Final Fantasy VIII doesn't have designated character themes, but Selphie is often associated with "Ami," appropriate to Selphie's friendly and bubbly nature as the name means "friend." A notable time the song plays is when Irvine is cheering her up before they start planning the Garden Festival together. There is another version of the song called "Where I Belong," which plays within Trabia Garden, the place which Selphie studied.
The name "Ami" name comes from the Spanish word amigo/a for "friend," as friendship is an important part of the game's story.[4] The song's naming was also inspired by 1986 novel by Chilean writer Enrique Barrios, entitled Ami, el niño de las estrellas.[4]
Arranged versions of "Ami" are included on the Piano Collections: Final Fantasy VIII and Piano Opera Final Fantasy VII/VIII/IX albums.
Other appearances
Edit
An icon sprite of Selphie appears in the PocketStation memorycard file manager.
Selphie makes a cameo in Dissidia Final Fantasy as a tutor from the in-game manuals. She breaks the fourth wall as she claims she is playing the game alongside the player. Selphie says she needs to play more to cheer herself up after failing her exam, but she gets stuck on the boss battles.
Selphie appears in Pictlogica Final Fantasy as a playable character.
Selphie appears as a Legend in Final Fantasy Airborne Brigade.
Selphie is a playable character who could first be recruited as part of the A Planted SeeD Challenge Event. She was the First Time Completion Reward at the Missile Base. She was reissued globally on November 16, 2015 to prepare for Gunblade of the Sorceress; to unlock her on that day, players had to start an Event Quest and complete the Daily Dungeon on Hard difficulty. From November 18, 2015 until the Quest system was retired, she could be unlocked after accepting a Bonus Quest and completing the Record of Balamb Garden, Part 1 on the Classic difficulty track. She has since appeared in A Meeting Beyond Time, along with several of her castmates.
Assessment
Selphie is a SeeD. Her combat role is Healing Magic.
Selphie is the White Mage representative of Final Fantasy VIII; even her unique Soul Breaks attest to as much. As further proof, her nunchakus are treated as staffs by the game itself. Her stat growth shows many hallmarks of the trade: low HP, poor physical stats, and high magical stats including Mind. Despite a decent Magic stat, Selphie is only a mid-level Black Mage, and yet she can cripple foes with her Celerity skillset.
Stats
Level
HP
Attack
Defense
Magic
Resistance
Mind
Accuracy
Evasion
Speed
1
176
7
6
10
10
12
20
20
92
10
694
17
13
25
31
37
20
20
96
20
1,250
28
22
42
50
59
20
21
101
30
1,816
40
32
60
68
80
21
21
106
40
2,382
51
43
77
85
100
21
22
112
50
2,948
63
54
94
101
120
22
22
118
60
3,513
75
65
111
117
139
22
23
124
Rank

Max: 5

2
1
1
3
4
5
3
3
3
Abilities
Selphie can use Black Magic abilities up to rarity rank 3, White Magic abilities up to rarity rnak 5, and Celerity abilities up to rarity rank 3.
Her default Soul Break is Wall which at the expense of one Soul Gauge segment gives one ally Protect and Shell. The rod Morning Star (VIII) allows Selphie to use Trabia's Light which at the expense of one Soul Gauge segment restores HP to all allies.
Equipment
Selphie can equip the following weapon types: daggers, rods, staffs, and whips. The rod Morning Star (VIII) allows Selphie to use Trabia's Light.
She can equip following armor types: hats, light armor, robes, and bracers.
She can equip accessories.
Gallery
Selphie appears in the Final Fantasy Trading Card Game and is represented in Earth-elemental cards. She is depicted in her official Final Fantasy VIII artwork and in her appearance in Final Fantasy Airborne Brigade, as well as an Amano artwork alongside Squall.
Selphie appears on a Triple Triad card, but it has different values than the card in Final Fantasy VIII.

Non-Final Fantasy guest appearancesEdit
A younger Selphie shows up in Kingdom Hearts as a resident of Destiny Islands. She is friends with Tidus and Wakka from the Final Fantasy X cast, and tries to keep the two in line. She uses a jump rope instead of nunchaku, and is available as a sparring partner for Sora early in the game. Once Sora, Riku and Kairi are swept off the island, Selphie is left behind. She is still as clumsy as she was in Final Fantasy VIII: during a sparring match with her, she will accidentally hit herself with her jump rope.
In Kingdom Hearts II, Selphie is back on the islands with Kairi, attending classes with her in town. She wears a school uniform and mentions Tidus and Wakka are "all wrapped up in their ball game."
She is voiced by Molly Keck in the English version and by Mayuko Aoki in the Japanese version.
Selphie makes an appearance in Kingdom Hearts χ [chi] as one of the obtainable character cards.
After Balamb Garden becomes mobile, when the party members are not assigned as player characters, they can be seen wandering the Garden on their own. Selphie is updating her website in the second floor classroom, and sometimes wears her cadet uniform.
Selphie's website will have various comments about Squall ranging from affectionate, to "stoic and kinda scary" based on some of the player's social choices that involve Squall's interaction with her and the rest of the party.
The Ragnarok is always piloted by Selphie whenever she isn't in the player party. If Selphie is unavailable, the Ragnarok is piloted by Zell, and if both are in the player party, Quistis takes the reins.
If the player takes Selphie to meet the chef on Balamb harbor after having liberated the town, it is revealed Selphie's favorite food is "Ms. Moogle's Cake."
Rikku, from Final Fantasy X, also uses the phrase "Booyaka" when dealing a finishing blow to an enemy, as a tribute to Selphie.

Beat, a character from another Square Enix game, The World Ends With You, also uses the phrase in a cutscene.
References
Edit