Seifer Almasy
18,068 pages on
this wiki
Talk

56
The way I see it, as long as you come out of the battle alive, you're one step closer to your dream.
—Seifer Almasy
Seifer Almasy is a temporary playable character and one of the main antagonists in Final Fantasy VIII. He is the rival of the main character Squall Leonhart and is the mirror image of him in many ways.
One of the top fighters of the Garden. His temperament kept him from becoming a SeeD member. Uses a gunblade.
—Scan description as a player character
Seifer is famous around Balamb Garden for being skillful in battle, but his stubborn, arrogant, reckless, and unpredictable nature has kept him from completing the SeeD exam. Aside from Squall, Seifer is the only gunblade specialist in the Garden. Even though they both brandish a gunblade, Squall and Seifer's fighting styles are different, with Squall wielding his with two hands, whereas Seifer uses his single-handedly. Seifer's Triple Triad card is a mirror of Squall's, both having the same numbers.
Appearance
Edit
Seifer has short blond hair, blue-green eyes and a scar across his forehead and nose received from Squall as retaliation during a duel. Seifer wears a blue vest with a cross design lined in white, a gray coat with an emblem resembling the symbol of the Cross of Saint James on the sleeves, black gloves and boots and a silver chain with a tag. The cross is Seifer's symbol as much as the angel wings are Rinoa's and the Griever is Squall's.
As Squall's rival Seifer's appearance is directly opposite in many ways. His hair color is light, as opposed to Squall's brown. His chin is square whereas Squall's is oval. The color scheme of their clothing is opposite, as well as their coat lengths. Both have a facial scar inflicted during a duel; the scars are mirror images with Seifer's pointing up-left (from his point of view) while Squall's points up-right.
His choice of attire of a white coat with a red cross may allude to the real world Knights Templar.
Personality
Edit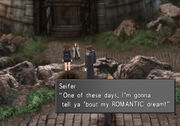 There are many parallels between Seifer and Squall. Even though they are rivals battling to prove their superiority, they have an unspoken respect for each other's prowess. Seifer is a loud and outspoken rebel, while Squall is a silent, strict follower of duty. Both are nigh-equally skilled in using the gunblade, but Seifer's temper often leaves him losing to Squall. Seifer's friends, Raijin and Fujin, call themselves a "posse", whereas Squall is a loner.
Although he is belligerent and rude with delusions of grandeur, Seifer is troubled rather than bad. He is twisted by the sorceress's power, and pursues a warped version of his dream, although the degree to which he is controlled or influenced by her power is left ambiguous.

Originating as a temporary player character, Seifer is later fought against four times as a boss. Seifer is playable for the first portion of the Siege of Dollet during the SeeD exam. All the magic the player draws into his junction is passed onto Selphie after he leaves.
Seifer has an affinity to Fire, as every time he uses his Limit Break he starts off by casting a fire spell at his target in similar fashion as seen in the game's opening FMV, although it is merely part of the animation and non-elemental, and thus not the same as casting Fire with the Magic command. Fire spells are also drawn from Seifer during the encounters with him as a boss.

Seifer wields a gunblade. His particular model is Hyperion, featuring a pistol handle based on the Beretta M9, rather than the revolver handles favored by Squall. The Hyperion might be lighter than Squall's Revolver, as Seifer holds it with one hand.
While Seifer is a playable character, pressing the trigger button when he strikes will boost his damage.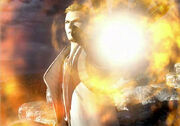 Main article: Fire Cross
Seifer's Limit Break is Fire Cross. While there are three skills Seifer can use, only the first, No Mercy, can be used by the player. The other two, Demon Slice and Bloodfest, are used during battles against the player.
Unlike the other player characters, Seifer can use his Limit Break without having to be in HP Critical; the chance it becomes available is at 84% or lower from his max HP.
| LV | HP | Str | Vit | Mag | Spr | Spd | Luck |
| --- | --- | --- | --- | --- | --- | --- | --- |
| 1 | 275 | 3 | 2 | 2 | 5 | 15 | 12 |
| 10 | 812 | 10 | 8 | 9 | 10 | 18 | 13 |
| 20 | 1400 | 17 | 14 | 15 | 16 | 21 | 13 |
| 30 | 1980 | 23 | 19 | 21 | 20 | 24 | 14 |
| 40 | 2553 | 29 | 24 | 26 | 25 | 27 | 15 |
| 50 | 3117 | 34 | 28 | 30 | 28 | 30 | 16 |
| 60 | 3674 | 38 | 32 | 34 | 32 | 33 | 16 |
| 70 | 4223 | 41 | 34 | 38 | 34 | 36 | 17 |
| 80 | 4765 | 44 | 37 | 41 | 36 | 39 | 18 |
| 90 | 5298 | 46 | 38 | 43 | 37 | 42 | 18 |
| 100 | 5823 | 48 | 39 | 45 | 38 | 45 | 19 |
Main article: Seifer (Boss)
Seifer is fought as a boss four times in the story. He uses Fire-based attacks and gains new Limit Breaks every time he is encountered. If the party has Odin a cutscene will occur the last time Seifer is faced. Seifer is the only enemy in the game who has the rare spell Aura available for drawing.
Seifer Card

Element
None
Refine
1 refines into 3 Diamond Armors
Drop
N/A
Card
N/A
Level 10 (Player Card)
Win
Cid in Balamb Garden or Edea's Orphanage.
CC Group in the Ragnarok airship on disc 4.
Other Appearances
Edit
An icon sprite of Seifer appears in the PocketStation memorycard file manager.
Seifer is mentioned in the Museum under Odin's entry, where it is mentioned Seifer countered the Zantetsuken and bisected Odin. Several references to Seifer also exist in Dissidia Final Fantasy; Squall fights with a faster, one-handed style similar to Seifer, and begins his EX Burst by striking his opponent in an upside-down cross, similar to Seifer's Bloodfest Limit Break. Seifer appears as the name of a Ghost card, a Level 100 Ultimecia bearing the Green Gem and GF Eden battlegen items.
Seifer is mentioned in the Mognet letter sent by Mohnny, who describes him as one of the disciplinary committee who wears a gray coat and swings his gunblade. The mail is sent the next day in conjunction with the previous letter about Balamb Garden (see here).
Attack of the Disciplinary Committee
Like you told me, I was trying to avoid bumping into the disciplinary committee, but this guy in gray coat is swinging his Gunblade at his posse, telling them to run after me! I'm a harmless animal, I swear!
The player may reply either "Just run!", "Hide and see what happens!" and "Stand your ground!" The option asks "Wanna help" on top.
Cloud

:

I couldn't finish 'em. Looks like this's gonna get complicated.

The following tables are incomplete for one or more reasons. If you wish, please examine the table and add anything missing. Remove this notice upon completion.
The head of Balamb Garden's Disciplinary Committee and yet the most problematic student within its walls. Despite his superior fighting skills, Seifer's belligerent attitude and inability to follow orders have left him famous for being unable to pass the SeeD exam. When he crashes one of Squall's missions, he is caught by the sorceress Edea and turned against the Garden.
—Online description
Seifer is an unlockable character in Theatrhythm Final Fantasy, obtained by collecting Gray Crystal Shards.
Seifer is a Defense oriented character, mirroring Squall.
| Level | HP | CP | Strength | Magic | Agility | Luck |
| --- | --- | --- | --- | --- | --- | --- |
| 1 | 241 | 6 | 17 | 16 | 14 | 15 |
| 10 | 961 | 11 | 38 | 37 | 32 | 35 |
| 20 | 1760 | 17 | 61 | 59 | 52 | 57 |
| 80 | 5979 | 50 | 185 | 180 | 158 | 173 |
| 99 | 6399 | 50 | 198 | 192 | 169 | 185 |
iOS Stats
Edit
Seifer returns as an unlockable playable character, and must now be unlocked by collecting Purple Crystal Shards.
He is an Offense and Defense oriented character.
| Level | CP | HP | Strength | Magic | Agility | Luck | Stamina | Spirit |
| --- | --- | --- | --- | --- | --- | --- | --- | --- |
| 1 | 7 | 245 | 15 | 10 | 12 | 15 | 15 | 8 |
| 50 | 35 | 4392 | 124 | 81 | 95 | 122 | 124 | 65 |
| 99 | 50 | 6506 | 181 | 118 | 138 | 178 | 181 | 95 |
Seifer appears in Pictlogica Final Fantasy as a playable character.
Though extremely skilled, his belligerent attitude and unwillingness to follow orders have kept him from passing the SeeD exam, making him an eternal SeeD-in-training. Harbors an intense rivalry with his fellow gunblade wielder, Squall.
—Character Description
Seifer appears as a summonable Legend in Final Fantasy Airborne Brigade. He is depicted in his default Final Fantasy VIII outfit. His abilities are Bloodfest, Demon Slice, Firaga and Zantetsuken Reverse.
This reckless Balamb Garden disciplinarian really has a knack for failing exams.
—Description
Seifer is an exclusive character only available from the Premium Character Shop as a random downloadable content, he uses the No Mercy ability during battle.
Seifer appears in Final Fantasy Record Keeper.
Seifer appears in the trading card game of Final Fantasy and is represented by four cards. They are Lightning-elemental, despite Seifer being associated with Fire in Final Fantasy VIII.
Seifer appears on a Triple Triad card.

Non-Final Fantasy Appearances
Edit
For more information, see Kingdom Hearts Wiki: Seifer
A younger version of Seifer appears in Kingdom Hearts II. He is the leader of the Twilight Town Disciplinary Committee, together with Fuu and Rai, and is idolized by Vivi for his strength. Seifer is known for being a top Struggle fighter, who also likes street brawls. Seifer calls Roxas "chicken wuss", which he calls Zell in Final Fantasy VIII.
In DiZ's simulated Twilight Town, he is a rival of Roxas and his friends, while in the real Twilight Town, Hayner is his main rival since Roxas never met Seifer from the real Twilight Town. He is antagonistic toward Sora, but after he saves Seifer's gang from the Nobodies, Seifer gives him the Struggle Trophy, an unspoken sign of respect. Although his rival Squall (under the name of Leon) appears in the series the two never meet, though they retain their trademark scars.
Seifer is voiced by Takehito Koyasu in the Japanese version and by Will Friedle in the English version.
Gunslinger Stratos 2Edit
Seifer's costume to be released in November 2014.

Etymology
Edit
[view  · edit  · purge]Seifer could be based on the Semitic root s-y-f, seen in Arabic سيف (seif), Hebrew סיף (sayif), and Maltese sejf meaning "sword" or "saber". "Seifer" is also a variant of the name Siegfried (meaning victor); a common German first name.
[view  · edit  · purge]Almasy may derive from the common Hungarian family name Almásy (pronounced ɒlmaːʃi). It means "related to or from [the land] of apples". The word "Almasy" may be based on the Arabic word (which has the same pronunciation) ألماسي, which means "made from diamond". Refining Seifer's Triple Triad card yields Diamond Armor.
Cifer, Seifer's German name, comes from Cipher, a type of encryption normally hard to read or understand without the original producer's clues. The spelling was most likely changed because Seife is the German word for "soap," thus Seifer can be understood as an agent noun "soaper."
Seifer uses a power similar to magic, though in-game information confirms he does not use real magic, but chi-based attacks.
The red cross usually worn by Seifer is a variant of the Cruz de Santiago (Cross of Saint James), the emblem of an ancient Spanish order designated to protect the European pilgrims from the Muslims of the Iberian Peninsula.
Seifer is the second-eldest character from the "orphanage gang," the eldest being Quistis.
Although Seifer forms a posse with Fujin and Raijin, the player never gets to fight all three of them in the same battle.
Seifer uses the more traditional meaning of "romantic," which can cause some confusion over the meaning of his "romantic dream."
During the parade, Seifer is usually seen on the float with Edea during the FMVs, however, he appears to have momentarily vanished for one scene.
On May 30th, 2012, official website for Final Fantasy 25th Anniversary, in the character section dedicated to Final Fantasy VIII, Seifer's katakana was correct while his English name was translated to "Sephiroth." As of May 31st, 2012, Square Enix corrected the error.
References
Edit