Seer
Talk

3
13,972 pages on
this wiki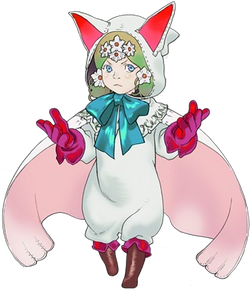 The Seer (導士, Doushi?, lit. "Shaman"), originally known as Devout, is a recurring Job class in the Final Fantasy series. They are generally an upgrade to White Mages.
The Seer's equipment includes staves and rods. Their armor, like most mages, is limited to lightweight vests and mage robes.
Seers tend to dress in white robes with a red or pink coat underneath. They tend to lean towards lighter armor, generally robes. Male Devouts generally do not wear hoods. The most characteristic thing that differs them from White Mages is their trademark Cat-Ear Hood.
Seers have more access and proficiency with higher-rank White Magic than White Mages, and are more able spellcasters in general.
Appearances
Edit
Main article: Devout (Final Fantasy III)
The Devout is one of the final jobs obtained in this game, and is granted by the Earth Crystal at the Ancients' Maze. Upon promotion they are granted access to a new tier of white magic and better mind stat, although their MP for their lower level spells seems to be significantly much lower than their white mage counterparts.
Main article: Seer (Tactics A2)
The Seer job is unlocked through mastery of 4 White Mage abilities and finishing a certain quest. Equipping Tomes, its abilities include mid-rank Black and White Magic. They also boast the highest scores in MP and resistance for the Hume race.
Main article: Devout (Bravely Default)
The Devout job appears in this game. However, the job's appearance differs from the traditional Devout look, lacking the iconic cat-ear hood.
Main article: Seer (Dimensions)
The Seer job is obtained in the Tome of Twilight chapter, and is exclusive to Warriors of Light. Unique feature to them in the series, is that Seers can raise elemental defense of the party.
Main article: Devout (Airborne Brigade)
The Devout is a job in Final Fantasy: Airborne Brigade available after obtaining a level fifteen White Mage and a level fifteen Scholar. The preferred weapons for the job are rods and staves. The job specializes in both intelligence and agility abilities.
"Only those most learned in the ways of white magic dare don the cat-eared robe."
—Description
The Devout is a character available to the party, and uses the Holy ability during battle. Unlocks at level 50.