Ad blocker interference detected!
Wikia is a free-to-use site that makes money from advertising. We have a modified experience for viewers using ad blockers

Wikia is not accessible if you've made further modifications. Remove the custom ad blocker rule(s) and the page will load as expected.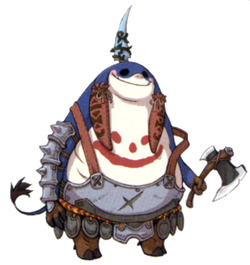 Axe-hurling seeq both wide of girth and short of wit.
—Description
Seeq are enemy Sky Pirates in Final Fantasy XII: Revenant Wings. It is also the name of that race's only Job.
In battle, seeq are Ranged units that wield weapons such as Boomerangs and tomahawks. They tend to have high HP and Attack stats.

| Skill | Effect |
| --- | --- |
| Axes | Basic - Deal ranged damage to one foe. |
| Tomahawk | Deal damage to foes in a line extending from the user. |
| Boomerang | Deal damage to foes in a line extending from the user. |
| Heave-ho | Deal damage to one foe, knocking it back. |
| Rampage | Inflict Berserk on group. Berserk units cannot use magick or abilities. |
| Potion | Restore HP to one ally. |
| Swiftness | Passive - Increases group's movement speed. |
War-chief
Edit
Formidable brute who nevertheless knows when to beat a hasty retreat.
—Description
The War-chief is a special, green seeq that appears in Midlight's Deep. It is much more powerful than a normal seeq, having greater healing capabilities and a large sum of HP.
| Skill | Effect |
| --- | --- |
| Axes | Basic - Deal ranged damage to one foe. |
| Tomahawk | Deal damage to foes in a line extending from the user. |
| Boomerang | Deal damage to foes in a line extending from the user. |
| Heave-ho | Deal damage to one foe, knocking it back. |
| Rampage | Inflict Berserk on group. Berserk units cannot use magick or abilities. |
| Elixir | Fully restore user's HP and MP and remove debuffs. |
| Chivalry | Passive - Increases group's Strength and Magick when leader's HP is low. |
Missions
Edit
Final Fantasy XII: Revenant Wings Enemy
Yarhi-Smitten Seeq
({{{japan}}},

{{{romaji}}}

?)
Level
HP
38
702
Str
Mag
Stm
Mnd
260
142
259
183
Atk
MAtk
Def
MDef
145
75
136
93
Speed
AtkSpd
MvSpd
Sight
266
41
0.846
4
| | |
| --- | --- |
| Location | {{{Location}}} |
| Type | Ranged |
| Nature | None |
| Weak Against | None |
| Resistant to | None |
| Immune to | None |
Final Fantasy XII: Revenant Wings Enemy
Stumplegged Seeq
({{{japan}}},

{{{romaji}}}

?)
Level
HP
29
621
Str
Mag
Stm
Mnd
206
115
205
147
Atk
MAtk
Def
MDef
114
58
105
72
Speed
AtkSpd
MvSpd
Sight
202
39
0.846
4
| | |
| --- | --- |
| Location | {{{Location}}} |
| Type | Ranged |
| Nature | None |
| Weak Against | None |
| Resistant to | None |
| Immune to | None |
Final Fantasy XII: Revenant Wings Enemy
Forgetful Seeq
({{{japan}}},

{{{romaji}}}

?)
Level
HP
41
729
Str
Mag
Stm
Mnd
278
151
277
195
Atk
MAtk
Def
MDef
149
77
141
96
Speed
AtkSpd
MvSpd
Sight
284
41
0.846
4
| | |
| --- | --- |
| Location | {{{Location}}} |
| Type | Ranged |
| Nature | None |
| Weak Against | None |
| Resistant to | None |
| Immune to | None |
Final Fantasy XII: Revenant Wings Enemy
Seeq
({{{japan}}},

{{{romaji}}}

?)
Level
HP
1 - 99
360 - 1,251
Str
Mag
Stm
Mnd
32 - 626
38 - 335
31 - 625
31 - 427
Atk
MAtk
Def
MDef
38 - 186
24 - 98
34 - 183
25 - 124
Speed
AtkSpd
MvSpd
Sight
33 - 627
36
0.864
4
| | |
| --- | --- |
| Location | {{{Location}}} |
| Type | Ranged |
| Nature | None |
| Weak Against | Thunder |
| Resistant to | None |
| Immune to | None |