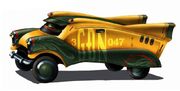 The SeeD Personal Carrier Vehicle is a personnel transport in Final Fantasy VIII. Similar in design to the Galbadian road vehicle it is used as student transportation for the Gardens (Balamb, Trabia, and Galbadia) and can seat six passengers with at least one driver.
Used akin to school buses in Balamb Island, Balamb Garden uses the vehicles to transport students and personnel between the Garden and Balamb Town.
Ad blocker interference detected!
Wikia is a free-to-use site that makes money from advertising. We have a modified experience for viewers using ad blockers

Wikia is not accessible if you've made further modifications. Remove the custom ad blocker rule(s) and the page will load as expected.