Seal Evil
Talk

16
13,958 pages on
this wiki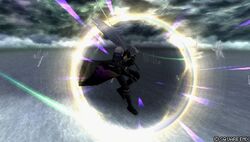 "Petrify the cursed beings known as the undead."
—Description, Final Fantasy Tactics.
Seal Evil (邪心封印, Jashin Fūin?) is a recurring ability in the series. It often inflicts status effects on all enemies, generally Paralysis, and is generally associated with Aerith Gainsborough.
Appearances
Edit
Aeris' Seal Evil Limit Break - Final Fantasy VII
Seal Evil
is the second Limit Break for Aeris, gained after using
Healing Wind
8 times. It inflicts Paralyze and
Silence
on all enemies.
Seal Evil is an ability of the Machinist job, exclusive to Mustadio and Barich. It requires 200 JP to learn, and inflicts Stone on any Undead enemy. Its range varies depending on the weapon Mustadio and Barich has equipped at the time.
In Final Fantasy Tactics: The War of the Lions, all Machinist abilities, including Seal Evil, are included on the Sky Pirate job, exclusive to Balthier.
"Behave!"
—When using Seal Evil.
Seal Evil is an aerial Bravery attack used by Aerith, which paralyzes the opponent for three seconds or until they are attacked by the opponent.