Scythe
Talk

24
13,960 pages on
this wiki
Relm

: I couldn't miss the chance to practice my drawing!
This article is in need of a few pictures. Perhaps you can help by

uploading

and adding a picture or two.
Scythes (鎌, Kama?) are a recurring weapon type in the Final Fantasy series.
Playable appearances
Edit
Scythes are the primary weapon of the Dark Knight Job, and can also be used by Beastmasters, Warriors, and Black Mages.
List of Scythes:

Brass Zaghnal
Keen Zaghnal
Legionnaire's Scythe
Serpette
Plantreaper
Bastokan Scythe
Republic Scythe
Lucent Scythe
Scythe
Cruel Scythe
Platoon Zaghnal
Webcutter
Frostreaper
Mercenary Captain's Scythe
Federation Scythe
Windhurst Scythe
Harvester
Mutilator
Beluga
Antlion Sickle
Jet Sickle
Mandibular Sickle
Falcastra
Barbarian's Scythe




Bone Scythe
Smiting Scythe
Demonslicer
Ivory Sickle
Vassago's Scythe
A l'Outrance
Darksteel Scythe
Ascension
Blackjack
Faucheuse
Vendetta
Goshisho's Scythe
Havoc Scythe
King Maker
Moliones's Sickle
Naigama
Volunteer's Scythe
Fourth Zaghnal
Scythe of Trials
Senior Gold Musketeer's Scythe
Storm Zaghnal
Zareekhl Scythe
Garuda's Sickle
Martial Scythe
Mighty Zaghnal
Y's Scythe
Blizzard Scythe
Death Scythe




Gravedigger
Lyft Scythe
Orichalcum Scythe
Perdu Sickle
Triton's Scythe
Suzaku's Scythe
White Joker
Tredecim Scythe
Enforcer
Dweomer Scythe
Ogre Sickle
Liberator
Death Sickle
Bahamut's Zaghnal
Scarecrow Scythe
Plaga Scythe
Crisis Scythe
Maleficus
Woeborn
Scythes are secondary tools used by Botanists.
Bronze Scythe
Iron Scythe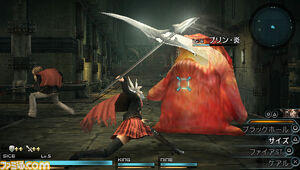 Sice wields a scythe as her weapon of choice.
List of scythes:
Non-playable appearances
Edit
Recurring
Edit
A scythe is held in nearly every appearance of the Grim Reaper in the Final Fantasy series.

In all versions of the game, Cindy wields a scythe.
Cindy appears once more, once again wielding a scythe.
Ark Angel TT wields a scythe in battle.
Domina Shantotto, Shantotto's 'Dark' side, wields a scythe that allows her to deal more physical damage than a normal Black Mage and her counterparts.
The main antagonist Queen Remedi is shown in game to wield a scythe as a weapon when fighting as the "Battle Queen". The game data also contains the dummied coding for the weapon Battle Scythe which was probably intended for use by Remedi, but is classified as a Mace.