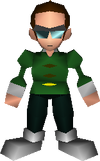 Scotch is a non-player character in Final Fantasy VII and a lackey of Don Corneo fought if Cloud is not chosen as the Don's date. He is stronger than the other Lackeys.
Scotch is lecherous like his boss, Don Corneo, and if Cloud is not picked by Corneo, calls three cheers for Corneo. He expresses anger upon discovering Cloud is a man and orders his compatriots to "beat the crap out of him."
Formations
Edit
| # | Formation |
| --- | --- |
| 385 | Corneo's Lackey A, Corneo's Lackey B, Scotch |
Locations
Edit
It has two attacks, Hit, which is its standard physical attack, and Machine Gun. He will use his Machine Gun attack when any Corneo's Lackey have below 50% of their Max HP. This attack he will use twice in same turn when attacked, or one ally is KO, and stays with this attack mode for the rest of the battle, no longer using his other attack.

AI script
Edit
Declare Self:ScotchAngry = 0
Declare SelectedTarget = random opponent
If (Self:ScotchAngry == 1 OR any Corneo's Lackey is defeated) Then
If (SelectedTarget is alive) Then: Use Machine Gun on SelectedTarget
Else: Use Machine Gun on random opponent
If (SelectedTarget is alive) Then: Use Machine Gun on SelectedTarget
Else: Use Machine Gun on random opponent
Else If (any Corneo's Lackey:Angry == 1) Then
If (SelectedTarget is alive) Then: Use Machine Gun on SelectedTarget
Else: Use Machine Gun on random opponent
If (SelectedTarget is alive) Then: Use Hit on SelectedTarget
Else: Use Hit on random opponent
SelectedTarget = last attacker
Self:ScotchAngry = 1
Related enemies
Edit