Scimitar (Weapon)
17,616 pages on
this wiki
Talk

4
Relm

:

I couldn't miss the chance to practice my drawing!

This article is in need of a few pictures. Perhaps you can help by uploading and adding a picture or two.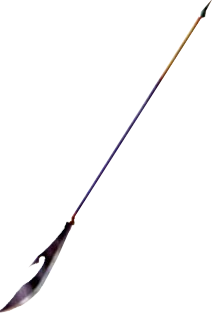 A sword with a curved blade.
—Description, Final Fantasy.
The Scimitar (シミター, Shimitā?) is a weapon that appears in various games in the Final Fantasy series.
Appearances
Edit
In the original Final Fantasy, the Scimitar can only be purchased in Pravoka and be used by most of the fighting characters in the game. In the Dawn of Souls version, as with most items, the Scimitar is cheaper than in the original release. It costs 200 in the NES and Origins version, and costs 160 in the Dawn of Souls version.
Final Fantasy VII's rendition of the Scimitar appears not as a sword, but as one of Cid's lance-type weapons more akin to a Guan Dao. This is because in the original Japanese version of the game, the weapon was not named "Scimitar" but Seiryuu Engetsutou (青龍偃月刀), or Green Dragon Crescent Blade, the famous Guan Dao wielded by Guan Yu. The weapon can only be found in a chest at the Submarine Docks at the Underwater Reactor. It is a useful weapon as it offers triple Materia growth, which only this and Cloud's Apocalypse sword have.
Scimitars are a type of sword, primarily used by Blue Mages. Several types, referred as Kilij, are designed specifically for Blue Mages by increasing their MP, stats, or granting a bonus over certain types of creatures.
Scimitar is a low-ranked edged sword that provides more Agility, a less risk factor, and a higher Strength. Its range is the standard of the regular swords.
A slender, curved sword believed to have originated in the Harena region. This cruel weapon is well suited for carving chunks off an enemy with each swing of its beautifully bowed blade. This makes it the favored weapon of brigands and pirates.
—Description
Etymology
Edit
[view  · edit  · purge]A scimitar is a backsword or sabre with a curved blade, originating in Southwest Asia (Middle East).