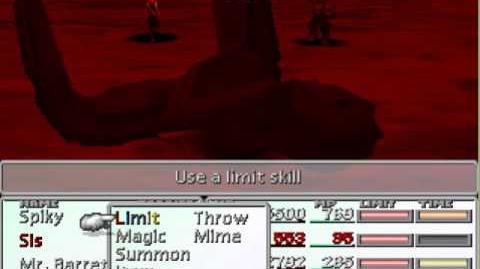 Satellite Beam (サテライトビーム, Sateraito Bīmu?), also known as Satellite Laser, is a recurring ability in the series.
Appearances
Edit
VII Satellite Beam is a Limit Level 3 ability for Barret, obtained after killing 80 enemies on Limit Level 2. It deals non-elemental damage to all enemies equal to 23⁄16 times normal damage. The attack will always be a critical.
XIV Satellite Beam is the level 3 Limit Break ability used by the Machinist job. The Machinist deploys a an aerial turret that launches a powerful laser beam at enemies in a straight line.
Dissidia012 Satellite Laser is a ground physical HP attack for Laguna, obtained at the start of the game. It requires 30 CP to equip (15 when mastered), 130 AP to master, has Ranged High priority, and induces Wall Rush, but is blocked by obstacles and terrain. Laguna contacts satellites to strike the opponent with beams of energy directly from above.