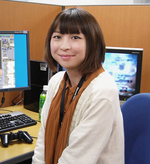 Sara Okabe (岡部沙羅, Okabe Sārā?) is a Japanese video game developer and scenario writer who is working for Square Enix. She was one of the scenario writers of Final Fantasy Type-0 (2011) and the level designer of Final Fantasy XIII-2 (2012).
Works within the series
Edit
In-game appearances
Edit
Okabe appears as a Support Personnel, sharing the same model and fighting abilities as Queen.

Ad blocker interference detected!
Wikia is a free-to-use site that makes money from advertising. We have a modified experience for viewers using ad blockers

Wikia is not accessible if you've made further modifications. Remove the custom ad blocker rule(s) and the page will load as expected.