Final Fantasy X-2 Enemy
Sand Worm
サンドウォーム (Sando Wōmu)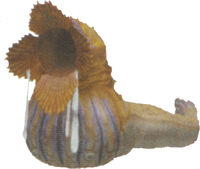 Worm
Statistics
Level
HP
MP
22
12,722
42
Strength
Magic
Defense
41
0
34
M. Defense
Agility
Accuracy
0
44
1
Evasion
Luck
0
0
EXP
AP
Gil
280
1
340
Location
Bikanel
Via Infinito Floors 24 - 26
Chapters
3, 5
Common Steal
Phoenix Down
Rare Steal
Phoenix Down x2
Gil Steal
600
Common Drop
Mythril Bangle
Rare Drop
Mythril Bangle
Common Bribe
Black Ring x2
Rare Bribe
Black Ring x3
Abilities
Earthquake
Blue Bullet
None
Status Resist
Eject (120), Zantetsu (30)
Status Immunity
Death, Petrification, Sleep, Silence, Darkness, Confusion, Curse, Slow, Stop, Doom, Delay, Preparation Interruption, Multiple Damage, Haste
Other Information
N/A
Sand Worm
サンドウォーム (Sando Wōmu)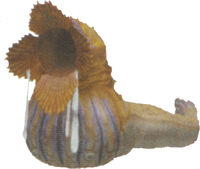 Worm
Statistics
Level
HP
MP
26
20,558
42
Strength
Magic
Defense
41
0
34
M. Defense
Agility
Accuracy
0
62
1
Evasion
Luck
0
0
EXP
AP
Gil
550
2
630
Location
Bikanel
Via Infinito Floors 24 - 26
Chapters
3, 5
Common Steal
Stamina Tablet
Rare Steal
Stamina Tablet x2
Gil Steal
1,300
Common Drop
Crystal Bangle
Rare Drop
Crystal Bangle
Common Bribe
Bushido Lore
Rare Bribe
Bushido Lore x2
Abilities
Rage of the Earth
Blue Bullet
None
Status Resist
Eject (160), Zantetsu (60)
Status Immunity
Death, Petrification, Sleep, Silence, Darkness, Confusion, Berserk, Curse, Slow, Stop, Doom, Delay, Preparation Interruption, Multiple Damage, Haste
Other Information
N/A
Normal: "A desert fiend that ranks among Spira's largest creatures now that Sin is gone. It's strong and has lots of HP, so this may be a long battle."
Oversoul: "A desert fiend that ranks among Spira's largest creatures now that Sin is gone. It's strong and has lots of HP, so this may be a long Battle."
— Scan
The Sand Worm is an enemy in Final Fantasy X-2. It is based on the Sand Worm enemy from Final Fantasy X.
Sand Worm is a rather powerful enemy with extremely high HP and Defense, and with a strong party attack.
It is advised to set up Protect and Shell to reduce the damage it can do, and blast it with Ice-elemental attacks. As always, carry several healing items or use an Alchemist. It will always appear alone.
==Gallery
Related enemies
Edit
Ad blocker interference detected!
Wikia is a free-to-use site that makes money from advertising. We have a modified experience for viewers using ad blockers

Wikia is not accessible if you've made further modifications. Remove the custom ad blocker rule(s) and the page will load as expected.