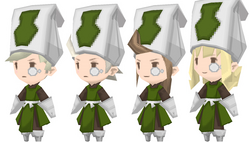 Use items without consuming AP!
—In-game description.
The Salve-Maker (薬師, Yakushi?) is a crown in Final Fantasy: The 4 Heroes of Light obtained by defeating the Demon in Urbeth.
The Salve-Maker can manipulate Item usage and are able to use items without consuming any AP. The Salve-Maker's abilities allow them to use items on the entire party and allow them to inflict damage on enemies; this can be useful when the player acquires an Elixir. The Salve-Maker's final ability, Level Serum, can be a great support ability in the game's earlier stages to raise the party's over all stats, but it becomes useless after the party reaches Level 99.
The Salve-Maker has decent stat multipliers, but lacks proficiency with any type of weapon and magic. The job's special armor, Salve-Maker Robe, provides a 10% Intellect boost and 5% Evasion boost.
| HP | Strength | Intellect | Spirit |
| --- | --- | --- | --- |
| 1.2 | 0.9 | 1.3 | 1.4 |
| Short Sword | Sword | Bow | Staff | Spear | Axe | Book | Harp |
| --- | --- | --- | --- | --- | --- | --- | --- |
| C | C | C | C | C | C | C | C |
| Offensive Magic | Recovery Magic | Evade | Magic Evade |
| --- | --- | --- | --- |
| C | C | C | C |
Abilities
Edit
Name
Description
AP
Gems Needed
Image

Dispensary

Does not consume items when used. Lasts four turns.
1
None

Healthcare

Items work on all members of the party.
2
Lapis ×5
Aquamarine ×5

Poison Pill

Change recovery items into poison and make them inflict damage on the enemy.
3
Topaz ×2
Sapphire ×6
Lapis ×6
Amethyst ×1

Level Serum

Increase party level by 1.
4
Ruby ×3
Emerald ×7
Lapis ×7
Amethyst ×2
Diamond ×1