Final Fantasy X-2 Enemy
Sallet
サレット (Saretto)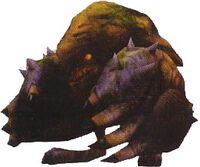 Helm
Statistics
Level
HP
MP
3
60
4
Strength
Magic
Defense
12
1
122
M. Defense
Agility
Accuracy
2
42
0
Evasion
Luck
1
1
EXP
AP
Gil
4
1
10
Sallet
サレット (Saretto)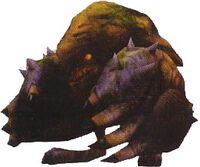 Helm
Statistics
Level
HP
MP
4
248
4
Strength
Magic
Defense
13
1
122
M. Defense
Agility
Accuracy
2
46
0
Evasion
Luck
1
1
EXP
AP
Gil
12
2
32
Normal: "A fiend whose tough carapace protects it from physical attacks but leaves it vulnerable to magic. Its attacks are straight-forward and unrelenting."
Oversoul: "A fiend whose tough carapace protects it from physical attacks but leaves it vulnerable to magic. It sometimes performs an irritating attack that destroys Potions."
— Scan
Sallet is an enemy in Final Fantasy X-2. It is of no threat to the player and can be dealt with in a variety of ways.
Fiend Tale
Edit
In the Fiend Tale endings, one notable Sallet was created from the spirit of a Yevon monk who lived during the time of high summoner Yocun. Seeing himself as Yuna's Guardian, he was ultimately in denial until he came to Zanarkand where he passed on to the Farplane.
Other appearances
Edit


This article or section is a stub about an enemy in Final Fantasy Record Keeper. You can help the Final Fantasy Wiki by expanding it.
Etymology
Edit
[view · edit · purge]The sallet was a war helmet that replaced the bascinet in Italy, western and northern Europe and Hungary during the mid-15th century.
Related enemies
Edit