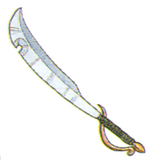 The Salamand Sword (サラマンドソード, Saramandosoodo?) is a recurring weapon in the series. It is a sword and a piece of flame equipment.
Appearances
Edit
III The Salamand Sword is a fire-elemental sword. It has an attack power of 30 in the 3D versions and 32 in the NES version. It can be found on the tenth floor of the Tower of Owen. It can also be purchased in the Dwarven Hollows for 3,000 gil, but only in the NES version. When used as an item, it casts the fire spell.
Etymology
Edit
[view · edit · purge]Salamander is a mythological reptile believed to be able to breathe and resist fire. In legends, ancient alchemists are said to use Salamanders to determine the heat of the fire necessary to turn lead to gold.
[view · edit · purge]A sword is a blade weapon used primarily for cutting or thrusting. The precise definition of the term varies with the historical epoch or the geographical region under consideration. A sword in the most narrow sense consists of a straight blade with two edges and a hilt. However, in nearly every case, the term may also be used to refer to weapons with a single edge (backsword).
Ad blocker interference detected!
Wikia is a free-to-use site that makes money from advertising. We have a modified experience for viewers using ad blockers

Wikia is not accessible if you've made further modifications. Remove the custom ad blocker rule(s) and the page will load as expected.