Final Fantasy X-2 Enemy
Sahagin Prince
サハギンプリンス (Sahagin Purinsu)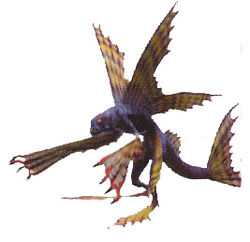 Sahagin
Statistics
Level
HP
MP
48
6,420
25
Strength
Magic
Defense
52
63
34
M. Defense
Agility
Accuracy
61
91
4
Evasion
Luck
0
0
EXP
AP
Gil
185
1
105
| | |
| --- | --- |
| Location | Via Infinito 30 - 32 |
| Chapters | 5 |
| Common Steal | Phoenix Down x2 |
| Rare Steal | Phoenix Down x3 |
| Gil Steal | 450 |
| Common Drop | Hi-Potion x2 |
| Rare Drop | Hi-Potion x3 |
| Common Bribe | X-Potion x20 |
| Rare Bribe | X-Potion x30 |
| Abilities | Squirt Gun |
| Blue Bullet | None |
| Status Resist | Death (100), Petrification (100), Sleep (100), Silence (100), Darkness (100), Poison (100), Eject (2), Zantetsu (1) |
| Status Immunity | Confusion, Curse, Stop, Doom, Delay, Preparation Interruption, Multiple Damage |
| Other Information | N/A |
Sahagin Prince
サハギンプリンス (Sahagin Purinsu)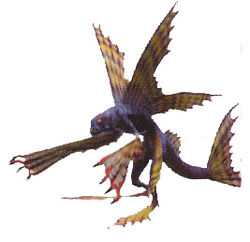 Sahagin
Statistics
Level
HP
MP
58
13,720
25
Strength
Magic
Defense
52
64
34
M. Defense
Agility
Accuracy
62
99
5
Evasion
Luck
0
0
EXP
AP
Gil
240
2
178
| | |
| --- | --- |
| Location | Via Infinito 30 - 32 |
| Chapters | 5 |
| Common Steal | Phoenix Down x2 |
| Rare Steal | Phoenix Down x3 |
| Gil Steal | 700 |
| Common Drop | Hi-Potion x6 |
| Rare Drop | Hi-Potion x8 |
| Common Bribe | X-Potion x60 |
| Rare Bribe | X-Potion x80 |
| Abilities | Sludge Spray, Squirt Gun |
| Blue Bullet | None |
| Status Resist | Death (100), Petrification (100), Sleep (100), Silence (100), Darkness (100), Poison (100), Eject (6), Zantetsu (2) |
| Status Immunity | Confusion, Berserk, Curse, Stop, Doom, Delay, Preparation Interruption, Multiple Damage |
| Other Information | N/A |
The Sahagin Prince is an enemy from Final Fantasy X-2 fought in Via Infinito 30 - 32. Despite their stats, they are not a very powerful enemy and can be dealt with by attacking them with Lightning-elemental attacks such as Thunder Blade and Thundaga.
Etymology
Edit
[view · edit · purge]Sahuagin (often misspelled or transliterated "sahagin") are fishlike, monstrous humanoids that appear in the Dungeons & Dragons role-playing game.
Related enemies
Edit
Ad blocker interference detected!
Wikia is a free-to-use site that makes money from advertising. We have a modified experience for viewers using ad blockers

Wikia is not accessible if you've made further modifications. Remove the custom ad blocker rule(s) and the page will load as expected.