Final Fantasy X-2 Enemy
Sahagin Chief
サハギンチーフ (Sahagin Chīfu)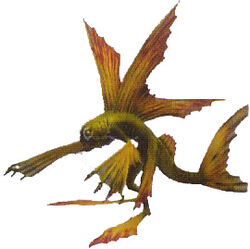 Sahagin
Statistics
Level
HP
MP
42
9,660
65
Strength
Magic
Defense
47
37
34
M. Defense
Agility
Accuracy
26
71
1
Evasion
Luck
0
0
EXP
AP
Gil
300
1
105
Location
Cactuar Hollow
Ruin Depths
Via Infinito Floors 50 - 59
Chapters
5
Common Steal
Blue Ring
Rare Steal
NulTide Ring
Gil Steal
250
Common Drop
Water Gem x2
Rare Drop
Water Gem x3
Common Bribe
Cerulean Ring
Rare Bribe
Cerulean Ring
Abilities
Physical attack
Blue Bullet
None
Status Resist
Petrification (100), Sleep (100), Darkness (100), Eject (38), Zantetsu (18)
Status Immunity
Death, Confusion, Curse, Stop, Doom, Delay, Preparation Interruption, Multiple Damage
Other Information
N/A
Sahagin Chief
サハギンチーフ (Sahagin Chīfu)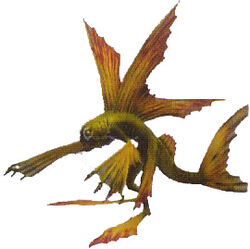 Sahagin
Statistics
Level
HP
MP
50
13,093
65
Strength
Magic
Defense
87
44
34
M. Defense
Agility
Accuracy
28
92
1
Evasion
Luck
0
0
EXP
AP
Gil
575
2
148
Location
Cactuar Hollow
Ruin Depths
Via Infinito Floors 50 - 59
Chapters
5
Common Steal
Blue Ring
Rare Steal
NulTide Ring
Gil Steal
480
Common Drop
Water Gem x4
Rare Drop
Water Gem x5
Common Bribe
Cerulean Ring x2
Rare Bribe
Cerulean Ring x3
Abilities
Physical attack
Blue Bullet
None
Status Resist
Petrification (100), Sleep (100), Darkness (100), Eject (55), Zantetsu (27)
Status Immunity
Death, Confusion, Berserk, Curse, Delay, Preparation Interruption, Multiple Damage
Other Information
N/A
Normal: "An aquatic fiend that can also live on land. It attacks by spraying water from its mouth. Its movement on land is sluggish, meaning an easy victory... right?"
Oversoul: "Oversouled or not, this aquatic fiend doesn't stand a chance grounded, what with its slow movements and dull attack patterns. Victory is around the corner...right?"
— Scan
The Sahagin Chief is an enemy from Final Fantasy X-2. It is weak to Lightning. An Alchemist with Item Lore using Lightning-elemental items helps, as do Black Mages and a Mascot with Black Magic. They are of no particular threat.
Etymology
Edit
[view · edit · purge]Sahuagin (often misspelled or transliterated "sahagin") are fishlike, monstrous humanoids that appear in the Dungeons & Dragons role-playing game.
Related enemies
Edit
Ad blocker interference detected!
Wikia is a free-to-use site that makes money from advertising. We have a modified experience for viewers using ad blockers

Wikia is not accessible if you've made further modifications. Remove the custom ad blocker rule(s) and the page will load as expected.