Final Fantasy X-2 Enemy
Sahagin
サハギン (Sahagin)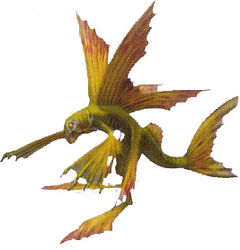 Sahagin
Statistics
Level
HP
MP
3
60
28
Strength
Magic
Defense
12
58
14
M. Defense
Agility
Accuracy
62
68
0
Evasion
Luck
0
0
EXP
AP
Gil
3
1
7
Sahagin
サハギン (Sahagin)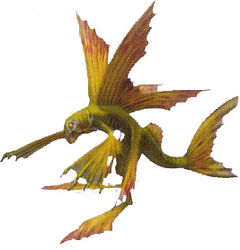 Sahagin
Statistics
Level
HP
MP
6
240
28
Strength
Magic
Defense
18
58
14
M. Defense
Agility
Accuracy
62
75
0
Evasion
Luck
0
0
EXP
AP
Gil
10
2
20
Normal: "An aquatic fiend that can also live on land. It attacks by spraying water from its mouth. Its movement on land is sluggish, meaning an easy victory."
Oversoul: "Weak even after oversouling. It usually attacks by spraying water from its mouth, but sometimes it will use Scum Spray to inflict darkness."
— Scan
The Sahagin is an enemy from Final Fantasy X-2. They are not particularly powerful and can be dealt with easily with a simple Thunder spell or Thunder Blade attack.
Other appearances
Edit

This article or section is a stub about an enemy in Final Fantasy Record Keeper. You can help the Final Fantasy Wiki by expanding it.
Etymology
Edit
[view · edit · purge]Sahuagin (often misspelled or transliterated "sahagin") are fishlike, monstrous humanoids that appear in the Dungeons & Dragons role-playing game.
Related enemies
Edit
Ad blocker interference detected!
Wikia is a free-to-use site that makes money from advertising. We have a modified experience for viewers using ad blockers

Wikia is not accessible if you've made further modifications. Remove the custom ad blocker rule(s) and the page will load as expected.