Ad blocker interference detected!
Wikia is a free-to-use site that makes money from advertising. We have a modified experience for viewers using ad blockers

Wikia is not accessible if you've made further modifications. Remove the custom ad blocker rule(s) and the page will load as expected.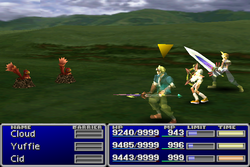 Sadness (かなしい, Kanashii?) is a status effect in Final Fantasy VII that causes the character to take 30% less damage from physical and magical attacks, but also halves the rate the Limit gauge fills. The effect can be positive or negative, depending on the party's situation. Sadness is the opposite of Fury. When a character is under Sadness status, their Limit bar is displayed in blue, rather than the normal pink color.
This status is healed by Hyper, Remedy, Esuna, White Wind, Aeris's Breath of the Earth Limit Break, and even with a Fury ability. It can be created by using a Tranquilizer, or through an enemy attack. Hypers and Tranquilizers can be bought in shops all around world.
| Game Element | Type | Effect |
| --- | --- | --- |
| Absorb | Enemy Attack | Inflicts moderate non-elemental damage as well as Sadness. |
| Bad Mouth | Enemy Attack | Inflicts moderate non-elemental damage as well as Sadness. |
| Bug Needle | Enemy Attack | Inflicts minor non-elemental damage as well as Sadness and Poison. |
| Creepy Touch | Enemy Attack | Inflicts Sadness. Used only as a counterattack. |
| High/Low Suit | Enemy Attack | Inflicts Sadness. Always used twice in a row, and only if Gighee is alive. |
| Lick | Enemy Attack | Inflicts non-elemental damage and Sadness. |
| Pale Horse | Enemy Attack | Inflicts moderate non-elemental damage as well as Sadness, Toad, and Mini. |
| Para Tail | Enemy Attack | Inflicts moderate physical damage and Sadness. |
| Shower | Enemy Attack | Inflicts minor non-elemental damage and Sadness. |
| Smog Alert | Enemy Attack | Inflicts moderate non-elemental damage as well as Sadness, Poison, Blind, and Silence. |
| Teardrop | Enemy Attack | Inflicts moderate non-elemental damage and Sadness. |
| Triclops | Enemy Attack | Inflicts Sadness and Slow Petrify. Only used when all Grangalan Jr. Jr.s are dead. |
| War Cry | Enemy Attack | Inflicts Sadness. |
| Peace Ring | Accessory | Prevents Fury, Sadness, and Berserk. |
| Hyper | Item | Cures Sadness, but inflicts Fury if used while normal. |
| Tranquilizer | Item | Cures Fury, but inflicts Sadness if used while normal. |