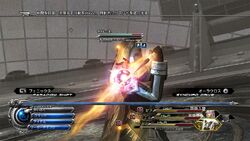 Sadistic Surge is a recurring ability in the series. It is an ability used by Jihl Nabaat. It is a series of quick slashes followed with rapid stabs, an uppercut which launches a target into the air, and a Ruinga-like explosion as its finisher.
Appearances
Edit
XIII-2 Sadistic Surge is Nabaat's Feral Link with input type Multiple and button order ←→↓←. When Sadistic Surge is used when Nabaat is a Paradigm Pack ally, it gains additional effects depending on the player characters' roles in the active paradigm: Bravery with a Synergist, Bravery and Shell with two Synergists, Protect with a Sentinel, Protect and Shell with two Sentinels, damage boost with Commandos, chain boost with Ravagers, HP recovery for Nabaat and a small damage boost with Medics, and increased Wound damage with Saboteurs.
Etymology
Edit
[view · edit · purge]"Sadist" is a term used when talking about person who derives pleasure through cruelty or pain to others. The name is derived from the word sadism which is in turn derived from a name of a French aristocrat, revolutionary politician, philosopher and writer, Marquis de Sade.
[view · edit · purge]"Surge" is a word used in various contexts. The terms when the word "surge" is involved include: a sudden transient rush, flood or increase; sudden electrical spike or increase of voltage and current; swell or heave of the sea, and maximum amplitude of a vehicle's forward/backward oscillation.