Ad blocker interference detected!
Wikia is a free-to-use site that makes money from advertising. We have a modified experience for viewers using ad blockers

Wikia is not accessible if you've made further modifications. Remove the custom ad blocker rule(s) and the page will load as expected.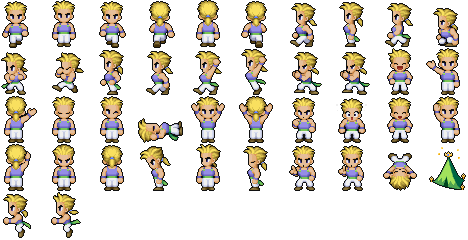 Sabin is a playable character in Final Fantasy VI. Being a Monk, Sabin has naturally high physical stats, but low magic stats. Despite his stats, most of Sabin's Blitzes—his special abilities—depend on his magic power. His weapons are limited to claws, his shield options are limited to those universally used, and he can equip lightweight vests and tunics.
Sabin begins with a Metal Knuckle, Leather Cap and Leather Armor.
Recruitment
Edit
In the World of Balance, Sabin is available throughout points in the story.
In the World of Ruin, Sabin is the first available recruitable character. He is found in Tzen, recruited after the player saves the child in the Burning Home.
Abilities
Edit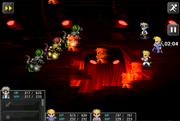 Sabin's unique ability is Blitz, which lets him perform special attacks if the player inputs the proper button commands. Sabin learns more Blitzes as he levels up, but can learn his final ability from his master Duncan in the World of Ruin at any level. Input using buttons or touch inputs, Blitz relies on the player's memory to effectively use. It deals damage based on Sabin's Magic stat, and is unaffected by his equipment. The optional character Gogo may also use the Blitz command.
Sabin's Desperation Attack is Tiger Break, which deals magical damage to one enemy.

Level
HP
MP
EXP
+
1
58
3
0
2
69
7
32
3
81
11
96
4
95
16
208
5
112
21
400
6
132
27
672
7
154
33
1056
8
178
40
1552
9
204
48
2184
10
231
56
2976
11
259
65
3936
12
289
74
5080
13
324
84
6432
14
363
94
7992
15
407
104
9784
16
457
114
11840
17
511
124
14152
18
568
135
16736
19
629
146
19616
20
694
157
22832
21
761
168
26360
22
830
179
30232
23
902
191
34456
24
978
203
39056
25
1057
215
44072
26
1139
227
49464
27
1225
239
55288
28
1315
252
61568
29
1410
265
68304
30
1509
278
75496
31
1609
291
83184
32
1710
304
91384
33
1812
318
100088
34
1914
332
109344
35
2017
346
119136
36
2121
360
129504
37
2227
374
140464
38
2334
389
152008
39
2442
404
164184
40
2552
419
176976
41
2663
434
190416
42
2776
449
204520
43
2890
465
219320
44
3006
481
234808
45
3123
497
251000
46
3242
513
267936
47
3362
529
285600
48
3484
546
304040
49
3609
563
323248
50
3737
580
343248
51
3867
596
364064
52
3998
611
385696
53
4131
625
408160
54
4265
638
431488
55
4401
650
455680
56
4538
661
480776
57
4677
671
506760
58
4819
680
533680
59
4963
688
561528
60
5108
695
590320
61
5255
701
620096
62
5403
706
650840
63
5553
711
682600
64
5705
717
715368
65
5858
723
749160
66
6013
730
784016
67
6169
737
819920
68
6327
744
856920
69
6487
752
895016
70
6649
760
934208
71
6809
768
974536
72
6964
776
1016000
73
7115
784
1058640
74
7260
791
1102456
75
7400
798
1147456
76
7536
805
1193648
77
7668
811
1241080
78
7794
817
1289744
79
7914
823
1339672
80
8031
829
1390872
81
8144
834
1443368
82
8254
839
1497160
83
8362
844
1552264
84
8467
849
1608712
85
8569
854
1666512
86
8669
859
1725688
87
8767
864
1786240
88
8862
870
1848184
89
8954
876
1911552
90
9044
882
1976352
91
9132
888
2042608
92
9219
894
2110320
93
9304
901
2179504
94
9387
909
2250192
95
9469
918
2322392
96
9549
928
2396128
97
9632
939
2471400
98
9718
951
2548224
99
9806
964
2637112
Equipment
Edit
| Shields | Helmets | Body Armor |
| --- | --- | --- |
| | | |