SAM08G
SAM08G (

SAM08G

?)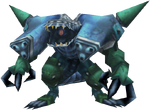 Statistics
Level
HP

2.25(Lv)² + 45(Lv) + 700

Level
HP

2.25(Lv)² + 45(Lv) + 700

1
747
19
2,367
STR

([5.8(Lv)] + [(Lv) / 5] - [(Lv)² / 100] + 33) / 4

MAG

([2.5(Lv)] + [(Lv) / 8] - [(Lv)² / 210] + 30) / 4

STR

([5.8(Lv)] + [(Lv) / 5] - [(Lv)² / 100] + 33) / 4

MAG

([2.5(Lv)] + [(Lv) / 8] - [(Lv)² / 210] + 30) / 4

9
8
35
19
VIT

((Lv) / 4) - (Lv) + (Lv) + 25

SPR

((Lv) / 25) - (Lv) + (Lv) + 15

VIT

((Lv) / 4) - (Lv) + (Lv) + 25

SPR

((Lv) / 25) - (Lv) + (Lv) + 15

25
15
29
15
SPD

((Lv) / 10) - [(Lv) / 20] + 8

EVA

((Lv) / 7) - [(Lv) / 14]

SPD

((Lv) / 10) - [(Lv) / 20] + 8

EVA

((Lv) / 7) - [(Lv) / 14]

8
0
9
1
EXP

5(Lv)² + 25

AP
EXP

5(Lv)² + 25

AP
30
4
120
4
SAM08G
SAM08G (

SAM08G

?)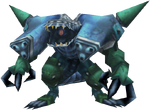 Statistics
Level
HP

2.25(Lv)² + 45(Lv) + 700

Level
HP

2.25(Lv)² + 45(Lv) + 700

20
2,500
29
3,897
STR

([5.8(Lv)] + [(Lv) / 5] - [(Lv)² / 100] + 33) / 4

MAG

([2.5(Lv)] + [(Lv) / 8] - [(Lv)² / 210] + 30) / 4

STR

([5.8(Lv)] + [(Lv) / 5] - [(Lv)² / 100] + 33) / 4

MAG

([2.5(Lv)] + [(Lv) / 8] - [(Lv)² / 210] + 30) / 4

37
20
49
25
VIT

((Lv) / 4) - (Lv) + (Lv) + 25

SPR

((Lv) / 25) - (Lv) + (Lv) + 15

VIT

((Lv) / 4) - (Lv) + (Lv) + 25

SPR

((Lv) / 25) - (Lv) + (Lv) + 15

30
15
32
16
SPD

((Lv) / 10) - [(Lv) / 20] + 8

EVA

((Lv) / 7) - [(Lv) / 14]

SPD

((Lv) / 10) - [(Lv) / 20] + 8

EVA

((Lv) / 7) - [(Lv) / 14]

9
1
9
2
EXP

5(Lv)² + 25

AP
EXP

5(Lv)² + 25

AP
125
4
170
4
SAM08G
SAM08G (

SAM08G

?)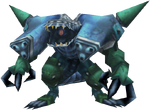 Statistics
Level
HP

2.25(Lv)² + 45(Lv) + 700

Level
HP

2.25(Lv)² + 45(Lv) + 700

30
4,075
100
27,700
STR

([5.8(Lv)] + [(Lv) / 5] - [(Lv)² / 100] + 33) / 4

MAG

([2.5(Lv)] + [(Lv) / 8] - [(Lv)² / 210] + 30) / 4

STR

([5.8(Lv)] + [(Lv) / 5] - [(Lv)² / 100] + 33) / 4

MAG

([2.5(Lv)] + [(Lv) / 8] - [(Lv)² / 210] + 30) / 4

51
26
133
61
VIT

((Lv) / 4) - (Lv) + (Lv) + 25

SPR

((Lv) / 25) - (Lv) + (Lv) + 15

VIT

((Lv) / 4) - (Lv) + (Lv) + 25

SPR

((Lv) / 25) - (Lv) + (Lv) + 15

32
16
50
19
SPD

((Lv) / 10) - [(Lv) / 20] + 8

EVA

((Lv) / 7) - [(Lv) / 14]

SPD

((Lv) / 10) - [(Lv) / 20] + 8

EVA

((Lv) / 7) - [(Lv) / 14]

10
2
13
7
EXP

5(Lv)² + 25

AP
EXP

5(Lv)² + 25

AP
175
4
525
4
| Lv | HP | STR | MAG | VIT | SPR | SPD | EVA | EXP |
| --- | --- | --- | --- | --- | --- | --- | --- | --- |
| 1 | 747 | 9 | 8 | 25 | 15 | 8 | 0 | 30 |
| 2 | 799 | 11 | 8 | 25 | 15 | 8 | 0 | 35 |
| 3 | 855 | 12 | 9 | 25 | 15 | 8 | 0 | 40 |
| 4 | 916 | 14 | 10 | 26 | 15 | 8 | 0 | 45 |
| 5 | 981 | 15 | 10 | 26 | 15 | 8 | 0 | 50 |
| 6 | 1051 | 17 | 11 | 26 | 15 | 8 | 0 | 55 |
| 7 | 1125 | 18 | 11 | 26 | 15 | 8 | 1 | 60 |
| 8 | 1204 | 20 | 12 | 27 | 15 | 8 | 1 | 65 |
| 9 | 1287 | 21 | 13 | 27 | 15 | 8 | 1 | 70 |
| 10 | 1375 | 23 | 14 | 27 | 15 | 9 | 1 | 75 |
| Lv | HP | STR | MAG | VIT | SPR | SPD | EVA | EXP |
| --- | --- | --- | --- | --- | --- | --- | --- | --- |
| 11 | 1467 | 24 | 14 | 27 | 15 | 9 | 1 | 80 |
| 12 | 1564 | 25 | 15 | 28 | 15 | 9 | 1 | 85 |
| 13 | 1665 | 27 | 15 | 28 | 15 | 9 | 1 | 90 |
| 14 | 1771 | 28 | 16 | 28 | 15 | 9 | 1 | 95 |
| 15 | 1881 | 30 | 16 | 28 | 15 | 9 | 1 | 100 |
| 16 | 1996 | 31 | 17 | 29 | 15 | 9 | 1 | 105 |
| 17 | 2115 | 33 | 18 | 29 | 15 | 9 | 1 | 110 |
| 18 | 2239 | 34 | 19 | 29 | 15 | 9 | 1 | 115 |
| 19 | 2367 | 35 | 19 | 29 | 15 | 9 | 1 | 120 |
| 20 | 2500 | 37 | 20 | 30 | 15 | 9 | 1 | 125 |
| Lv | HP | STR | MAG | VIT | SPR | SPD | EVA | EXP |
| --- | --- | --- | --- | --- | --- | --- | --- | --- |
| 21 | 2637 | 38 | 20 | 30 | 15 | 9 | 2 | 130 |
| 22 | 2779 | 40 | 21 | 30 | 15 | 9 | 2 | 135 |
| 23 | 2925 | 41 | 21 | 30 | 15 | 9 | 2 | 140 |
| 24 | 3076 | 42 | 22 | 31 | 15 | 9 | 2 | 145 |
| 25 | 3231 | 44 | 23 | 31 | 16 | 9 | 2 | 150 |
| 26 | 3391 | 45 | 23 | 31 | 16 | 9 | 2 | 155 |
| 27 | 3555 | 46 | 24 | 31 | 16 | 9 | 2 | 160 |
| 28 | 3724 | 48 | 25 | 32 | 16 | 9 | 2 | 165 |
| 29 | 3897 | 49 | 25 | 32 | 16 | 9 | 2 | 170 |
| 30 | 4075 | 51 | 26 | 32 | 16 | 10 | 2 | 175 |
| Lv | HP | STR | MAG | VIT | SPR | SPD | EVA | EXP |
| --- | --- | --- | --- | --- | --- | --- | --- | --- |
| 31 | 4257 | 52 | 26 | 32 | 16 | 10 | 2 | 180 |
| 32 | 4444 | 53 | 27 | 33 | 16 | 10 | 2 | 185 |
| 33 | 4635 | 55 | 27 | 33 | 16 | 10 | 2 | 190 |
| 34 | 4831 | 56 | 28 | 33 | 16 | 10 | 2 | 195 |
| 35 | 5031 | 57 | 29 | 33 | 16 | 10 | 3 | 200 |
| 36 | 5236 | 59 | 29 | 34 | 16 | 10 | 3 | 205 |
| 37 | 5445 | 60 | 30 | 34 | 16 | 10 | 3 | 210 |
| 38 | 5659 | 61 | 30 | 34 | 16 | 10 | 3 | 215 |
| 39 | 5877 | 62 | 31 | 34 | 16 | 10 | 3 | 220 |
| 40 | 6100 | 64 | 32 | 35 | 16 | 10 | 3 | 225 |
| Lv | HP | STR | MAG | VIT | SPR | SPD | EVA | EXP |
| --- | --- | --- | --- | --- | --- | --- | --- | --- |
| 41 | 6327 | 65 | 32 | 35 | 16 | 10 | 3 | 230 |
| 42 | 6559 | 66 | 33 | 35 | 16 | 10 | 3 | 235 |
| 43 | 6795 | 68 | 33 | 35 | 16 | 10 | 3 | 240 |
| 44 | 7036 | 69 | 34 | 36 | 16 | 10 | 3 | 245 |
| 45 | 7281 | 70 | 34 | 36 | 16 | 10 | 3 | 250 |
| 46 | 7531 | 71 | 35 | 36 | 16 | 10 | 3 | 255 |
| 47 | 7785 | 73 | 35 | 36 | 16 | 10 | 3 | 260 |
| 48 | 8044 | 74 | 36 | 37 | 16 | 10 | 3 | 265 |
| 49 | 8307 | 75 | 36 | 37 | 16 | 10 | 4 | 270 |
| 50 | 8575 | 77 | 37 | 37 | 17 | 11 | 4 | 275 |
| Lv | HP | STR | MAG | VIT | SPR | SPD | EVA | EXP |
| --- | --- | --- | --- | --- | --- | --- | --- | --- |
| 51 | 8847 | 78 | 37 | 37 | 17 | 11 | 4 | 280 |
| 52 | 9124 | 79 | 38 | 38 | 17 | 11 | 4 | 285 |
| 53 | 9405 | 80 | 38 | 38 | 17 | 11 | 4 | 290 |
| 54 | 9691 | 81 | 39 | 38 | 17 | 11 | 4 | 295 |
| 55 | 9981 | 83 | 39 | 38 | 17 | 11 | 4 | 300 |
| 56 | 10276 | 84 | 40 | 39 | 17 | 11 | 4 | 305 |
| 57 | 10575 | 85 | 41 | 39 | 17 | 11 | 4 | 310 |
| 58 | 10879 | 86 | 41 | 39 | 17 | 11 | 4 | 315 |
| 59 | 11187 | 88 | 42 | 39 | 17 | 11 | 4 | 320 |
| 60 | 11500 | 89 | 42 | 40 | 17 | 11 | 4 | 325 |
| Lv | HP | STR | MAG | VIT | SPR | SPD | EVA | EXP |
| --- | --- | --- | --- | --- | --- | --- | --- | --- |
| 61 | 11817 | 90 | 43 | 40 | 17 | 11 | 4 | 330 |
| 62 | 12139 | 91 | 43 | 40 | 17 | 11 | 4 | 335 |
| 63 | 12465 | 92 | 44 | 40 | 17 | 11 | 5 | 340 |
| 64 | 12796 | 94 | 44 | 41 | 17 | 11 | 5 | 345 |
| 65 | 13131 | 95 | 45 | 41 | 17 | 11 | 5 | 350 |
| 66 | 13471 | 96 | 45 | 41 | 17 | 11 | 5 | 355 |
| 67 | 13815 | 97 | 46 | 41 | 17 | 11 | 5 | 360 |
| 68 | 14164 | 98 | 46 | 42 | 17 | 11 | 5 | 365 |
| 69 | 14517 | 99 | 47 | 42 | 17 | 11 | 5 | 370 |
| 70 | 14875 | 101 | 47 | 42 | 17 | 12 | 5 | 375 |
| Lv | HP | STR | MAG | VIT | SPR | SPD | EVA | EXP |
| --- | --- | --- | --- | --- | --- | --- | --- | --- |
| 71 | 15237 | 102 | 47 | 42 | 17 | 12 | 5 | 380 |
| 72 | 15604 | 103 | 48 | 43 | 17 | 12 | 5 | 385 |
| 73 | 15975 | 104 | 49 | 43 | 17 | 12 | 5 | 390 |
| 74 | 16351 | 105 | 49 | 43 | 17 | 12 | 5 | 395 |
| 75 | 16731 | 106 | 50 | 43 | 18 | 12 | 5 | 400 |
| 76 | 17116 | 107 | 50 | 44 | 18 | 12 | 5 | 405 |
| 77 | 17505 | 108 | 50 | 44 | 18 | 12 | 6 | 410 |
| 78 | 17899 | 110 | 51 | 44 | 18 | 12 | 6 | 415 |
| 79 | 18297 | 111 | 51 | 44 | 18 | 12 | 6 | 420 |
| 80 | 18700 | 112 | 52 | 45 | 18 | 12 | 6 | 425 |
| Lv | HP | STR | MAG | VIT | SPR | SPD | EVA | EXP |
| --- | --- | --- | --- | --- | --- | --- | --- | --- |
| 81 | 19107 | 113 | 52 | 45 | 18 | 12 | 6 | 430 |
| 82 | 19519 | 114 | 53 | 45 | 18 | 12 | 6 | 435 |
| 83 | 19935 | 115 | 53 | 45 | 18 | 12 | 6 | 440 |
| 84 | 20356 | 116 | 54 | 46 | 18 | 12 | 6 | 445 |
| 85 | 20781 | 117 | 54 | 46 | 18 | 12 | 6 | 450 |
| 86 | 21211 | 118 | 55 | 46 | 18 | 12 | 6 | 455 |
| 87 | 21645 | 119 | 55 | 46 | 18 | 12 | 6 | 460 |
| 88 | 22084 | 120 | 56 | 47 | 18 | 12 | 6 | 465 |
| 89 | 22527 | 121 | 56 | 47 | 18 | 12 | 6 | 470 |
| 90 | 22975 | 123 | 57 | 47 | 18 | 13 | 6 | 475 |
| Lv | HP | STR | MAG | VIT | SPR | SPD | EVA | EXP |
| --- | --- | --- | --- | --- | --- | --- | --- | --- |
| 91 | 23427 | 124 | 57 | 47 | 18 | 13 | 7 | 480 |
| 92 | 23884 | 125 | 57 | 48 | 18 | 13 | 7 | 485 |
| 93 | 24345 | 126 | 58 | 48 | 18 | 13 | 7 | 490 |
| 94 | 24811 | 127 | 58 | 48 | 18 | 13 | 7 | 495 |
| 95 | 25281 | 128 | 59 | 48 | 18 | 13 | 7 | 500 |
| 96 | 25756 | 129 | 59 | 49 | 18 | 13 | 7 | 505 |
| 97 | 26235 | 130 | 60 | 49 | 18 | 13 | 7 | 510 |
| 98 | 26719 | 131 | 60 | 49 | 18 | 13 | 7 | 515 |
| 99 | 27207 | 132 | 60 | 49 | 18 | 13 | 7 | 520 |
| 100 | 27700 | 133 | 61 | 50 | 19 | 13 | 7 | 525 |
SAM08G is an enemy in Final Fantasy VIII. It is a Galbadian cybernetic weapon.
Store is SAM08G's special move. It is a charge move that lasts for three rounds and when there are other enemies accompanying it. After three rounds of Store, SAM08G will start to use either Cannon Blow or Wild Cannon Blow. Both attacks will not be used if SAM08G is the only enemy in the battlefield.
SAM08G Card

Element
Fire
Refine
1 refines into 1 Running Fire
Drop
SAM08G
Card
SAM08G
Level 3 (Monster Card)
Win
N/A
Other appearances
Edit

This article or section is a stub about an enemy in Pictlogica Final Fantasy. You can help the Final Fantasy Wiki by expanding it.
Ad blocker interference detected!
Wikia is a free-to-use site that makes money from advertising. We have a modified experience for viewers using ad blockers

Wikia is not accessible if you've made further modifications. Remove the custom ad blocker rule(s) and the page will load as expected.