S.S. Liki
Talk

0
13,959 pages on
this wiki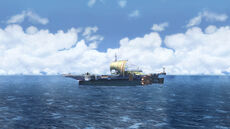 The S.S. Liki is a ship in Final Fantasy X primarily used as a ferry between the islands of Besaid and Kilika.
After Yuna completes the trials and becomes a summoner, the following morning she and various others from Besaid board the S.S. Liki. Other than Yuna and her guardians, aboard the ship are the Besaid Aurochs (heading to the blitzball tournament in Luca); the Crusaders (bound for Operation Mi'ihen); and other residents of Besaid who are most likely going to attend the tournament. O'aka XXIII is also aboard the ship and Tidus can invest in his merchant business if he wants. On this ship is Tidus's first encounter with chocobos. The woman in the Engine Room also hums the "Chocobo's Theme".
On the ship's deck, Tidus and Yuna are able to have a real conversation for the first time, and she lets him know she believes his story about being from Zanarkand. When asked why, she reveals that Jecht was her father's guardian ten years ago and told her all about Zanarkand.
Approximately half-way through their short journey, Sin appears in the waters and the Crusaders are fearful it is heading toward Kilika. They fight as best they can, but Sin breaks free and attacks Kilika, reducing much of the port and village to ruins. It is implied that the 'cargo' on the boat is a Sinspawn to be used for operation Mi'ihen, and this is why the boat is attacked.
After visiting Macalania for the first time, Tidus can re-board the ship from either Besaid or Kilika and pick up the Jecht Sphere needed for Auron's Overdrive on the Bridge after obtaining the airship.
Speaking to Wakka before approaching the crowd of people around Yuna at the bow of the ship will increase Wakka's affection value by four.
As in every other location, when the party is spread out, the one Tidus talks to first gains affection points.
Enemy formations
Edit
NOTE: The Sinscale in both these encounters return until the main boss is defeated.
The music played during the voyage of S.S. Liki is "Movement in Green".