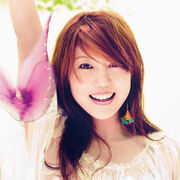 Ryōko Shiraishi (白石 涼子, Shiraishi Ryōko?), born September 7, 1982, is a Japanese voice actress from Kashiba, Nara, Japan. She voices Rem Tokimiya in Final Fantasy Type-0 and Final Fantasy Agito.
Background
Edit
She is best known for providing voice for several anime characters such as Yulier in Sword Art Online and Kaede Nagase in Negima!?. For video game characters, she voices Asuka Kazama in Tekken series, Mila in Dead or Alive 5, and Hikage in Senran Kagura series.
External links
Edit
Ad blocker interference detected!
Wikia is a free-to-use site that makes money from advertising. We have a modified experience for viewers using ad blockers

Wikia is not accessible if you've made further modifications. Remove the custom ad blocker rule(s) and the page will load as expected.