Rush
Talk

7
13,966 pages on
this wiki
Relm

: I couldn't miss the chance to practice my drawing!
This article is in need of a few pictures. Perhaps you can help by

uploading

and adding a picture or two.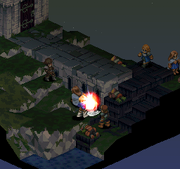 "Attack by ramming into the enemy's body."
—Description, Final Fantasy Tactics.
Rush (体当たり, Tai Atari?) is a recurring ability in the Final Fantasy series. Its effect varies throughout the series, though generally, it is a form of a physical attack, usually dealing moderate damage.
Appearances
Edit
Rush is a physical enemy ability that deals moderate damage to one party member and inflicts Sap. It is used by Bandersnatch, Garula, Ghidra, Hydra, Ironback, Liquid Flame, Neo Garula, and the Tatou.
In the original SNES and PS translations of Final Fantasy VI, there were two enemy abilities called Rush, both inflicting low physical damage. In the GBA remake though, those two attacks were renamed Slam and Bodyslam, while a new attack, that was original called Redline, was renamed Rush. The Rush in the GBA version also did low physical damage, and is used only by the Belmodar.
Rush is an enemy ability that inflicts moderate physical damage on one target. It is used by the Bandersnatch and the Fang.
Rush, again, is an enemy ability that inflicts moderate physical damage to one target. It is used by the underwater enemies Maelspike and Remora.
Final Fantasy XI Spell
Rush
MP:
164
Effect:
Delivers a fivefold physical attack, dealing massive blunt damage.
Duration:
Instant
Casting Time:
Instant
Recast Time:
1 min
Magic Type:
Blood Pact: Rage
Element:
Ice
Jobs:
Shiva 70
Rush is a Blood Pact: Rage for Shiva that can be used by Summoners level 70 and above. Shiva delivers five hand-to-hand blows, delivering massive blunt damage. Shiva's TP does not affect this ability, and her TP is not wiped to 0 when she uses Rush.

Rush is an enemy technick that inflicts higher damage than a normal physical attack, and can also combo for more damage. It is used by Braegh, Darkmare, Firemane, Helvinek, Ixion, and the Mistmare.
Rush is a skill used by Warriors. It deals physical damage to one enemy.
Rush is an enemy ability used by the Dagonite. This ability inflicts moderate physical damage and launches a single party member into the air.
Rush is an enemy ability used by Mandrake and Apkallu. It can inflict Deprotect and Debrave, and Dispel all buffs from the target.
Rush (originally known as Dash) is an ability learned by Squires for 80 JP. It deals low physical damage to an enemy with 100% hit-rate and usually pushes the enemy backwards one square. It has a range of 1, and activates instantly.
Tackle is a move used by all varieties of Goblins. It is a standard monster attack that does moderate damage.
Rush is a Spellblade Tech used by Gladiators. Similar to its predecessor, Rush deals physical damage and knocks back the enemy. It is learned from the Sweep Blade for 100 AP, and costs no MP. The power, range, and element of Rush is based on the weapon equipped.
Rush is a Sparring skill used again by the Gladiators and is also a Pugilism skill used by the Fighters, and once again deals physical damage while pushing the enemy back. It is still learned from the Sweep Blade, costs 100 AP, and uses no MP.
Rush is the enemy ability that is used by the Mushussu during battle.
Rush is an ability under the Unicorn name. It is a very common card, is green colored, and deals 3 damage and attempts to inflict Silence.