Runic
Talk

4
13,966 pages on
this wiki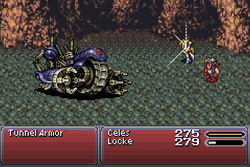 Runic (魔封剣, Mafūken?, lit. "Magic-Sealing Sword"), also known as Magic Thwart or Attune Blade, identified as Runic Blade in the dialogue of Final Fantasy VI, is a recurring ability in the series. It generally nullifies most, if not all, magic-based attacks and allows the user to restore MP equal to the MP cost of the spell cast.
Appearances
Edit
Runic is Celes Chere's ability in Final Fantasy VI. This ability allows Celes to absorb spells with her sword. When she uses Runic, the next spell cast by an ally or an enemy is absorbed by Celes's sword, and she recovers an amount of MP equal to the casting cost of the spell. If the spell is of an element Celes is weak to, the MP recovery doubles. If Celes resists that element, the MP recovery is halved. If Celes is immune to that element, she does not recover MP. If she absorbs the element, she loses MP. Runic does not absorb spells auto-cast from weapons, such as how Ragnarok sometimes casts Flare. If Celes absorbs a party member's spell, the base cost will be absorbed, regardless of whether or not the caster has a Celestriad or Gold Hairpin equipped.
The Runic ability can only be used when a weapon compatible with the ability is equipped. Besides the swords, there are other weapons than those Celes can equipped that can enable Runic. All daggers, all spears, all katanas, and the Magus Rod can enable Runic. The secret character Gogo may also use the Runic command if equipped with an applicable weapon.
The creation materials state that Runic's power comes directly from the esper magic channeled through her sword.
Enemy abilities vulnerable to Runic.

50 Gs
Dancing Flame
Diffractive Laser
Disaster
Gigavolt

Hyperdrive
Magitek Laser
Megavolt
Mega Berserk
Northern Cross
Saintly Beam
Shamshir
Abilities and spells vulnerable to Runic.
Equipment when used as an item vulnerable to Runic.

Flame Rod
Ice Rod
Thunder Rod
Poison Rod
Gravity Rod

Holy Rod
Flame Shield
Ice Shield
Thunder Shield
Spell Fencer's Magic Thwart (まふうじ, Mafūji?, lit. "Magic Sealing") nullifies enemy spellcasting for four turns.
Attune Blade is a Job Level 8 ability for the Red Mage requiring 220 AP to master. It nullifies all magic spells and restores MP according to the MP cost of absorbed spell.

Celes's card has the Runic ability. For the discard of another Celes card, Runic allows the player to select an opponent's Eidolon and void its effect, then make Celes Active.