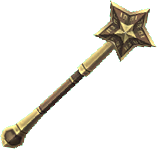 Rune equipment (ルーン, Rūn?) is a recurring type of equipment in the Final Fantasy series. In most games that it appears in, it is usually one of the stronger types of equipment, though some Rune equipment can be found mid-game. Rune equipment is related to magic, often either deals with expending MP for automatic critical hits or dealing extra damage to Mage-type enemies. The most common recurring type of Rune equipment are the Rune Blade, Rune Axe, and Rune Staff.
Appearances
Edit
I The Rune Blade was originally the only Rune equipment, doing extra damage to Mage-type enemies (bugged and ineffective in the NES version). From the Dawn of Souls remake onward, the Rune Staff and Rune Axe appear as well. The Rune Staff is a decent weapon that is most noteworthy for being able to cast Healara when used as an item.
The Rune Axe (usable by Warriors, Knights and Ninjas) is not only capable of casting Curaga when used as an item, but is also guaranteed to cause critical hits when its wielder has enough MP, making it a pretty powerful weapon. Every time the Fight command is used with a Rune Axe equipped, 25 MP is used up and all of the hits delivered are guaranteed to be critical hits. If the user has less than 25 MP however, the Rune Axe does not appear to be capable of dealing any critical hits whatsoever. To get the most out of this weapon, one will need to make sure the character wielding it has at least 25 MP at all times.
Interestingly enough, the Rune Axe is actually the strongest weapon to use during fights where one plans on buffing a single attacker. With sufficient attack boosting via use of spells like Haste, Saber, and Temper (or using Strength Tonics), the damage algorithms in both Dawn of Souls and the 20th Anniversary Edition cause the Rune Axe to do more damage than using even the Ragnarok or Ultima Weapon at maxed out HP would (due to its guaranteed criticals).
II The unique piece of Rune equipment, the Rune Axe deals extra damage against Mages and also casts Fog when used as an item, and is also the strongest axe if Guy's ultimate weapon, the Gigantaxe, is excluded.
III The Rune Staff is a high level staff that can cast Erase. The Rune Bow is a mid-level bow while the Rune Axe is a mid-level axe that both provides +2 Intelligence and Mind. The Rune Bell is the second strongest Bell. The Rune Bracers are the first armor type of the Rune equipment, and is a mid-level armor that provides some resistance to status attacks.
IV The Rune Axe is the second strongest axe, and deals critical damage against mages. The Rune Staff also deals critical damage against mages, and can also cast Silence when used as an item. Rune Armlet provides resistance to Silence, and increases Intelligence and Spirit by 3, as well as being a mid-level armor. It is Rydia's starting armwear when she returns to the party and can be bought from the Dwarven Castle.
FFIV-I- Rune Staff is the strongest staff for both Rosa and Porom. It can only be dropped by Marionetteer found in the in both the Upper Section and Lower Section of the Tower of Babil. It has an attack power of 52 and a accuracy of 10 with a bonus of +10 Spirit. It deals Extra damage vs. Mages and can cast Silence when used as an item during battle. It also has a 30% chance of inflicting Silence upon hit.
Rune Armlet can be equipped by Rosa, Yang, Monk A, Monk B, Palom, Porom, Rydia, and Edge while initially equipped by Rosa, Palom, and Porom. It can be bought in Damcyan Castle and Fabul Castle for 2,000 gil. It can be dropped by Marionetteer found in both the Upper Section and Lower Section of the Tower of Babil. It has a defense of 5, magic defense of 8, magic evasion of 8 with a bonus of +3 Intelligence & Spirit. It also grants protection to Silence and resistance to Mages.
FFIVTAY The Rune Axe, Rune Staff, and Rune Armlet return from Final Fantasy IV with the same stats.
V The Rune Axe is an axe which inflicts critical damage with 10 more Attack Power in exchange for 5 MP, and is one of the Sealed Weapons. The Rune Chime, known simply as Rune in the RPGe translation, is a Bell which also consumes 5 MP for a critical hit with 10 more Attack Power, and is the second strongest weapon of its type.
The Rune Chime also has the uncanny ability to increase the damage of all elemental attacks except Water by 50%. The Rune Edge is a mid-level sword that consumes 10 MP for a critical hit with 20 more Attack Power, though it is not found until late in the game.
VI The Rune Blade consumes 10 MP each attack for a critical hit, and can only be used by Terra, Edgar, and Celes.
VII The Rune Blade and Rune Armlet represent Rune equipment. Both pieces of Rune equipment have four non-linked slots and Double Materia growth abilities.
FFVIICC Rune Armlet is an accessory that boost Max MP by 80% and prevents Silence.
VIII Though it cannot be equipped, the Rune Armlet appears as an item that can teach Spr +20% to any GF.
IX The Rune Tooth is a mid-level weapon for Zidane that teaches him Lucky Seven, and has innate Poison. The Rune Blade is a high-level sword that only Steiner can equip that teaches him the ability Iai Strike, and has innate Darkness. The Rune Claws are Amarant's strongest weapons that teaches him Spare Change, Demi Shock, and Revive, and also have innate Darkness.
X Several weapons can get the "Rune" moniker by having the ability "Magic +5%" as the dominant ability. Tidus can also get the weapon Runemaster by having all 4 Magic +% abilities on a weapon.
X-2 The Rune Bracer is an accessory that double the wearer's max MP.
XI Final Fantasy XI has a set of high-level Rune Weapons. These weapons each have different effects which activate when the weapon is drawn and consume MP over time. In addition to the special effects, the Rune Weapons can mostly be equipped by Black Mages and Summoners, regardless of the weapon class.
XII The Runeblade represents the Rune equipment.
FFXIIRW The Runeblade appears again as a mid-level weapon for Vaan. The Rune Bracelet is an accessory for Penelo that increases the effectiveness of Dance abilities.
XIII Rune Bracelet is the only occurrence of Rune equipment. It grants +10~20% resistance to Magic, depending on its level, and can be upgraded to the Witch's Bracelet by using an Uraninite. The Rune Bracelet can also be bought from B&W Outfitters in the Retail Network for 4,500 gil.
XIII-2 The Rune Feather and Rune Tooth appear as weapons for Serah Farron and Noel Kreiss, respectively.
FFT The Runeblade is a high-level sword, and is the only Rune equipment.
VS Rune Blade and List of Vagrant Story accessories#Rune Earrings#Rune Earrings are the only pieces of rune equipment.
FFCC The Rune Hammer is a mid-level weapon with an Attack power of 25 possessing the Focus attack Shock Bomb. The Rune Shield is a high-rank shield that provides +18 Defense and Spell Range +20. Both the Rune Bell and Rune Staff are Magic-raising artifacts, raising Magic by 3 and 1 respectively.
FFCCRoF The Rune Saber, Rune Rod, and Rune Spoon all represent Rune equipment.
FFCCEoT Rune Ax, Rune Bell, and Rune Spear make up the Rune equipment.
FFL2 The weapon is called Rune and it has a axe icon before its name. It can be found in Valhalla Palace. It has 40 use, and it also increases a Robot's HP by 45. The damage formula for Rune is the user's Str x12.
FFL3 The Rune Axe is the second strongest axe, having an attack power of 100 and bought for 13000 G at Knaya in Pureland, or on board the Talon in Masa's shop.
BD Rune Blade is the only piece of rune equipment that appears.
BS Rune Blade is a sword best used by the Fencer, Exorcist, Dark Knight, Templar, Kaiser, and Knight or by any job with the Sword Lore support ability.
Dissidia012 Several pieces of Rune equipment appear, consisting of the Rune Blade, Rune Axe, Rune Staff, Rune Bell, and Rune Armlet. All but the Rune Blade are level 30 equipment, with the Rune Blade being a level 60 weapon, and all apply different effects from one another.
ATB There are three pieces of rune equipment: Rune Blade, Rune Staff, and Rune Axe.
Etymology
Edit
[view · edit · purge]Runes are the letters in a set of related alphabets known as runic alphabets, which were used to write various Germanic languages before the adoption of the Latin alphabet and for specialized purposes thereafter. Historic anthropology regarding the Germanic and Norse peoples that used runes also note that the language was also highly used in magical practices related to these cultures, whether it be in divination, enchantment, and incantation.